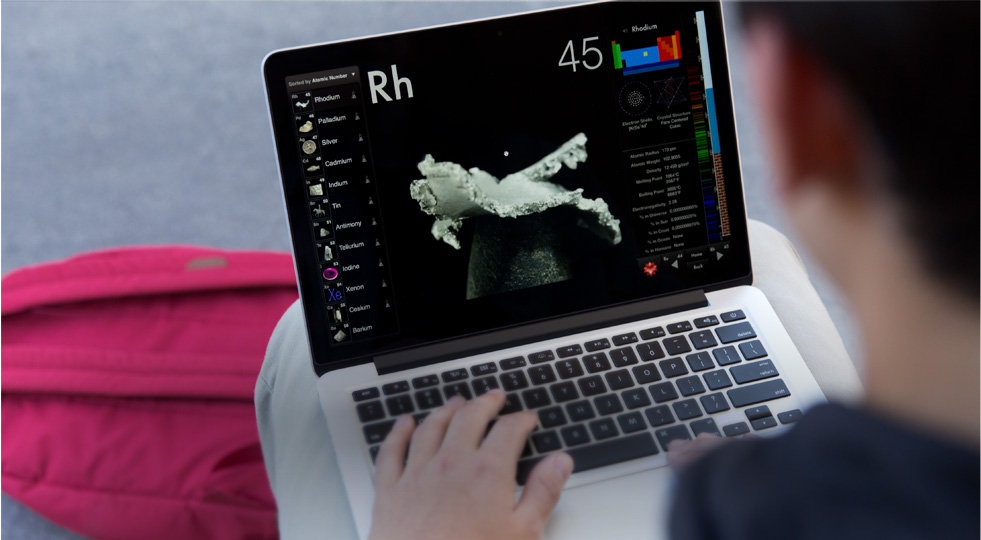 Incredibly powerful, yet incredibly easy to use. For nearly thirty years, the Mac has given students the power to create in the classroom. And it continues to help unleash the potential in every learner.

With Mac in your class, students have access to powerful free apps to produce exceptional work. What they'll create will surprise you. Over and over again.

With Mac and these powerful free apps, students write, analyze data and present their work in engaging ways. In Pages, you and your students can design stunning newsletters, book reports, flyers and more. For data-rich projects, Numbers helps students build tables, charts and graphs that pop off the page. With Keynote, students and teachers can create presentations with stunning transitions, 3D charts and video. Each app includes templates to get you off to a great start. And they're compatible with Microsoft Office, so it's easy to share files with PC users. With iCloud, you can access your documents, presentations and spreadsheets from any device you're using.

These powerful apps come standard on every Mac, and they bring out the creative side of students and teachers alike. iPhoto makes it easy to put together captivating slideshows, make a photo book to recap the school year, or chronicle a field trip with snapshots. With iMovie, your class can use simple yet powerful editing tools to create video projects, like a documentary on a student election or a trailer for a school play. And with GarageBand, students can record, edit and mix their own music or sound effects for any project. The possibilities for your classroom are endless.

When curious minds meet Mac, amazing things happen. And with Final Cut Pro X and Logic Pro X, you and your students can produce incredible creative projects with the same tools the pros use. These apps (sold separately) let your classroom take full advantage of the power of the Mac to enhance photographs, make music and edit video. Just like the pros do in the real world.

The Mac App Store is packed with education apps to help your students learn and create. Whether they're using flash cards to practice vocabulary or high-powered statistical tools for math, you'll be amazed at what Mac apps can add to your lessons.

The Mac becomes a more powerful learning tool every time you add a new app. Let your students explore a 3D model of the skeletal system with an anatomy app. Teach about the electoral college with an app that turns data into visually stunning charts and graphs. Or find an art history app that gives your students an up-close look at museum masterpieces around the world. It's easy to search the Mac App Store and find an app (or two or three) to enhance almost any lesson.

The Mac App Store is filled with education apps that students will love. But you'll also find apps designed just for teachers. Organize your lessons for the day, homework for the week and school meetings for the entire year with one of many great planning apps. Or use a popular mind-mapping app to improve brainstorms with other teachers and administrators. There are even apps to help you grade essays more efficiently or create an interactive quiz in minutes.

iBooks is stacked with materials to help you teach practically any subject. These interactive books take full advantage of what Mac can do, so you'll get the full effect of what your students can do.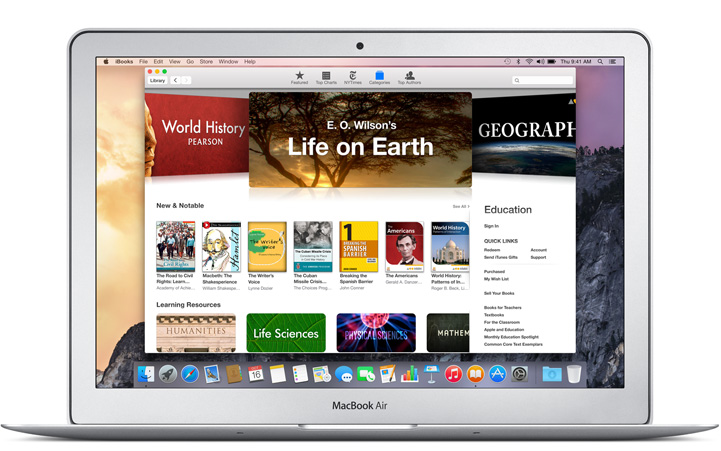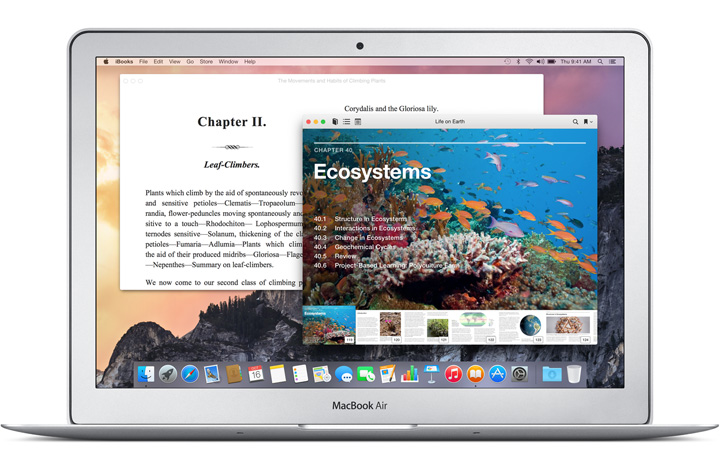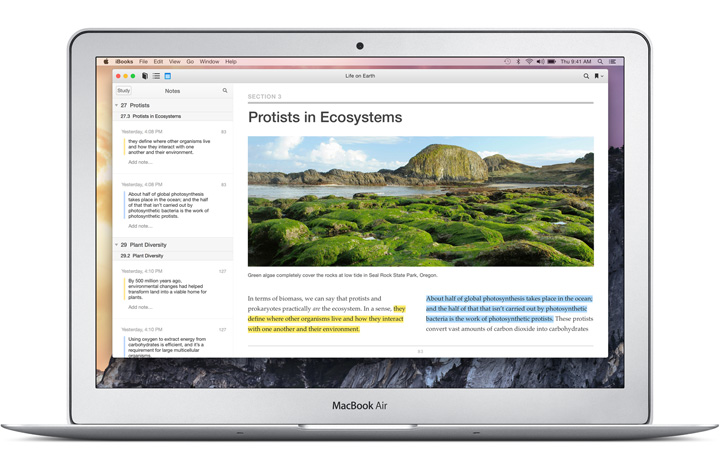 iBooks has a massive selection of books for your class. Discover children's books, classic novels, biographies, reference guides and textbooks from major education publishers. And many of them are free. You can find curriculum-based textbooks and even custom books created by other teachers. Students can use the iBooks app to download your selected books directly onto Mac or iPad, so they always have access to a locker's worth of textbooks — or even an entire library. And with iCloud, they can access their books wherever they go, on any device they use — Mac, iPad, iPhone or iPod touch.
See what students and teachers are creating with iBooks Author
Learn how to create with iBooks Author
Browse iBooks Textbooks

Many textbooks from major education publishers are made specifically for iBooks, taking full advantage of the capabilities of Mac. Students can dive into a dynamic timeline about ancient Egypt, rotate a 3D red blood cell or take an interactive chapter review quiz. If they don't know the definition of a word, one click pulls it up. They can highlight or underline text, make quick notes and create study cards to review later. Studying is an immersive, interactive experience that goes well beyond the words on the page.
Learn more about iBooks Textbooks
Browse iBooks Textbooks

iBooks Author is a free app that helps you make Multi-Touch books for iPad and Mac. So you can teach your subject your way. Create materials tailored to your lesson and class level. Make levelled books for different students. Teach a topic with your unique perspective. Or fill a gap in your existing course materials. You can even use iBooks Author to design an interactive report card. Or have your students use it to make portfolios, class newsletters or yearbooks.

iBooks Author makes it easy to create books that tell a story with video, audio, scrolling sidebars, even 3D objects — iPad or Mac bring them all to life. Get started with beautiful built-in templates, then customize content by dragging and dropping everything in. Include a video or an audio clip on your subject. And just like that, your custom book is ready for class.
Learn more about iBooks Author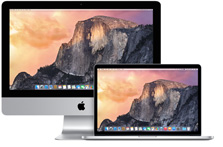 With the Volume Purchase Program, we've made it easy for educational institutions to purchase Mac apps and books in volume.
Learn more

iTunes U is a destination within iTunes solely dedicated to great education content. It's filled with countless learning resources like lectures, videos, books and more. And it's all free.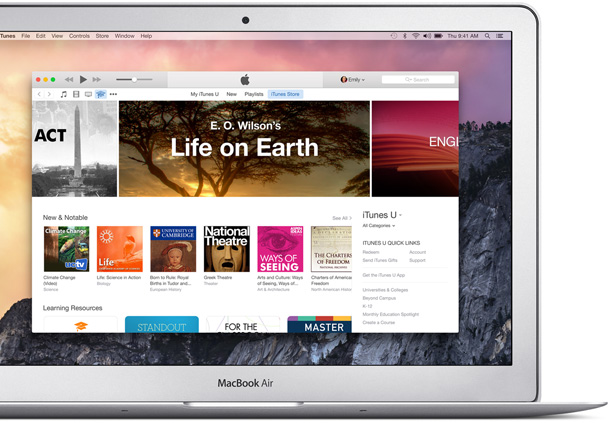 iTunes U is an ever-growing collection of educational content from institutions around the world. Access over 800,000 resources on every topic, many of which can be used to teach Canadian curriculum outcomes and expectations. It's easy to use iTunes U materials to complement your lessons. You can bring in an MIT physicist as a guest lecturer. Let history speak for itself with archival films from the Library of Congress. Or add to a math lesson with an origami tutorial from the Asian Art Museum. Whatever you're teaching, you can find resources to help your students gain a deeper understanding of the lesson at hand.
Browse the iTunes U catalogue
Browse the Primary Source Materials Collection
Learn how to create an iTunes U course

With Apple TV, you can use AirPlay to wirelessly stream the content on a Mac to any HDTV. Use it to lead a class brainstorm or present a lesson. Or have students connect their Mac to share their work, give group feedback and collaborate on projects all via the big screen.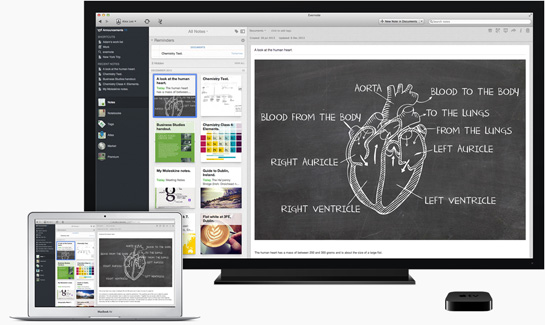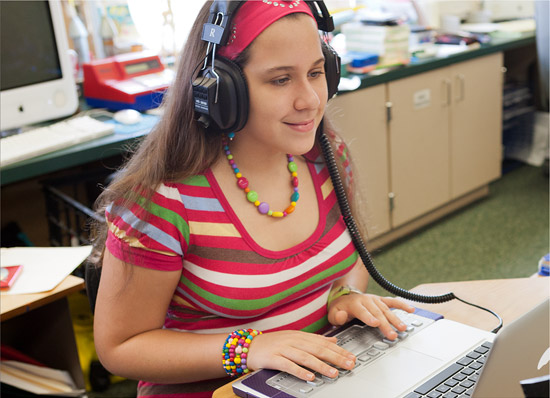 The accessibility features in the Mac make it a powerful learning tool for students with special needs. It comes with a screen reader, closed-captioned support and other innovative accessibility features — right out of the box. For students with cognitive, physical or other disabilities, Mac opens up incredible possibilities for learning.
Learn more about accessibility on Mac