We want everyone to have the best possible experience with the products we make. That's why iMovie, GarageBand, Pages, Numbers, and Keynote are now free with every Mac and iOS device.* And all five apps are better than ever. So you can do amazing things with your movies, music, documents, spreadsheets, and presentations. They're all built with a 64‑bit architecture to take full advantage of our powerful hardware. And with iCloud built into each app, your devices work and play together beautifully.

Harness the power of iPhone and iPad with a film-making app that's just as powerful. iMovie lets you create films and Hollywood-style trailers that are simple to make and simply spectacular. And you can edit at resolutions up to a stunning 4K on iPhone 6s and iPad Pro. When you're done, you can watch the final cut anywhere with iMovie Theater. A few taps, a few swipes, and you're ready for your big premiere. Download iMovie for iOS free at the App Store.
Learn more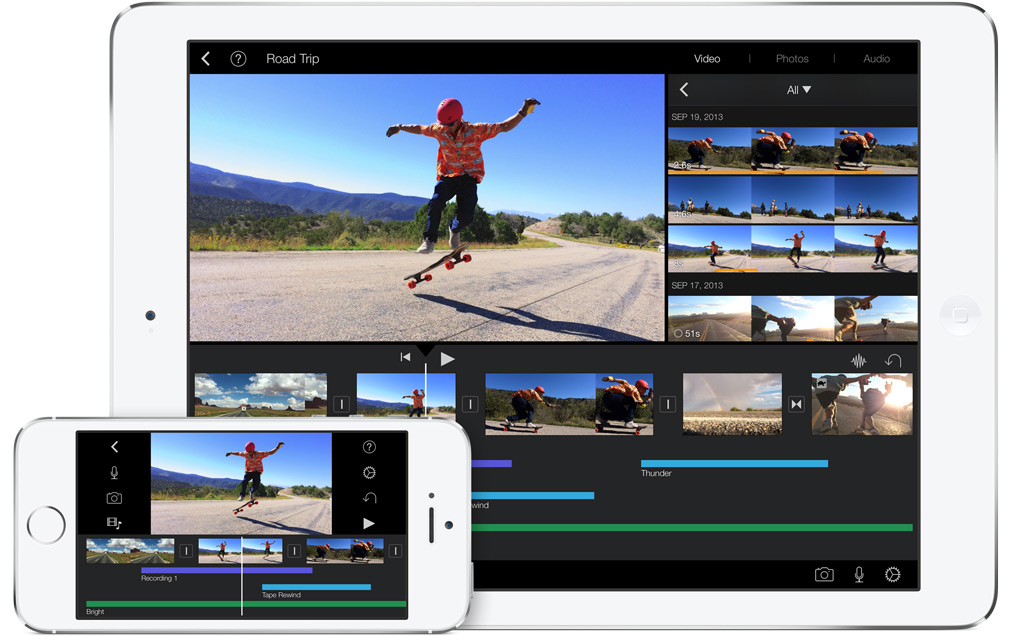 GarageBand for iOS is the most popular music creation app in the world. And now, more than ever, it's easy to see why. A wide range of instruments at your command and new features like Live Loops and Drummer make creating your own songs even more exciting. And you can do it all right from your iPhone, iPad, or iPod touch — so it's easy to create incredible beats no matter where you are. Then share them, across the room or across the globe, with just a few taps.
Learn more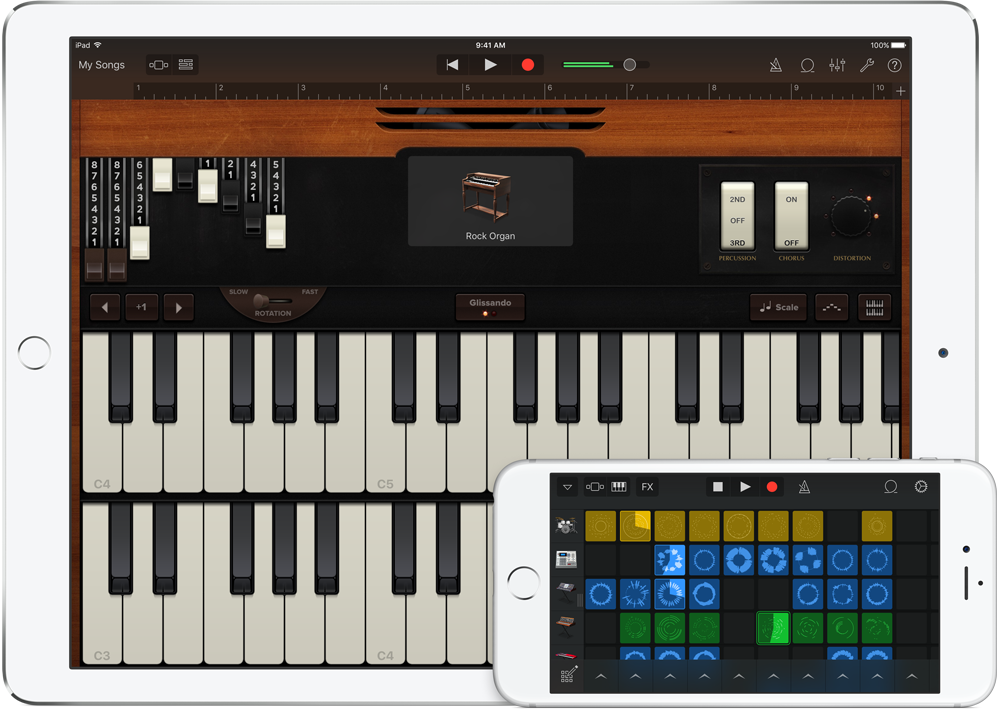 Whenever inspiration strikes, capture your song ideas instantly with Music Memos. Record high-quality, uncompressed audio on your iPhone with a simple tap. Optimized for acoustic guitar and piano, Music Memos automatically analyzes the basic arrangement and suggests chords you played for each track. Add a backing band with a virtual drummer and bass player. And easily keep track of your favorite takes or song ideas.
Learn more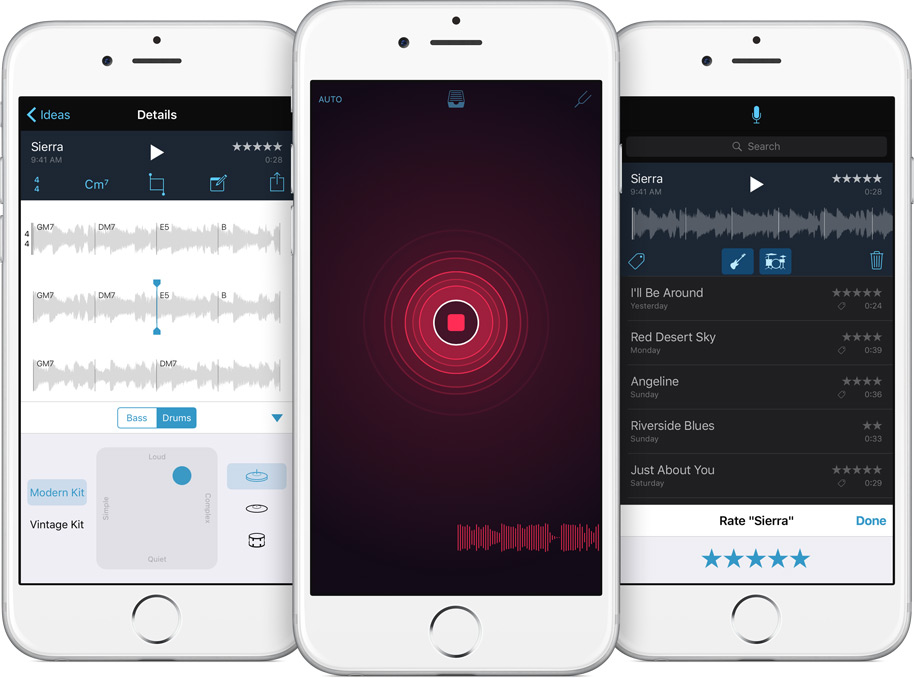 Pages is designed to let you effortlessly create stunning documents. The tools you need appear right when you need them. So it only takes a few taps to choose a template, customize your layout, make it read beautifully, and share your work. And Pages documents appear the same on a Mac and an iOS device, so you can seamlessly switch from working on one device to working on another. Writing has never been easier. Period.
Learn more


Spreadsheets can be so much more in Numbers. You start off with a blank canvas. Tap to choose a handsome template. Add multiple tables — they're prebuilt, with formulas included. Create stunning, interactive charts with a touch. And easily switch between devices so you can work wherever you are. Suddenly you don't see just data. You see what it all means. The power of numbers has never been so beautiful to behold.
Learn more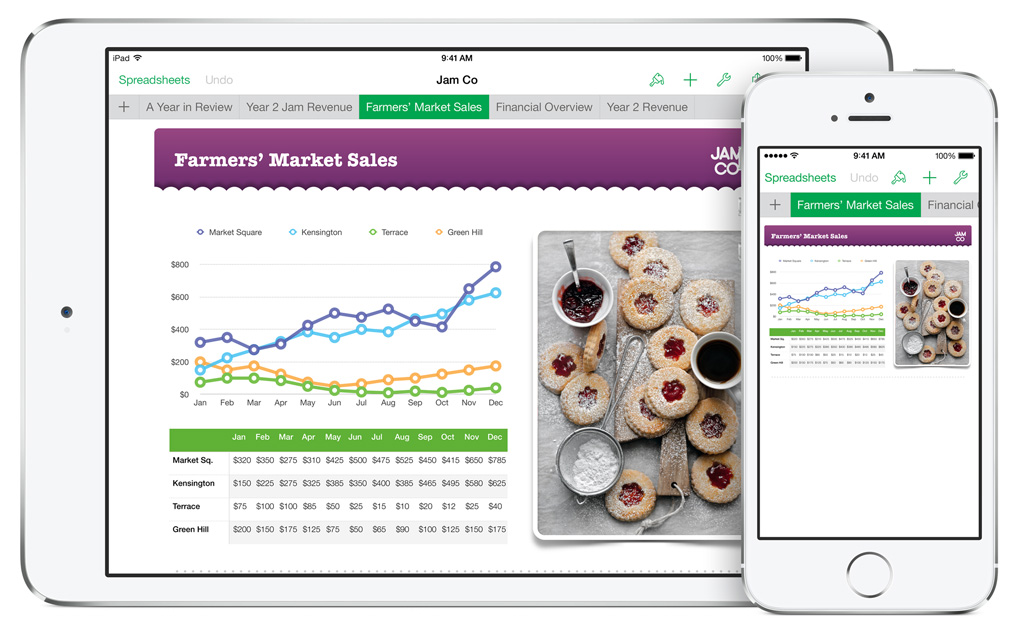 Keynote puts the power to create a compelling presentation right at your fingertips — wherever you go, and whichever device you're working on. Tap to choose an elegant theme. Add photos, interactive charts, and cinematic transitions. And quickly pair with a nearby iOS device to control your presentation on one device from another. Keynote makes it all possible. And portable.
Learn more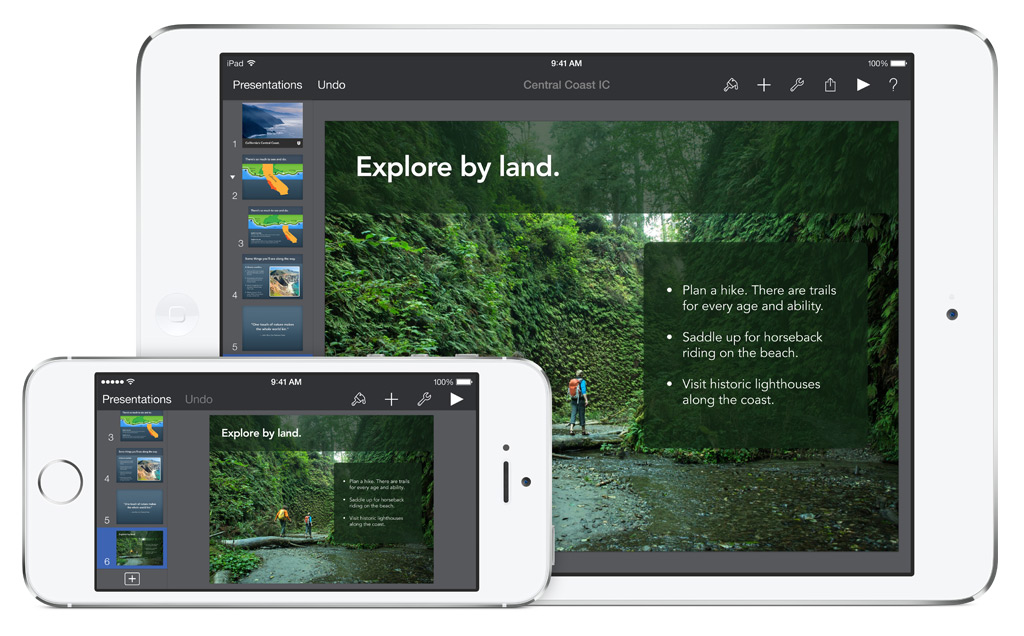 You don't work in just one place on just one device. The same goes for your apps, which can work and play together across your devices — no matter where you are. So if you just created a document, spreadsheet, or presentation on your Mac, it looks the same on your iPhone or iPad. And everything will be updated everywhere, so you'll always be up to speed.