Apple in Education Profiles

The Mac has transformed teaching and learning in the Greene County school system in rural eastern North Carolina. A new project-based curriculum has engaged and motivated students, and college-going rates have risen dramatically.
The inspiration
In 2001, Dr. Patricia F. MacNeill, Assistant Superintendent of the Greene County School District, and other administrators took a hard look at student achievement levels and were not pleased. For example, one key measure of academic progress, the college-going rate, was only 26 percent. With a largely agrarian population, whose children would be looking at a much different economic future, Greene County knew it needed to change its education priorities and practices to better prepare its students.
As they began to explore new models of teaching and learning, MacNeill and her team attended an Apple Leadership Institute, where they saw the impact the Mac could have in the classroom. They also visited several schools where computers had been integrated successfully into the curriculum. In 2002, they decided to put a Mac in the hands of every Greene County student in grades 6 through 12.
The Mac gave Greene County teachers the means to introduce a more rigorous curriculum focused on interactive, project-based learning across all subjects. Rather than listening to lectures, making notes, and taking pencil-and-paper tests, now students learn by participating in interactive group research projects. After receiving a digital lesson from the teacher, student teams select a topic and use their Mac computers to plan, create, and present reports in a variety of formats, including content- and media-rich movies, podcasts, wikis, and blogs. And because iMovie, GarageBand, Keynote, Pages, and iChat are so easy to use, the students are able to work independently.
Giving students more responsibility for their learning has made them more engaged and better prepared in the classroom. And their test results reflect improved learning. After introducing project-based learning in his middle school science classes, teacher José Garcia saw his students achieve the highest scores possible in their end-of-year assessments. "The Macs have transformed my classroom and transformed my students," he says.
"The Macs are interwoven into our curriculum. There isn't a single day we don't use them."
— José Garcia, science teacher, Greene County Middle School
The implementation
Funding an ambitious technology project in a poor rural school district required a total community effort. MacNeill and other administrators met with teachers, Board of Education members, County Commissioners, and Apple representatives to make their case and explore options. Faced with perennial low student achievement and college attendance — and the question of how those numbers might affect the future viability of the county — the board and the commissioners were persuaded to fully support the proposed school reform.
To implement the program, the district used a combination of funding sources, including reallocating money within their own budget. In social studies, for example, where information changes quickly, they opted for Internet-based research tools over buying new textbooks. They also applied for and won a substantial state grant. And to fund ongoing staff development, MacNeill used money from a widely available federal program for improving teacher quality.
In June 2003, the school district purchased Mac computers for every student in grades 6 through 12 and one Apple MacBook Learning Lab per classroom for grades K through 5. After the computers arrived, Apple Professional Development facilitators provided three days of onsite staff training in iWork and iLife. Weekly professional staff development sessions allow teachers to continue to develop and share teaching and computer skills. Email and iChat promote similar collaboration among teachers, students, and parents — many of whom had never touched a computer before. These interactions have also benefited the community: Greene County, where Internet availability had been low, now enjoys widely accessible Wi‑Fi coverage.
Handling IT for the program has been seamless. A central technology office is responsible for overall purchasing and yearly system upgrades, and a resident instructional technologist and literacy coordinator at each school make sure that the computers and applications run smoothly. Because Mac computers are so user-friendly and reliable, the teachers and students generally handle the day-to-day maintenance.
The results
Since the MacBook program began in 2003, the college-going rate in the Greene County School District has increased from 26 percent to 90 percent.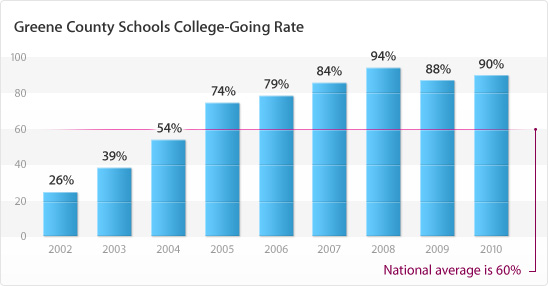 Products they use
MacBook Air
This notebook computer is great for learning both inside and outside the classroom. Learn more about MacBook Air