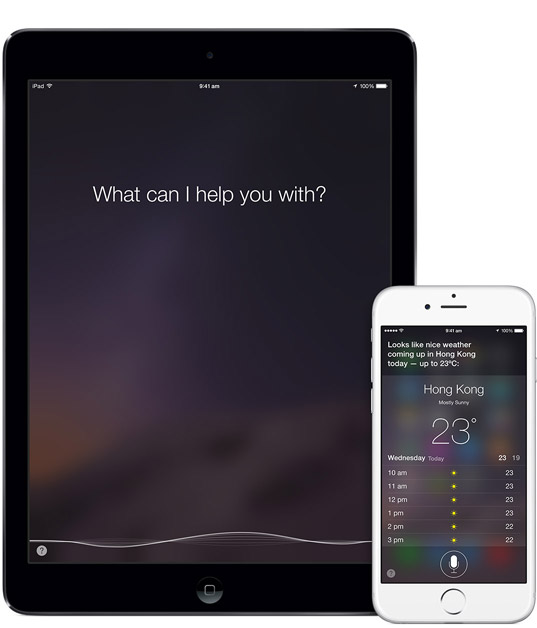 Siri lets you use your voice to send messages, schedule meetings, place phone calls, and more. Ask Siri to do things just by talking the way you talk. Siri understands what you say, knows what you mean, and even talks back. Siri is so easy to use and does so much, you'll keep finding more and more ways to use it.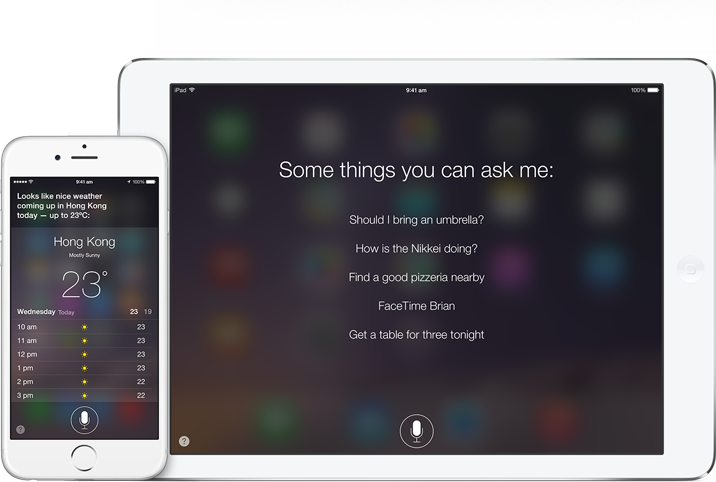 Talk to Siri as you would to a person. Say something like "Tell my wife I'm running late" or "Remind me to call the vet." Siri not only understands what you say, it's smart enough to know what you mean.

Siri makes everyday tasks less tasking. It figures out which apps to use for which requests. It plays the songs you want to hear, gives you directions, wakes you up, even tells you the score of last night's game.
All you have to do is ask.
Identify a song with Shazam.
Ask Siri to "Shazam this" and it will tell you what song is playing around you.
Buy movies, books and apps.
You can find and purchase content from iTunes or iBooks — simply ask for the title you're looking for and it will take you shopping.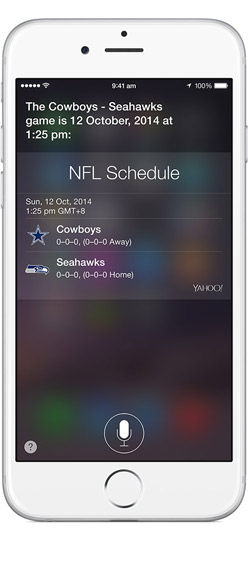 Know the score.
Ask Siri for baseball, basketball, football, hockey, and soccer scores as well as schedules, rosters, and stats.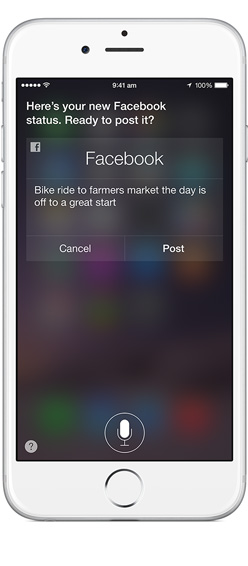 Post to Facebook.
Ask Siri to update your Facebook status and post a comment.
Send a tweet.
Twitter integration means you can ask Siri to tweet for you.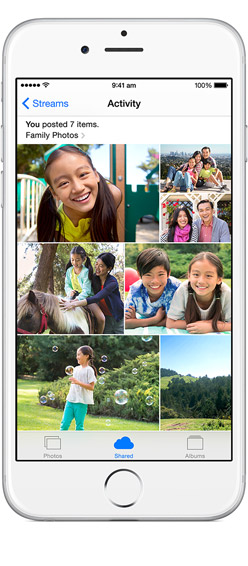 Launch an app.
You can ask Siri to open apps. Just say something like "Play Angry Birds" or "Open Photos."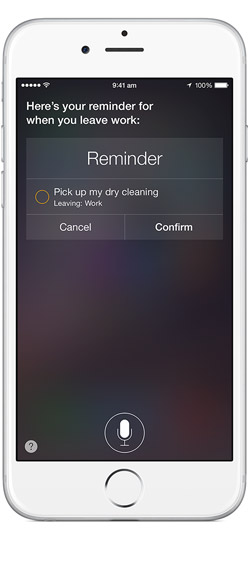 Set reminders.
Tell Siri what you need to do. Even say when and where you need reminding.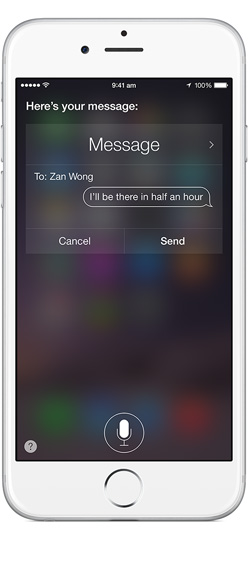 Send a text.
Say who it's for and how the message should read, and Siri writes and sends your text.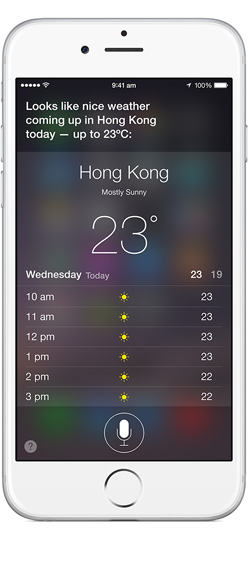 Check the weather.
Siri gives you the forecast for where you are or for anywhere you're curious about.
Schedule meetings.
Say who, what, where, and when. Siri puts it on your calendar and sends an invitation.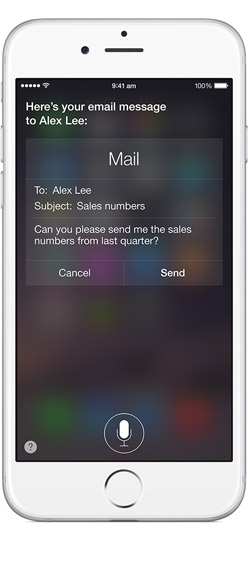 Send an email.
Ask Siri to write and send email. It can even send an email to more than one person.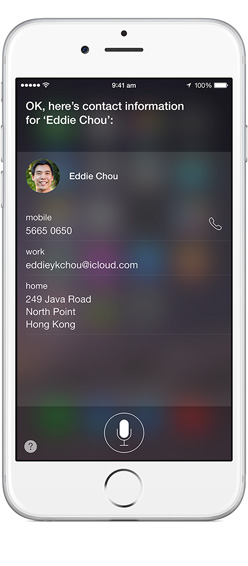 Find a contact.
Say a name, and Siri finds the address, phone number, and other details from your contacts.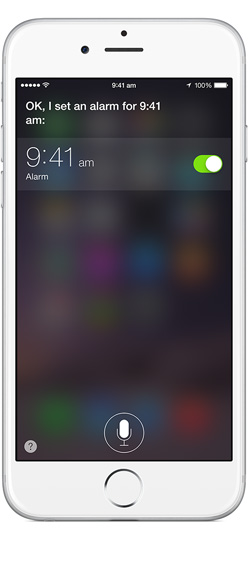 Set an alarm.
Tell Siri to set an alarm for a particular time. You can ask it to set as many as you need.
Get directions.
Ask something like "Where's Central Library?" and Siri tells you the address and how to get there.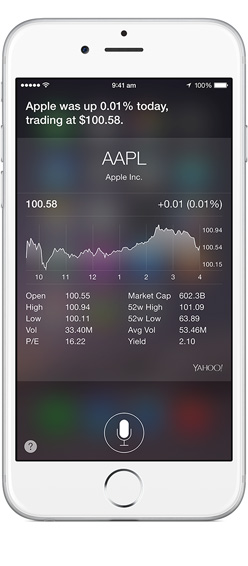 Track your stocks.
Just say the company name and Siri keeps you up to date with stock details.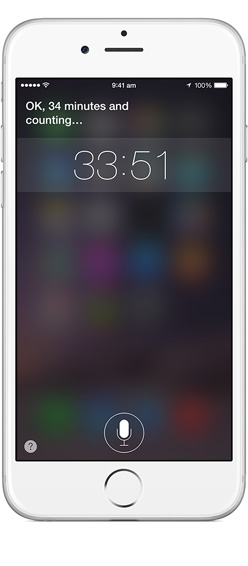 Set the timer.
Tell Siri how much time you need, and it alerts you when time's up.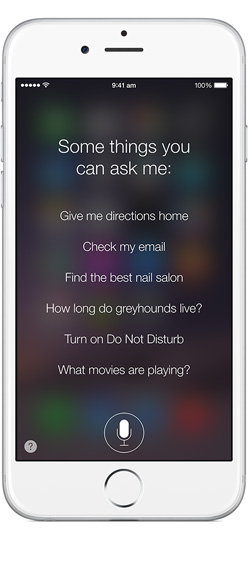 Ask Siri about Siri.
Ask "what can you do?" And Siri tells you exactly that.

Here's another amazing way to get things done: just use your voice. Instead of typing, tap the microphone icon on the keyboard. Then say what you want to say and iPhone listens. Tap Done, and iPhone converts your words into text. Use dictation to write messages, take notes, search the web, and more. Dictation also works with third-party apps, so you can update your Facebook status, tweet, or write and send Instagrams.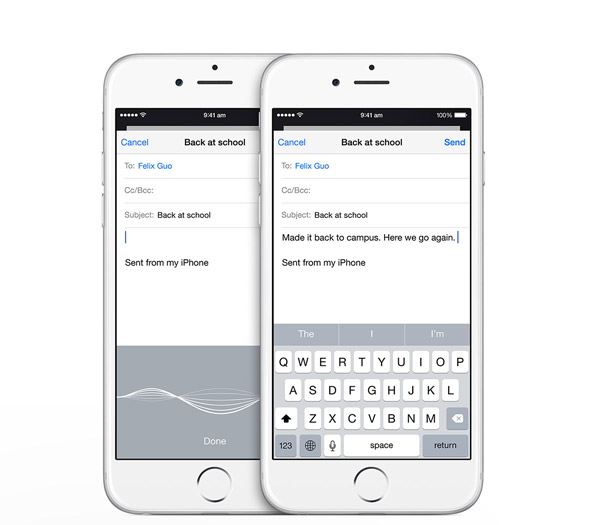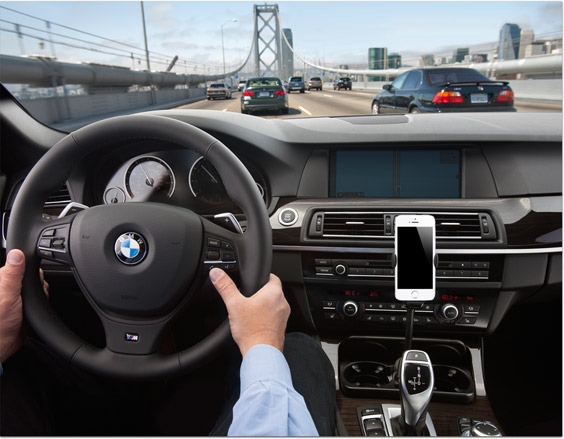 Apple is working with car manufacturers to integrate Siri into select voice control systems. Through the voice command button on your steering wheel, you'll be able to ask Siri questions without taking your eyes off the road. To minimize distractions even more, your iOS device's screen won't light up. With the Eyes Free feature, ask Siri to call people, select and play music, hear and compose text messages, use Maps and get directions, read your notifications, find calendar information, add reminders, and more. It's just another way Siri helps you get things done, even when you're behind the wheel.