Be inspired by students and teachers around the world who are creating amazing new learning materials with iBooks Author on a Mac.

By creating Multi‑Touch materials, teachers are giving students a new way to explore, learn and experiment with hands‑on concepts. University of New South Wales Director of Learning and Innovation Simon McIntyre used iBooks Author to create an interactive reference tool that helps his off‑campus students understand the foundations of lighting.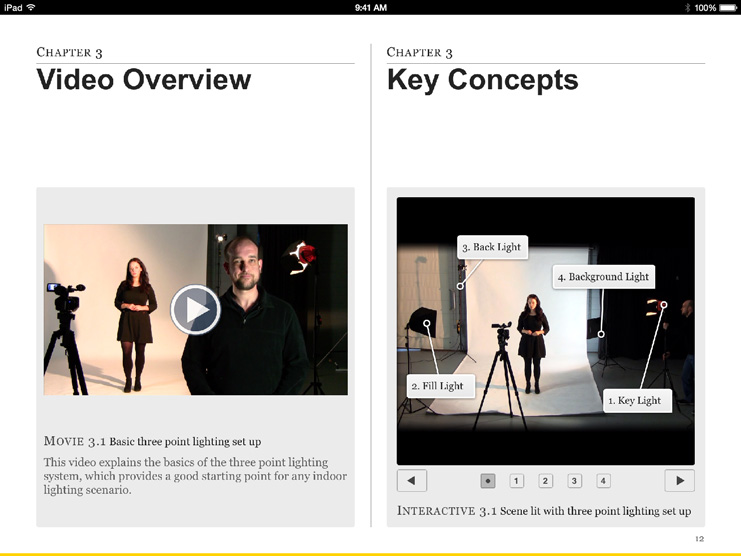 Multimedia materials. Simon assembled videos, photos, text and even 3D objects in his Multi‑Touch "Lighting Essentials" manual so students could master the material at their own pace.
With iBooks Author, it's easy to gather different types of learning materials into a single Multi‑Touch book, so students discover the way they learn best.
In "Lighting Essentials", Simon McIntyre created simple HTML widgets that allow students to interact and experiment with temperature techniques and colour effects on their iPads. His manual is a great reference tool for students, whether they are working at home or out on a shoot. And since iBooks Author makes it easy to share these beautiful interactive books on the iBooks Store, Simon is now able to reach students in a distance learning programme and teach the foundations of lighting as if they were in the studio with him.

Teachers and students are using iBooks Author to start a new chapter on a whole different kind of group or class project. Calie Kuehnert and her Year 9 Life Sciences students worked together to produce a fun-filled way to learn about invertebrates. It offered each student a chance to show off his or her individual talents — and share them with the world.
Multi‑Touch books do more than help students learn new information. Content creation and production with iBooks Author encourages students to work collaboratively, while taking pride in their unique contributions.
Calie Kuehnert asked each of her Life Sciences classes to create a chapter for a course called "Invertebrates". Her students enjoyed dividing up the tasks they most wanted to work on — some chose to design and edit in iBooks Author, while others wrote copy using Pages, or captured photos and video with the built‑in iSight camera on iPad. And one of the highlights for Calie's Year 9 students was publishing their project to the iBooks Store, so kids around the world can discover Life Sciences in a whole new way.

Students are using iBooks Author to make their learning more personal — and let others learn from their ideas as well. Year 9 student Leio Oshima McLaren created an engaging, interactive study guide to help himself, as well as his struggling classmates, get out from under the rock cycle.
When students struggle with a concept or have a great idea, creating an original piece of work in iBooks Author gives them a way to think through the topic from multiple angles — with words, pictures, videos and more.
Leio Oshima McLaren was having a tough time understanding the formation of rocks and how they can change, so he used iBooks Author to help him learn in a different way. Leio used 3D images of garnet, ruby and turquoise, and interactive vocabulary diagrams on things like sediment. He even included a review chapter with multiple‑choice questions that rewarded correct answers and highlighted incorrect ones. Leio not only mastered metamorphic and igneous rocks for himself, he also helped his classmates understand a really hard topic by giving them "Rock on with the Rock Cycle" to study from on a Mac or iPad.