Connect
Cool down, then see how far you've come. Your iPod touch or iPhone 3Gs or later wirelessly sends workout data to nikeplus.com from wherever you are on the road. So straight after your run, you can track your progress and analyse your performance. If you walk or run with iPod nano, workout data is sent to nikeplus.com when you connect it to your Mac or PC.
Compare
Nikeplus.com keeps stats on your every step. Its intuitive interface and great graphics make it easy to see and remember each run and each workout. It helps you track your progress, analyse your performance, break your last record and see how much further you want to go. And you can check your speed, distance and calories burned — by run, by week or by month.
Compete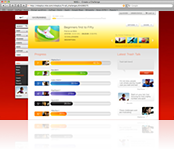 Nikeplus.com keeps you connected with runners from every corner of the web. And that's where the real race begins. Use nikeplus.com to challenge anyone, anywhere to a virtual race. Run on your own time, on your home turf, then log on to nikeplus.com and see results.
Nike + iPod is compatible with iPod nano (3rd generation or later), iPod touch (2nd generation or later), iPhone 3GS, iPhone 4, iPhone 4s, iPhone 5, iPhone 5c and iPhone 5s. Not compatible with iPhone 6 and iPhone 6 Plus.