[an error occurred while processing this directive]
15-inch Technical Specifications
Size and weight
Height:

2.41 cm

(0.95 inch)

Width:

36.4 cm

(14.35 inches)

Depth:

24.9 cm

(9.82 inches)

Weight:

2.54 kg

(5.6 pounds)1
Connections and expansion

[an error occurred while processing this directive] [an error occurred while processing this directive] [an error occurred while processing this directive] [an error occurred while processing this directive]
Display
15.4-inch (diagonal) LED-backlit glossy or optional antiglare widescreen display with support for millions of colours
Supported resolutions: 1440x900 (native), 1280x800, 1152x720, 1024x640 and 800x500 pixels at 16:10 aspect ratio; 1024x768, 800x600 and 640x480 pixels at 4:3 aspect ratio; 1024x768, 800x600 and 640x480 pixels at 4:3 aspect ratio stretched; 720x480 pixels at 3:2 aspect ratio; 720x480 pixels at 3:2 aspect ratio stretched
Graphics and video support
AMD Radeon HD 6750M graphics processor with 512MB of GDDR5 memory on 2.2GHz configuration; or AMD Radeon HD 6770M graphics processor with 1GB of GDDR5 memory on 2.4GHz configuration
Intel HD Graphics 3000 with 384MB of DDR3 SDRAM shared with main memory5
Automatic graphics switching
[an error occurred while processing this directive]
[an error occurred while processing this directive]
Input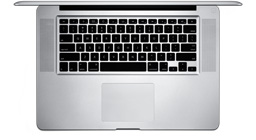 [an error occurred while processing this directive]
Processor and memory

2.2GHz or 2.4GHz quad-core Intel Core i7 processor with 6MB shared L3 cache; or optional 2.5GHz quad-core Intel Core i7 processor with 8MB shared L3 cache
4GB (two 2GB SO-DIMMs) of 1333MHz DDR3 memory; two SO-DIMM slots support up to 8GB
Storage
500GB or 750GB 5400-rpm Serial ATA hard drive; optional 750GB 5400-rpm hard drive; 750GB 7200-rpm hard drive; or 128GB, 256GB or 512GB solid-state drive6
8x slot-loading SuperDrive (DVD±R DL/DVD±RW/CD-RW)
Maximum write: 8x DVD-R, DVD+R; 4x DVD-R DL (double layer), DVD+R DL (double layer), DVD-RW, DVD+RW; 24x CD-R; 10x CD-RW
Maximum read: 8x DVD-R, DVD+R, DVD-ROM; 6x DVD-ROM (double layer DVD-9), DVD-R DL (double layer), DVD+R DL (double layer), DVD-RW, DVD+RW; 24x CD
Battery and power7
Built-in 77.5-watt-hour lithium-polymer battery
85W MagSafe Power Adapter with cable management system
MagSafe power port
[an error occurred while processing this directive]
[an error occurred while processing this directive]
15-inch Configurations
 
2.2GHz MacBook Pro
(MD318LL/A)
2.4GHz MacBook Pro
(MD322LL/A)
Enclosure
Precision aluminium unibody
Processor
2.2GHz quad-core Intel Core i7
2.4GHz quad-core Intel Core i7
L3 cache
6MB shared
6MB shared
Memory
4GB (two 2GB SO-DIMMs) of 1333MHz DDR3 SDRAM; supports up to 8GB
Hard drive6
500GB Serial ATA; 5400 rpm
750GB Serial ATA; 5400 rpm
Slot-loading optical drive
8x SuperDrive (DVD±R DL/DVD±RW/CD-RW)
Graphics
Intel HD Graphics 30005 and AMD Radeon HD 6750M with automatic graphics switching
Intel HD Graphics 30005 and AMD Radeon HD 6770M with automatic graphics switching
Graphics memory
512MB GDDR5
1GB GDDR5
Video
FaceTime HD camera; Thunderbolt port with support for DVI, VGA, dual-link DVI and HDMI (requires adapters, sold separately)
Display
15.4-inch (diagonal) LED-backlit glossy widescreen display, 1440x900 resolution
Expansion
One Thunderbolt port (up to 10Gbps), one FireWire 800 port (up to 800Mbps), two USB 2.0 ports (up to 480Mbps), SDXC card slot
Audio
Stereo speakers with subwoofers, omnidirectional microphone, audio line in mini-jack (digital/analog), audio line out / headphone mini-jack (digital/analog)
Networking
10/100/1000BASE-T (Gigabit) Ethernet
Wireless
Wi-Fi (based on IEEE 802.11n specification)2; Bluetooth 2.1 + EDR (Enhanced Data Rate) wireless technology
Hardware accessories
85W MagSafe Power Adapter, AC wall plug, power lead
Limited warranty
and service
Your MacBook Pro comes with 90 days of free telephone support and a one-year limited warranty. Purchase the AppleCare Protection Plan to extend your service and support to three years from your computer's purchase date. Only the AppleCare Protection Plan provides you with direct telephone support from Apple technical experts and the assurance that repairs will be handled by Apple-authorised technicians using genuine Apple parts. For more information, visit Apple support or call 1800 425 0744.
Apple and the global
environment
Learn more about Apple's dedication to reducing the environmental impact of our products and processes. The Apple Product Environmental Specification details the environmental attributes of our products.
Recycling
Apple takes a holistic view of materials management and waste minimisation. Learn more about how to recycle your Mac.
[an error occurred while processing this directive]