All-new quad-core processors. Thunderbolt technology. The FaceTime HD camera. MacBook Pro has more than its share of innovations.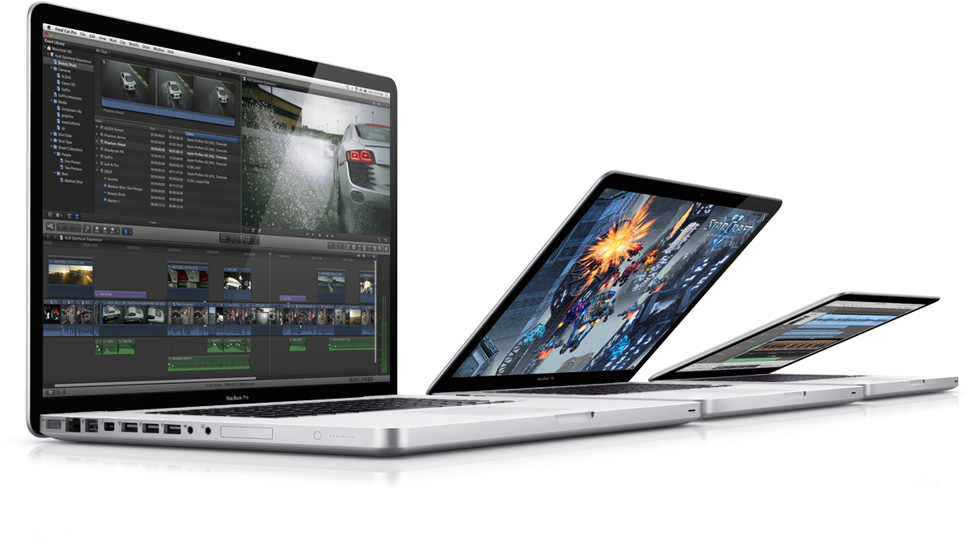 Up to 2x faster processors and
2x faster graphics.
Next-generation quad-core and dual-core Intel processors.
The 13-inch MacBook Pro now features a 2.4GHz Intel Core i5 processor or the fastest dual-core processor available — the 2.8GHz Intel Core i7. With Turbo Boost speeds up to 3.5GHz, these processors allow the 13-inch MacBook Pro to perform up to twice as fast as the previous generation.1

But we couldn't leave fast alone. The new 15- and 17-inch models bring quad-core power to almost everything you do. The available 2.5GHz quad-core Intel Core i7 processor — with Turbo Boost speeds up to 3.6GHz and up to 8MB of shared L3 cache — enables these MacBook Pro models to run applications up to twice as fast as their top-of-the-line predecessors.2
Learn more about the processors in MacBook Pro
The graphics performance you need, when you need it.
The integrated Intel HD Graphics 3000 processor — now included across the MacBook Pro lineup — handles the things you do every day. It encodes video quickly, making HD video calls with FaceTime possible. And it decodes efficiently, so you get long playback time for DVDs and iTunes films.

For graphics-intensive applications, the 15- and 17-inch MacBook Pro models automatically switch to new high-performance AMD Radeon graphics processors. With up to 2x the performance of the previous generation,3 they let you see more frames per second in 3D games, or work on HD video projects with more speed and responsiveness than before.
Learn more about the graphics in
MacBook Pro

Introducing Thunderbolt.
The fastest, most versatile I/O ever in a notebook.
Imagine accessing multiple streams of uncompressed HD video — from your notebook — at speeds that let you edit an HD feature film in real time. That's how Thunderbolt technology will connect the next generation of high-performance peripherals to the next generation of computers — starting with MacBook Pro. Ultra-fast and ultra-flexible, the Thunderbolt pipeline is more than 12 times faster than FireWire 800 and up to 20 times faster than USB 2.0, and it offers unprecedented expansion capabilities. It changes what you can do on a notebook.
The Thunderbolt port will give you plug-and-play performance with a whole new world of Thunderbolt peripherals, as well as with the Apple LED Cinema Display and other Mini DisplayPort peripherals. You can daisy-chain up to six devices, including your display. And with support for video and eight-channel audio, it's easy to connect HDMI-compatible devices — like your TV and home stereo — using the HDMI adapter you already have. Current VGA, DVI and DisplayPort adapters are also supported.
Learn more about Thunderbolt


The new FaceTime HD camera. The difference is clear.
Get more of your friends in the picture with crisp, widescreen HD video. The new FaceTime HD camera gives you three times the resolution of the previous camera — perfect for the brilliant LED-backlit display — along with improved low-light performance. You and your friends can make 720p HD calls from your MacBook Pro to any Mac with a FaceTime HD camera. You can also make video calls to iPad 2, iPhone 4, iPhone 4S, iPod touch and other Intel-based Mac computers.4
Learn more about FaceTime for Mac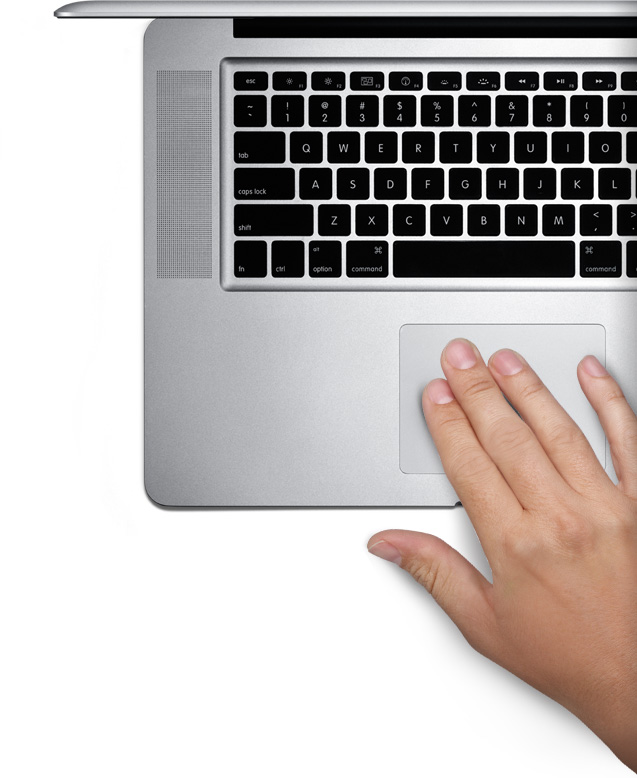 Multi-Touch trackpad.
Be more hands-on.
The Multi-Touch trackpad is the most natural way to interact with what's on your screen, and the smooth glass surface gives you plenty of room for gestures. Pinch to zoom in and out, swipe to flip through photos, rotate to adjust an image and much more. The buttonless design lets you click anywhere. And if you're coming from a right-click world, you can right-click with two fingers or configure a right-click area on the trackpad. The more you use the Multi-Touch trackpad, the more you'll wonder how you ever did without it.

A long-lasting battery. Charge less. Do more.
The new MacBook Pro delivers amazing battery life. And that's with more powerful processors and faster graphics. An energy-efficient processor architecture with an integrated video encoder, along with automatic graphics switching in the 15- and 17-inch models, all help improve battery life. So you can expect to surf the web wirelessly for up to 7 hours on a single charge.5 Or take your entire creative studio on the road for live performances or a location shoot. Advanced chemistry and Adaptive Charging give you up to 1,000 full charge and discharge cycles — nearly three times the lifespan of typical notebook batteries.6 And because the MacBook Pro battery lasts up to five years, MacBook Pro uses just one battery in the same time a typical notebook uses three. That's better for you and for the environment.
Apple is using a new, more rigorous battery test that measures the results you can expect in the real world — like surfing your favourite sites in a coffee shop or catching up on the latest web videos. Even using this new test, MacBook Pro delivers amazing battery life. For your real life.
It's very well connected.
When you're out and about, the latest 802.11n wireless technology in MacBook Pro makes it easy to get connected just about anywhere.7 MacBook Pro automatically finds available networks and allows you to join them with a click. Bluetooth wireless technology is also built in, so you can use your favourite wireless accessories straight out of the box.
Ports with possibility.
With the new Thunderbolt port, you can daisy-chain as many as six devices, including your display, to create a fully fledged workstation. Two USB 2.0 ports (three on the 17-inch MacBook Pro) and a FireWire 800 port let you connect your iPad, iPod, iPhone, digital cameras and external hard drives.
The new SDXC card slot on the 13- and 15-inch MacBook Pro models supports up to 64GB cards and makes it easy to transfer all those photos to and from your MacBook Pro, so you can edit and share them on the spot. And the ExpressCard/34 slot on the 17-inch MacBook Pro is perfect for an eSATA adapter — or even a 3G wireless card for times when no Wi-Fi network is available.

Burn DVDs superfast
Use the 8x SuperDrive on MacBook Pro to burn DVDs in no time. Since the SuperDrive writes to double-layer discs (DVDs with nearly 9GB of space), it's great for backing up data as well.