PRESS RELEASE
05 June 2023
macOS Sonoma brings all‑new capabilities for elevating productivity and creativity
With more ways to personalize with widgets and stunning new screen savers, significant updates to Safari and video conferencing, along with an optimized gaming experience — the Mac experience is better than ever
CUPERTINO, CALIFORNIA
Apple today previewed
macOS Sonoma
, the latest version of the world's most advanced desktop operating system, bringing a rich set of features that elevate the Mac experience. Stunning screen savers and powerful widgets unlock an entirely new way to personalize. Users can now place widgets right on the desktop, interact with them with just a click, and through the magic of Continuity, access the extensive ecosystem of iPhone widgets on their Mac. In macOS Sonoma, video conferencing also gets more engaging with great new features to help users present remotely, like Presenter Overlay, which places a presenter on top of the content being shared, and Reactions, which enables fun gesture-triggered video effects in cinematic quality. Significant updates come to Safari, taking the web experience to the next level. Profiles keeps browsing separate between multiple topics or projects, and web apps provide faster access to favorite sites. And gaming gets even better, with the introduction of Game Mode, exciting new titles, and a new game porting toolkit that makes it even easier for developers to bring more games to Mac.
"macOS is the heart of the Mac, and with Sonoma, we're making it even more delightful and productive to use," said Craig Federighi, Apple's senior vice president of Software Engineering. "We think users are going to love macOS Sonoma and the new ways it enables them to personalize with widgets and stunning new screen savers, see new levels of gaming performance, and gain powerful productivity for video conferencing and browsing with Safari."
Get More Done with Interactive Widgets
Widgets are now even more powerful and personal on Mac. Users can place widgets right on the desktop and conveniently access the widget gallery to find the ones they know and love. Widgets blend seamlessly with the wallpaper while users work in apps, so they can stay focused on the task at hand. Through the magic of Continuity, users can also enjoy the vast ecosystem of iPhone widgets on their Mac. And widgets become interactive, allowing users to check off reminders, play or pause media, access home controls, and perform various tasks from their Mac, all directly from the desktop.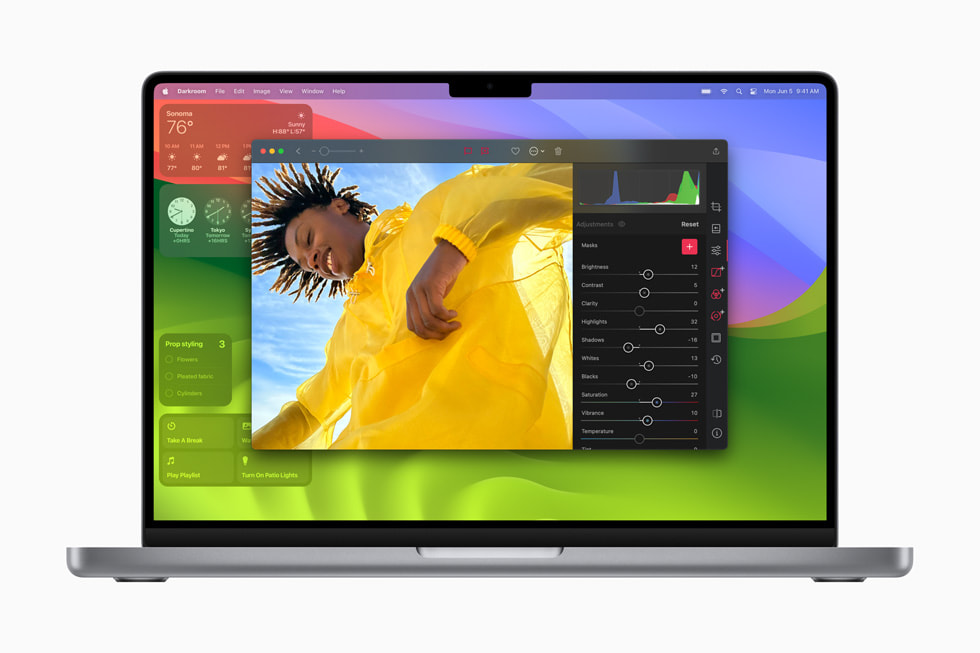 Smarter Video Conferencing Experiences
macOS Sonoma brings enhanced video conferencing features that enable users to present and share their work more effectively within any video conferencing app. Presenter Overlay, a new video effect, elevates a user's presence by displaying them on top of the content they are sharing. Additionally, Reactions allow users to share how they feel by seamlessly adding balloons, confetti, hearts, and more into the video, which can also be triggered with a hand gesture. The improved Screen Sharing picker simplifies the process of sharing apps during video calls. Users can simply click the green button in the top-left corner of an app and choose to share it in the call, allowing for easy content sharing from their currently open windows.
Major Updates to Safari
Safari, the world's fastest browser, introduces new features to enhance the browsing experience for Mac users. This year brings a significant update to Private Browsing, which provides even greater protection during browsing both from trackers and from people who might have access to the user's device. Advanced tracking and fingerprinting protections in Private Browsing go even further to help prevent websites from tracking or identifying the user. Private Browsing windows also lock when users are not using them, allowing them to keep tabs open even when they step away from their device. 
Additionally, profiles help users stay organized by offering a way to separate browsing between topics, while also keeping cookies, history, extensions, Tab Groups, and Favorites separate. Users can sign in to the same site with both work and personal accounts — and quickly switch between them — ensuring a smooth browsing experience. Safari also enables the creation of web apps that behave like normal apps, putting users' favorite sites at their fingertips and providing a simplified toolbar for an app-like experience.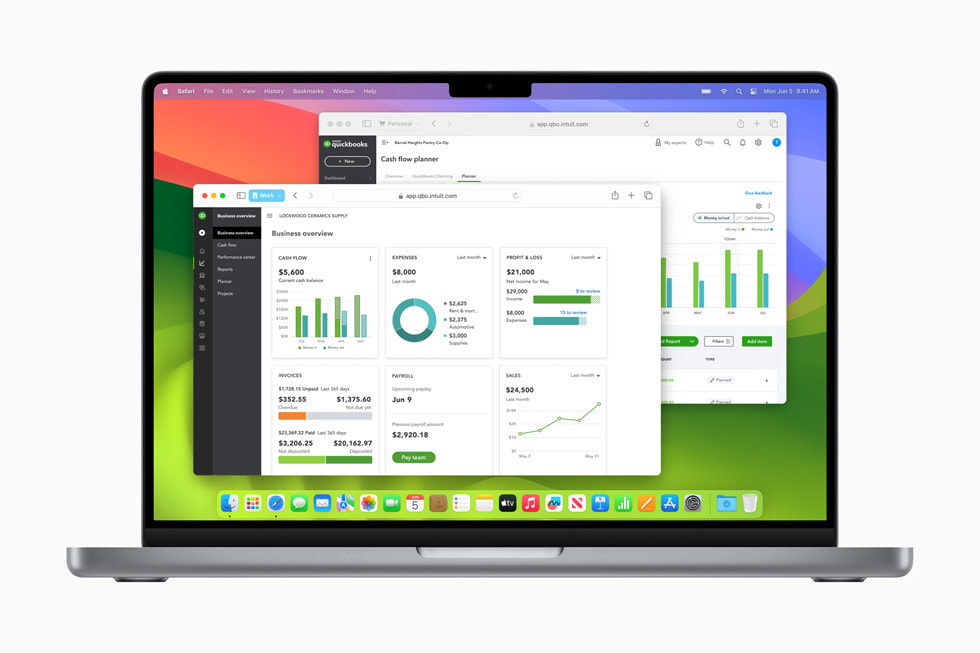 Stunning New Screen Savers
macOS Sonoma brings stunning screen savers featuring slow-motion videos of various locations worldwide, such as the sweeping skyline of Hong Kong, the sandstone buttes of Monument Valley in Arizona, and the rolling hills of Sonoma in Northern California. This rich graphical and photographic imagery enhances the Mac experience by shuffling through Landscape, Earth, Underwater, or Cityscape themes. The login experience is now repositioned at the bottom of the screen, making space for the new screen savers, which seamlessly transition into the desktop.
Games on Mac Get Even Better
With the power of Apple silicon, users experience incredible graphics performance on every Mac. And now, tens of millions of Macs with Apple silicon can run demanding games with great performance, long battery life, and breathtaking visuals. Developers continue to take advantage of Metal 3, bringing exciting new titles to Mac, including DEATH STRANDING DIRECTOR'S CUT, Stray, Fort Solis, World of Warcraft: Dragonflight, HUMANKIND, Resident Evil Village: Winters' Expansion, The Medium, ELEX II, Firmament, SnowRunner, Disney Dreamlight Valley, No Man's Sky, Dragonheir: Silent Gods, and Layers of Fear. To make it easier to port games from other platforms to Mac, Metal introduces a new game porting toolkit, eliminating months of upfront work and enabling developers to see how well their existing game could run on Mac in just a few days. It also dramatically simplifies the process of converting the game's shaders and graphics code to take full advantage of Apple silicon performance, significantly reducing the total development time.
macOS Sonoma also introduces Game Mode, giving players an edge when performance is measured in precious milliseconds. Game Mode delivers an optimized gaming experience with smoother and more consistent frame rates, by ensuring games get the highest priority on the CPU and GPU. Game Mode also makes gaming on Mac even more immersive — dramatically lowering audio latency with AirPods, and significantly reducing input latency with popular game controllers like those for Xbox and PlayStation by doubling the Bluetooth sampling rate. Game Mode works with any game, including all of the recent and upcoming Mac games.
Enhancing Hybrid and Remote Pro Workflows
Leveraging the advanced media engine in Apple silicon, macOS Sonoma brings a new high performance mode to the Screen Sharing app. Enabling incredibly responsive remote access to hybrid in-studio and remote pro workflows, it delivers low-latency audio, high frame rates, and supports up to two virtual displays. This mode empowers pros to securely access their content creation workflows from anywhere — whether editing in Final Cut Pro or DaVinci Resolve, or animating complex 3D assets in Maya. And with support for reference color, it also enables remote color workflows that traditionally could not be performed without dedicated hardware and specialized software.
Enhanced Accessibility Features
macOS Sonoma introduces a range of accessibility features that make Mac even more customizable for all users. For customers with hearing disabilities, Made for iPhone hearing devices can connect to their Mac for calls and media consumption,1 while users who are nonspeaking can use Live Speech to type and vocalize their thoughts during calls and conversations. For users with physical and motor disabilities, phonetic suggestions appear when dictating and editing text with Voice Control on Mac. To assist users with cognitive disabilities, animated images like GIFs can be automatically paused in Messages and Safari. Additionally, users who are blind or have low vision can easily customize text size across Mac apps, and utilize Xcode with VoiceOver, Apple's industry-leading screen reader.
Additional macOS Sonoma updates include:
Streamlined PDFs: Enhanced PDF functionality allows for quick form-filling with AutoFill, and smart recipient recommendations.
Inline PDFs in Notes: Notes now displays PDFs and document scans in full width, and with linked notes, users can quickly connect related notes like recipes or homework.
Siri: Users have the ability to simply say "Siri" to activate Siri.2
Passwords: Users can now create a group to share a set of passwords. Everyone in a group can add and edit passwords to keep them up to date, and since sharing is through iCloud Keychain, it's end-to-end encrypted. Additionally, the one-time verification codes received in Mail will now autofill in Safari, making it easy to securely log in without leaving the browser.
Messages: Users can connect with those closest to them with an all-new stickers experience, enhancements to features like search, reply, groups, and syncing with Messages in iCloud.
Reminders: Intelligent grocery lists in Reminders streamline weekly trips to the store. Additionally, users can organize lists into sections and arrange them horizontally using a new column view.
Keyboard: An all-new autocorrect makes corrections more accurate and easier to fix. Inline completions help users quickly finish sentences, while Dictation brings accuracy improvements through next-level speech recognition.
Privacy and Safety: Communication Safety expands to AirDrop, the Photos picker, incoming calls, and FaceTime messages, further broadening protections for children. Additionally, Sensitive Content Warning prevents unexpected exposure to sensitive images and videos in AirDrop and Messages, incoming calls, and FaceTime messages, while giving the user the option to block the contact or seek further resources for help.
Availability
The developer beta of macOS Sonoma is available through the Apple Developer Program at
developer.apple.com
starting today, and a public beta will be available through the Apple Beta Software Program next month at
beta.apple.com
. The release will be available as a free software update this fall. For more information, visit
apple.com/macos/sonoma-preview
. Features are subject to change. Some features may not be available in all regions, all languages, or on all devices. For more information about availability, visit 
apple.com
.
Users will be able to pair Made for iPhone hearing devices that support bidirectional hearing with select Mac computers with the M1 chip and all Mac computers with the M2 chip.
Just "Siri" invocation works on Mac computers with Apple silicon and AirPods Pro (2nd generation).
Press Contact
Sally Hamandi
Apple
8000 444 19291