Hear sound all around.
Try 1 month free

*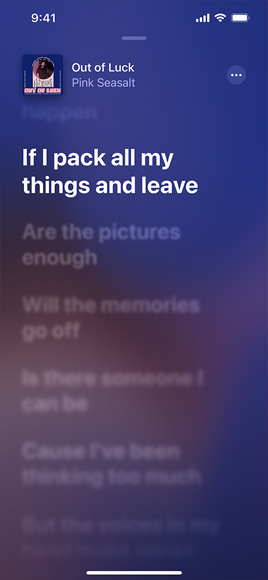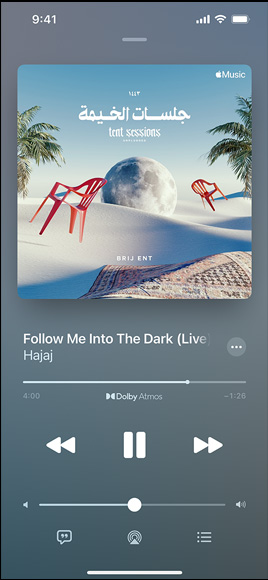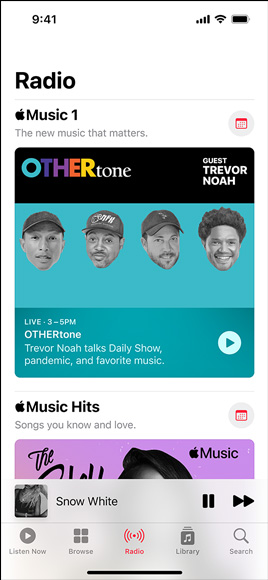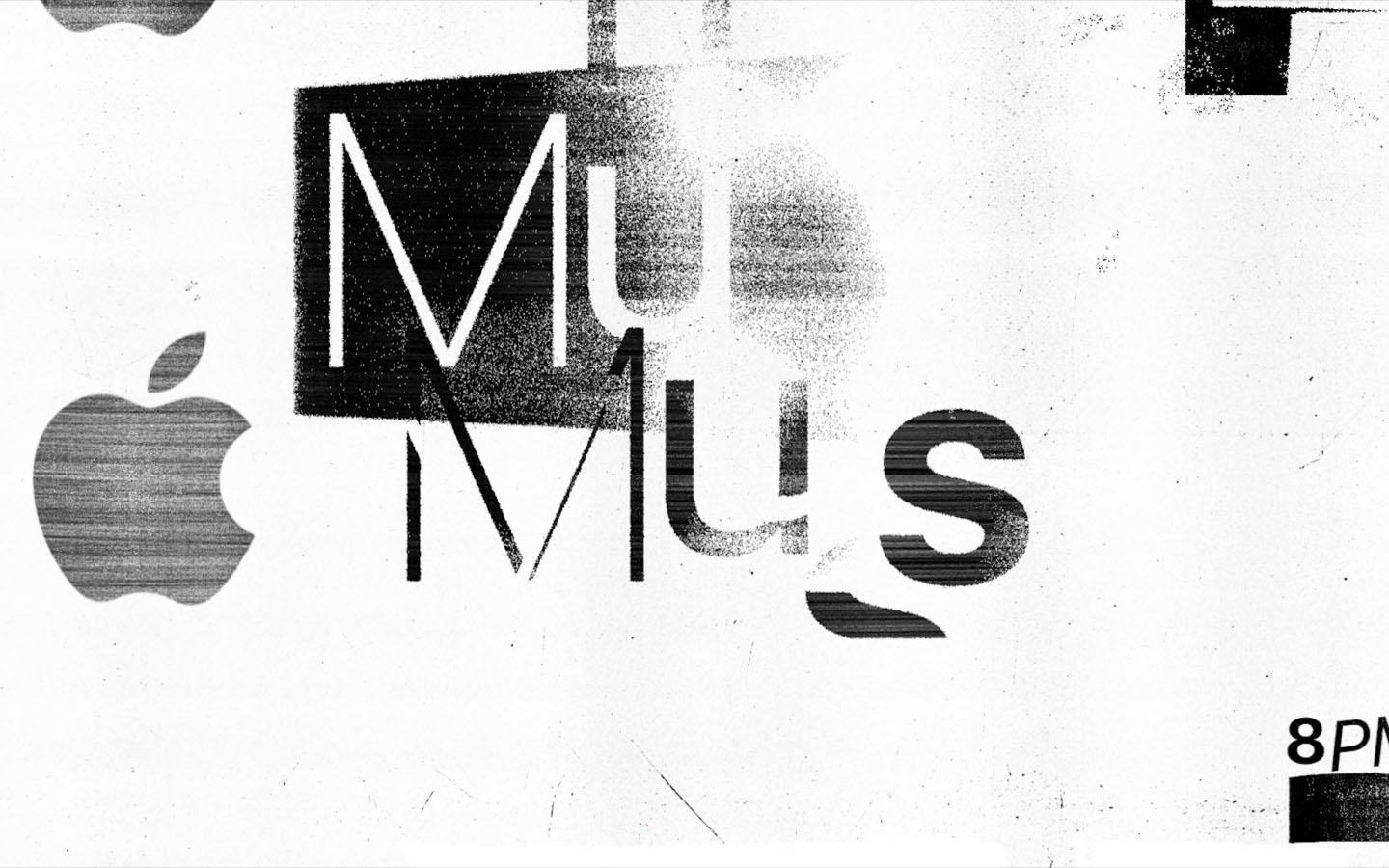 Play over 80 million songs 

and 30,000 playlists.
Experience spatial audio with dynamic head tracking for sound that surrounds you.1
Download your favorite tracks. Play them offline.
Get curated playlists

and live radio.
Listen across your devices.
Try 1 month free

*
Listen and discover. In perfect harmony.
Hear sound all around you with spatial audio with Dolby Atmos.1 And unlock amazing definition with lossless audio.
Experience even more immersive sound with dynamic head tracking on AirPods (3rd generation), AirPods Pro, and AirPods Max.1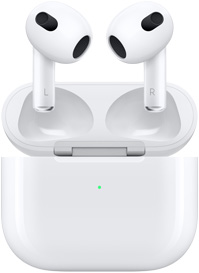 Sing along, tap ahead, share your favorite lines, or just listen with lyrics view — always on and available for millions of songs.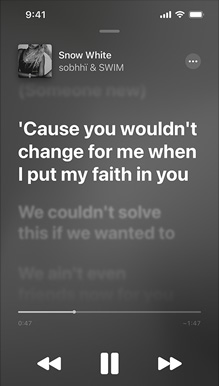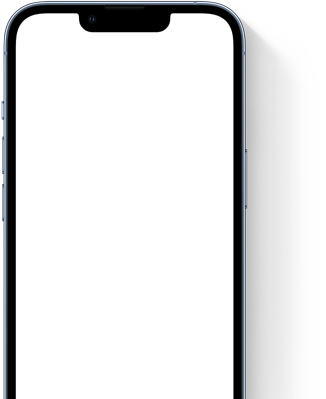 Discover more music you'll love based on what you're already listening to with Listen Now.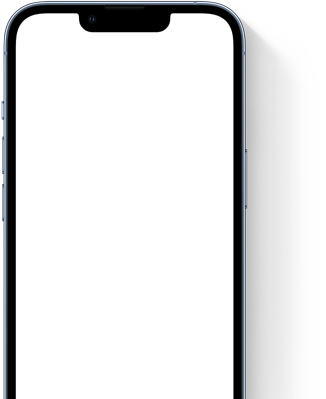 Tap into our editors' picks with curated and personalized playlists.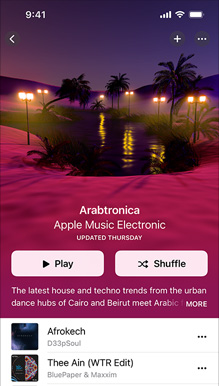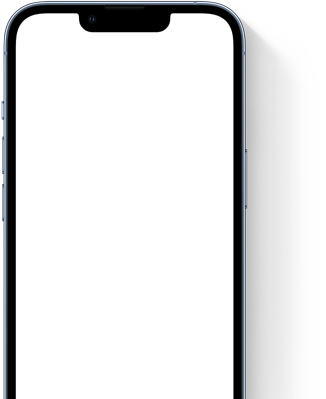 Tune in to live radio stations playing today's hits, classics, and country.2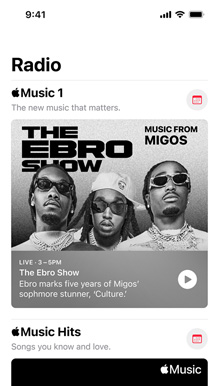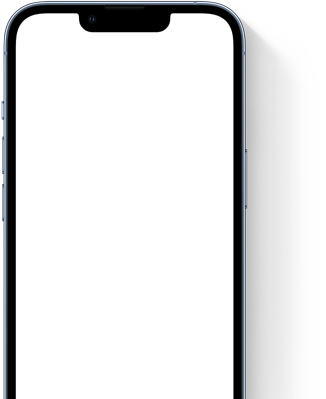 Listen to music right from your Apple Watch.

Playlists and charts

that keep you in the mix.
Choose the plan that's right for you.
No commitment. Cancel anytime.
More than 30,000 expert-curated playlists
Free trial with no commitment.5
Access your entire library from any device and listen online or off
Original shows, concerts, and exclusives
Live and on-demand radio stations hosted by artists
Available on Apple devices
Available on other supported devices
Spatial audio with Dolby Atmos
Full catalog in lossless audio
Download 100,000 songs to your library
See what your friends are listening to
Unlimited access for up to six people
Personal music library for each family member
Personalized music recommendations for each family member

Bundle four
Apple services.
And enjoy more
for less.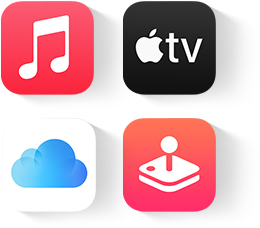 Apple Music Student
Plan comes with Apple TV+ for free.7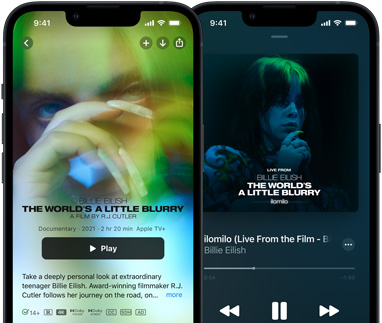 Apple Music plays on all your devices.
iPhone

iPad

Watch
Apple TV
Mac

Smart TVs
Samsung
LG
Gaming
Consoles
PlayStation 5
Android

Amazon Echo
Sonos
Google Nest
Questions? Answers.
Apple Music is a streaming service that allows you to listen to over 80 million songs. Its great features include the ability to download your favorite tracks and play them offline, lyrics in real time, listening across all your favorite devices, new music personalized just for you, curated playlists from our editors, and many more. All this in addition to exclusive and original content. 1

Apple Music is already on your iPhone, iPad, Apple Watch, Apple TV, and Mac — and you can listen online at music.apple.com/jo. Apple Music is also available on Windows and Android devices, and more.

That all depends on which offer you choose. (1) Students can choose the Apple Music Student Plan at $2.99 per month. (2) An individual monthly subscription is just $5.49 per month after your free trial. (3) The Apple Music Family Plan, which allows you to share your account with up to five people and gives each member a personal account, is just $8.99 per month. (4) The Apple Music Individual Plan and the Apple Music Family Plan are also included in Apple One, which bundles up to three other Apple services into a single monthly subscription. Apple One plans start at $11.95 per month.

Dolby Atmos is an innovative audio technology that envelops you in an immersive listening experience. While music mixed in stereo is limited to left and right channels, music created in Dolby Atmos is freed from channels, allowing artists to place individual sounds all around you. Artists can also decide the volume, size, and vibrancy of each instrument to reveal nuanced details in the music.

All Apple Music subscribers using the latest version of Apple Music on iPhone, iPad, Mac, and Apple TV can listen to thousands of Dolby Atmos music tracks using any headphones. When you listen with compatible Apple or Beats headphones, Dolby Atmos music plays back automatically when available for a song. For other headphones, go to Settings > Music > Audio and set Dolby Atmos to Always On. You can also hear Dolby Atmos music using the built‑in speakers on a compatible iPhone, iPad, MacBook Pro, MacBook Air, or iMac, or by connecting your Apple TV 4K to one of the following: a Dolby Atmos compatible sound bar, a Dolby Atmos enabled AV receiver, or a television that supports Dolby Atmos audio. For full list of compatible devices, please see support.apple.com/en-jo/HT212182.

Lossless audio compression reduces the original file size of a song while preserving all of the data perfectly. Apple Music is making its entire catalog of more than 80 million songs available in lossless audio at different resolutions. In Apple Music, "Lossless" refers to lossless audio up to 48kHz, and "Hi-Res Lossless" refers to lossless audio from 48kHz to 192kHz. Lossless and Hi-Res Lossless files are very large and use much more bandwidth and storage space than standard AAC files.

You can listen to lossless audio using the latest Apple Music app on an iPhone, iPad, Mac, or Apple TV. Turn on lossless audio in Settings > Music > Audio Quality. You can choose between Lossless and Hi-Res Lossless for cellular or Wi-Fi connections. Note that Hi-Res Lossless requires external equipment such as a USB digital to analog converter.

Yes. With an Apple Music Family Plan, up to six people in the family can enjoy all the features and the full catalog of Apple Music. To get started, just set up Family Sharing on your iOS or iPadOS device, Android phone, or Mac and invite family members to join.

Students get the same Apple Music features and benefits as individual members. Once your student status with your college or university is verified, you get student membership pricing for up to four years, as long as you remain a student. After four years, your membership will continue at the individual member price.

Apple Music has zero ads.

Your iTunes library is still yours. You can access your entire collection from Apple Music or from iTunes for macOS or Windows.

New subscribers can get six months of Apple Music free with an eligible audio device. Make sure your iPhone or iPad is running the latest version of iOS or iPadOS. Then you can activate your Apple Music trial after you pair your audio device to your iPhone or iPad. You'll have three months to redeem the offer after the first activation of the eligible device.◊
Working with Apple Music.
Apple Music supports artists with tools to create, release, and measure music across a global stage. Discover all the ways to showcase content on Apple Music — including MusicKit, RSS feeds, widgets, brand guidelines, badge art, and more.