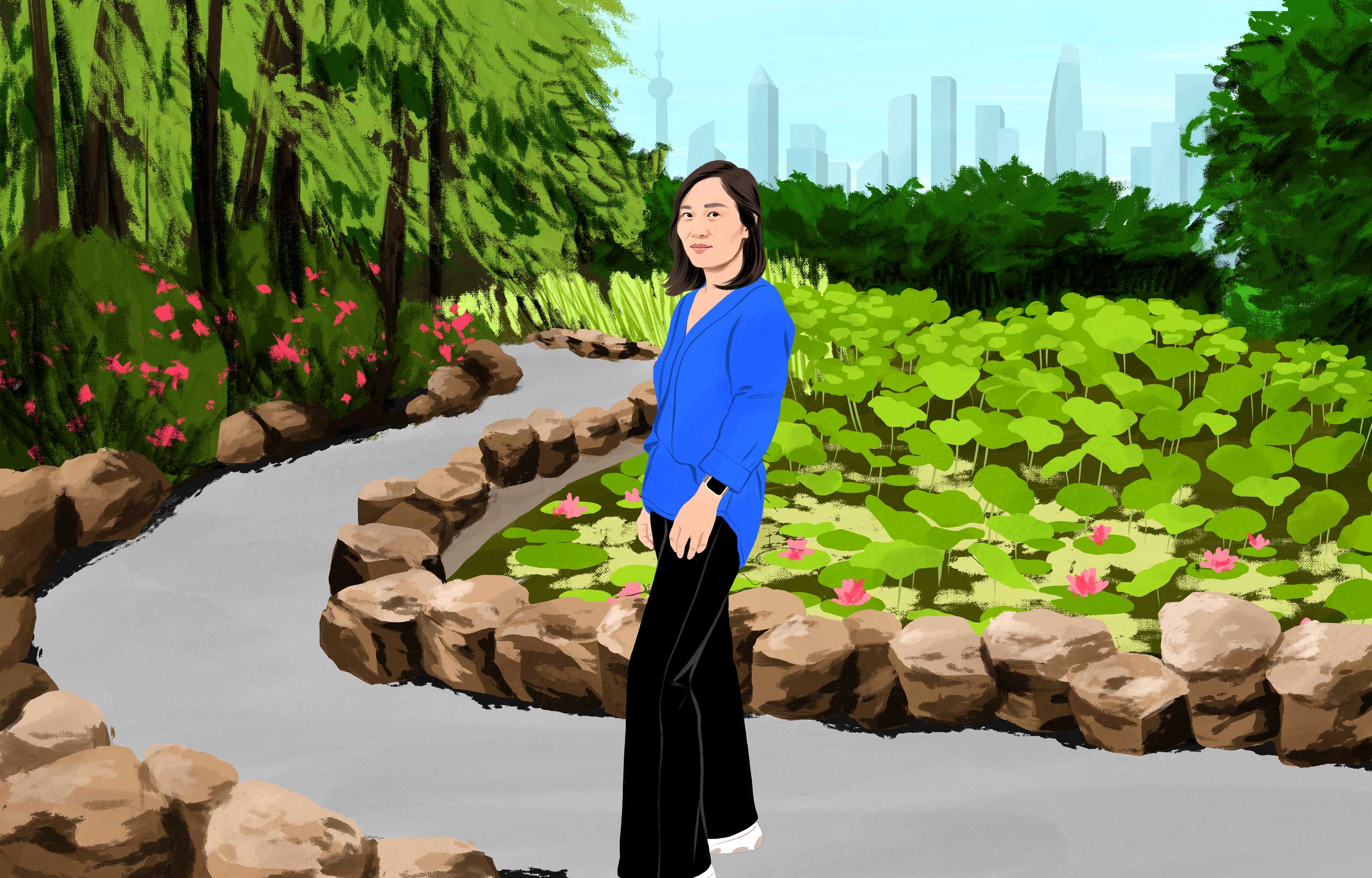 Keeping it green. And clean.
Xu's story
As a kid, I always wanted a bluer sky and cleaner
water. I wanted to help
make that happen.
Xu, Environment and Supply Chain Innovation Programme Manager
Shanghai, China
QuestionWhat inspired you to do this kind of work? AnswerI was raised in a coal-mining community, so I saw firsthand how industry, environment and community are related. And, as I grew up, I learned how a community could come together to improve the world around them. QuestionThat was the spark? Answer Yes, seeing that determined people could create change. So, at university I majored in environment science and technology, and I've been at Apple for about five years now.
It's different here: you're encouraged to think beyond a rigid job
description to influence change
— you feel more invested.
QuestionMany at Apple are doing environment-related work — what's the focus of your particular team? AnswerWe drive environmental innovation within the supply chain. That really matters because we create many millions of products for people around the world, and those products are built in partnership with thousands of material suppliers, so it's important that we consider our impact. QuestionDo you do much of your work in a supplier's facility? Answer A lot, yes. I work directly with our supply chain partners to create cleaner ways to work. My role is to help make sure that the materials and processes we use are safe.
QuestionPeople must find that reassuring, given these are devices that we're using or holding or wearing. AnswerFor sure, but it's bigger than what we experience as customers using the products. We want our suppliers to understand the environmental and safety standards in place for everyone in the product's journey, including their own employees.
We think of who uses a product and also who builds it — and we apply the same high standard of safety, regardless.
QuestionSounds like a win-win. Answer I'd add another win, because we don't stop there — we also share these innovations with other manufacturers. QuestionSharing innovations sounds like an innovation itself. AnswerWell, when new ideas make a difference for the environment, that's not something we want to keep to ourselves. Question How does that sharing work? Answer I represent Apple as a chairperson of a committee that's creating an industry standard for green chemistry. We meet to collaborate with others and share ideas about safety and environmental solutions for stronger standards worldwide.
It's like the opposite of a company secret: when we create safer, cleaner methods, we share them across the industry.
QuestionHow does this translate to actual production? AnswerCarefully and diligently. For example, if one of our programmes calls for material changes, it can require changes on production lines, but we work to make it as simple as possible to adopt the safer, cleaner way to work. QuestionDoes simple mean easy? AnswerWell, even if it takes extra effort, our suppliers and Apple people know it's the right thing to do. And support for these efforts goes all the way to the top of our leadership.
I talk with my kids about what I do and, more importantly, about why I do it.