MacBook Air Technical Specifications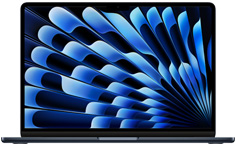 Finish

Silver, Starlight, Space Grey, Midnight
Chip
Apple M2 chip
8-core CPU with 4 performance cores and 4 efficiency cores
8-core GPU
16-core Neural Engine
100GB/s memory bandwidth
Media engine
Hardware-accelerated H.264, HEVC, ProRes and ProRes RAW
Video decode engine
Video encode engine
ProRes encode and decode engine
Configurable to:
M2 with 8-core CPU and 10-core GPU
Apple M2 chip
8-core CPU with 4 performance cores and 4 efficiency cores
10-core GPU
16-core Neural Engine
100GB/s memory bandwidth
Media engine
Hardware-accelerated H.264, HEVC, ProRes and ProRes RAW
Video decode engine
Video encode engine
ProRes encode and decode engine
Display
Liquid Retina display
13.6-inch (diagonal) LED-backlit display with IPS technology;1
2560x1664 native resolution at 224 pixels per inch
500 nits brightness
Colour
Support for 1 billion colours
Wide colour (P3)
True Tone technology
Up to 18 hours Apple TV app movie playback
Up to 15 hours wireless web
52.6-watt‑hour lithium‑polymer battery
30W USB‑C Power Adapter (included with M2 with 8-core GPU)
35W Dual USB‑C Port Power Adapter (included with M2 with 10-core GPU and 512GB storage, configurable with M2 with 8-core GPU)
USB‑C to MagSafe 3 Cable
Fast-charge capable with 70W USB‑C Power Adapter
Charging and Expansion
MagSafe 3 charging port
3.5mm headphone jack
Two Thunderbolt / USB 4 ports with support for:
Charging
DisplayPort
Thunderbolt 3 (up to 40Gb/s)
USB 4 (up to 40Gb/s)
USB 3.1 Gen 2 (up to 10Gb/s)


Memory
8GB
8GB unified memory
Configurable to:
16GB or 24GB
256GB
256GB SSD
Configurable to:
512GB, 1TB or 2TB
512GB
512GB SSD
Configurable to:
1TB or 2TB
Keyboard and Trackpad
Backlit Magic Keyboard with:
78 (US) or 79 (ISO) keys including 12 full-height function keys and 4 arrow keys in an inverted "T" arrangement
Touch ID
Ambient light sensor
Force Touch trackpad for precise cursor control and pressure-sensing capabilities; enables Force clicks, accelerators, pressure-sensitive drawing and Multi-Touch gestures
Camera
1080p FaceTime HD camera
Advanced image signal processor with computational video
Audio
Four-speaker sound system
Wide stereo sound
Support for Spatial Audio when playing music or video with Dolby Atmos on built-in speakers
Spatial Audio with dynamic head tracking when using AirPods (3rd generation), AirPods Pro and AirPods Max
Three-mic array with directional beamforming
3.5mm headphone jack with advanced support for high-impedance headphones
Display Support
Simultaneously supports full native resolution on the built-in display at 1 billion colours and:
One external display with up to 6K resolution at 60Hz
Thunderbolt 3 digital video output
Native DisplayPort output over USB‑C
VGA, HDMI, DVI and Thunderbolt 2 output supported using adapters (sold separately)
Video Playback
Supported formats include HEVC, H.264 and ProRes
HDR with Dolby Vision, HDR10 and HLG
Audio Playback
Supported formats include AAC, MP3, Apple Lossless, FLAC, Dolby Digital, Dolby Digital Plus and Dolby Atmos
Size and Weight
Height: 1.13 cm (0.44 inches)
Width: 30.41 cm (11.97 inches)
Depth: 21.5 cm (8.46 inches)
Weight: 1.24 kg (2.7 pounds)4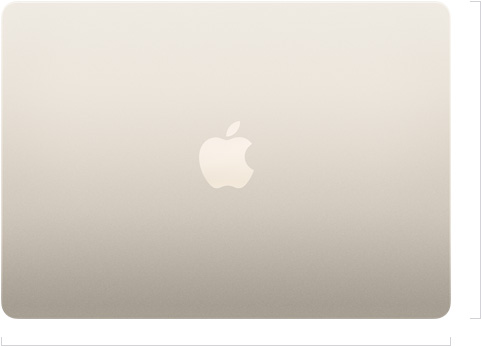 Accessibility
Accessibility features help people with disabilities get the most out of their new MacBook Air. With built-in support for vision, hearing, mobility and learning, you can create and do amazing things.
Features include:
Voice Control
Increase Contrast
Switch Control
VoiceOver
Reduce Motion
Zoom
Siri and Dictation
In the Box
13-inch MacBook Air
30W USB‑C Power Adapter
(M2 with 8-core GPU)
or
35W Dual USB‑C Port Power Adapter
(M2 with 10-core GPU and 512GB storage)
USB‑C to MagSafe 3 Cable
(2m)

Limited Warranty and Service
In Ireland, consumers are entitled to a free-of-charge repair or replacement, by the seller, of goods that do not conform with the contract of sale. Under Irish law, consumers have up to six years from the date of delivery to exercise their rights; however, various factors may impact your eligibility to receive these remedies. For more details, click here.
Your MacBook Air also comes with 90 days of complimentary technical support and a one-year limited warranty from Apple. To learn more about how Apple will service your MacBook Air, click here.
Purchase AppleCare+ to get up to three years of expert technical support and hardware coverage, including unlimited repairs for accidental damage from handling, each subject to an excess fee. For more information, click here.
Configure to Order
Configure your MacBook Air with these options at apple.com:
M2 with 10-core GPU
16GB or 24GB unified memory
512GB, 1TB or 2TB SSD
35W Dual USB‑C Port Power Adapter
70W USB‑C Power Adapter

MacBook Air and the Environment
13-inch MacBook Air with M2 chip is designed with the following features to reduce its environmental impact:6
See the 13-inch MacBook Air with M2 chip Product Environmental Report
Made with better materials
100% recycled aluminium in the enclosure7
100% recycled rare earth elements in all magnets, representing 98% of the rare earth elements in the device
90% recycled steel in the battery tray
100% recycled tin in the solder of the main logic board
35% or more recycled plastic in multiple components
Energy efficient
ENERGY STAR® certified8
Smarter chemistry9
Arsenic-free display glass
Mercury-, BFR-, PVC- and beryllium‑free
Green manufacturing
Responsible packaging
100% of the virgin wood fibre in the packaging comes from responsibly managed forests12
96% or more fibre-based, due to our work to eliminate plastic in packaging13
Apple Trade In
Trade in your eligible device for credit towards your next purchase, or get an Apple Gift Card you can use anytime.14 If your device isn't eligible for credit, we'll recycle it for free.
See how it works
Apple and the Environment
Today, Apple is carbon neutral for global corporate operations, and we are focused on our Apple 2030 goal to make every product carbon neutral.
See Apple's commitment