Your health data.
In your control.
The Health app was created to help organize your important health information and make it easy to access in a central and secure place. iOS 16 allows you to manage, understand, and track your medications, invite loved ones to Health Sharing, and see your sleep stages.
The Health app on iPhone puts important health information at your fingertips like your health records, medications, activity, sleep, and more.
It collects health and activity-related data from your iPhone, the built-in sensors on your Apple Watch, compatible third-party devices, and apps that use HealthKit.
The Health app is built to keep your data secure and protect your privacy. Your data is encrypted and you are always in control of your health information.
A change in the way
you see your health.
The more informed you are, the more empowered you can be. That's why the Health app helps you make sense of your data. So you can view your activity, manage your medications, better understand your sleep, and work with your healthcare providers to make the choices that are best for you.
Stay on top of your trends.
Advanced trend analysis lets you see how health metrics like blood glucose, heart rate, and respiratory rate change over time. And you can get notifications when new trends are detected.
See your sleep metrics.
Apple Watch tracks sleep metrics like blood oxygen levels, heart rate, time asleep, and sleeping respiratory rate.1 iOS 16 lets you see your heart rate and sleeping respiratory rate alongside your time asleep with comparison charts in the Health app.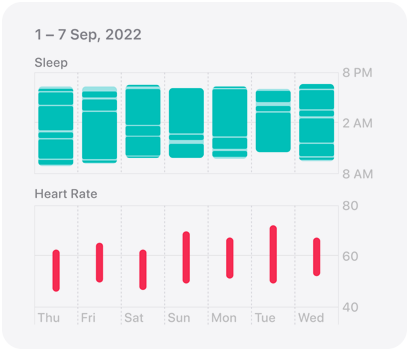 Caring is sharing.
Having a second set of eyes on your health data can give you peace of mind. With enhanced sharing features, the Health app lets you do just that by offering powerful ways to stay connected to your loved ones and provide useful information to healthcare providers.
You're in charge of you.
When you share your information, you have complete control over what you share and the people and institutions you share with. And you can make changes at any time.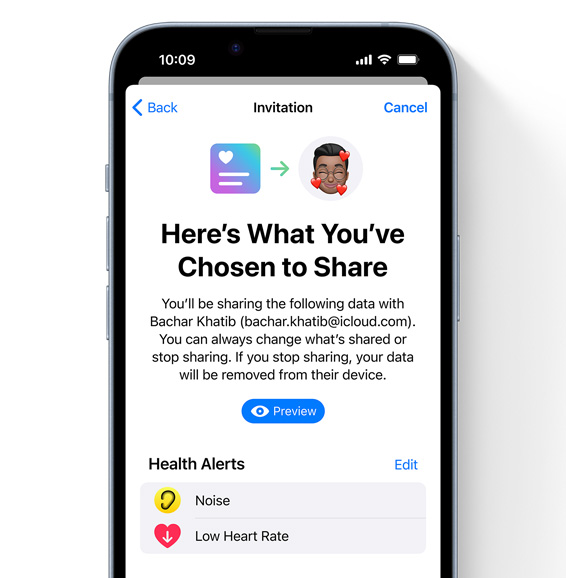 Be the leading
expert on you.
Your body is a complex system. The Health app makes understanding it a bit simpler by helping you access test results and immunization records — and sort through them with ease.
Your Medical ID. Always with you.
Create an emergency Medical ID card that allows first responders to access your critical medical information from the Lock Screen.
Designed for privacy
and security.
As we introduce and expand ways to share your health data, privacy continues to be at the core. All of our health features are built to keep your data secure and protect your privacy. Your health data is encrypted — both in transit and at rest — when your phone is locked with a passcode, Touch ID, or Face ID. And you are always in control.
You are in control.
You decide which information is in the Health app, which apps can access your data, and who you share your data with.