Art and form: Dancer Hope Boykin explores freedom with AirPods
In her own words, Hope Boykin is a creator. She's an educator, a mover and a motivator. And she's also a bit of a techie.
A self-proclaimed early adopter, Boykin laughs at her sometimes extreme lengths to get the latest iPhone, or strategically enlisting fellow company members to pick up AirPods for her while she was traveling in 2016.
"I knew they were going to change everything," Boykin says.
At rehearsal, colleagues grilled her about whether they would like them, using Boykin as their own personal gadget reviewer. Boykin even relies on her AirPods to drown out the world during her physical therapy (PT), putting herself in a bubble, from the PT table to her subway ride home. Today, AirPods are the world's most popular wireless headphone. "When I'm on the train and I look down the line of the subway, everyone has AirPods in," she says.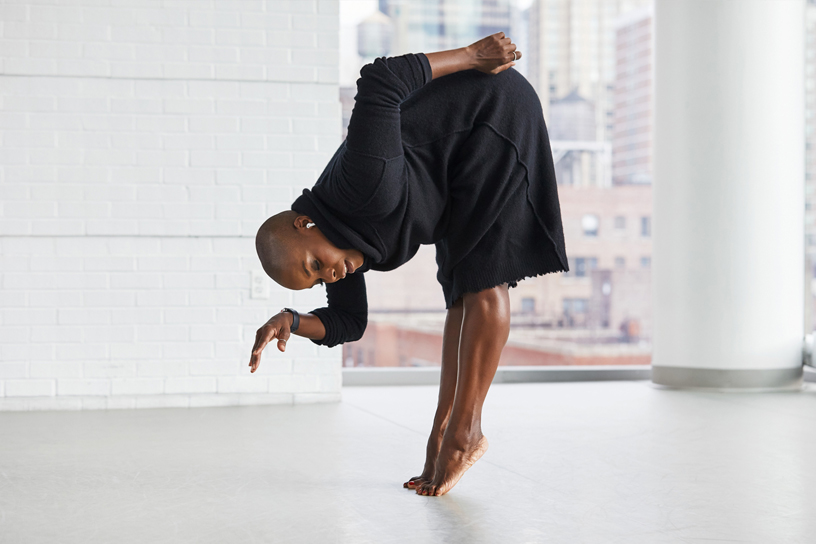 A dancer performing with the Alvin Ailey American Dance Theater (AAADT) for 19 years, Boykin has been moving since she was 3 years old, and dancing professionally for the past 26 years.
"I've been choreographing since maybe 4," Boykin says. "I also was asked to choreograph 'Willy Wonka and the Chocolate Factory' when I was in the fourth grade."
Next month, Boykin rejoins AAADT after an ankle injury last December. Before stepping back out on stage, she will have choreographed several works in various artistic worlds. She's now worked in theatre, choreographing a new musical at the Public Studio in New York. She's working with a BFA student at The Ailey School, creating her solo performance for an upcoming benefit show. Her latest project: choreographing soul singer Andra Day's performance of her soulful song "Rise Up" at the Hudson Yards opening ceremony on 15 March, 2019. "It seems like every time I get hurt, I find a new medium to express myself," she says. "It just reminds me that I don't have limits."
When Boykin was asked to choreograph the Hudson Yards performance, she buried herself in Andra Day's music, wearing her AirPods wherever, whenever. "I listened to it so much it was frustrating," she says. "On the subway, leaving the house, when I got home. When you know every [inhale] she's going to do, or [exhale], then you can put that in the movement. So there's that surrounding of yourself in the music."
"I can turn and jump and leap, and they do not come out of my ear. You are untethered, but you're still free."
At The Ailey School, Boykin revels in her ability to move freely, floating across the studio, getting lost in her own world. "Oftentimes I feel like the design of something was designed for me," she says. "I can turn and jump and leap, and they do not come out of my ear. You are untethered, but you're still free."
Boykin recalls her days with Philadanco in the '90s, when dancers would learn repertory by watching performance footage on VHS on a television. "You'd watch it and you'd rewind it, and then you'd rewind it so much that you ruined the tape, that you got clear tape and you closed it up."
Since then, Boykin has embraced every technology available to her. From an early cassette camcorder to her AirPods and collection of iPhones that she rigs up in the studio alongside a DJI Osmo camera to record her rehearsals from every angle, Boykin is obsessed with the art of capture. She produced her own book, "Moments," a collection of her words, musings and imagery of herself. She has a series of videos (shot and edited — by her — in Final Cut Pro) that she uses to express herself in her "off time." Her students are her latest medium.
"I have my AirPods in so I can make sure my work sounds the way it should sound," Boykin says. "But I don't always let them hear what we're working on. It leaves the dancers feeling a raw feeling. They aren't trying to marry themselves to one line, or one chord, or one note. I could give them notes about how they should feel, before they hear the music."
"It helps to be in the zone and for us to be kind of like a canvas for her," says Martina Viadana, a student at The Ailey School and who Boykin refers to as her "body" to articulate her choreography before she is cleared to fully move again herself. "She's really like the painter in that sense."
While technology might seem like the antithesis of dance, it has transformed the experience, enabling students the freedom to move and learn in their own way, at their own speed. For Boykin, it's allowed her the freedom to create, regardless of her ability to move.
"Freedom is a lot of things," Boykin says. "As a performer, I can pretend. I can smile with a tear falling, or perform after the death of my father, or feel unworthy and still be able to share something, but it's nice to be able to get lost in your space at times."
"When I can be in a room with several other people, have my phone in my bag and my AirPods in my ears," she says, "and I can lose myself in that space, I'm not tied to a cord, I'm not tied to someone's opinion, I'm not tied to judgement, it's just me, and then I can be as free as I can possibly be."