The iTunes Store puts hundreds of thousands of free podcasts at your fingertips. Easily find and enjoy your next favourite on your iPhone, iPad, iPod touch, computer or Apple TV. From automotive to news, fitness to pop culture, there's a podcast (or more) for everyone.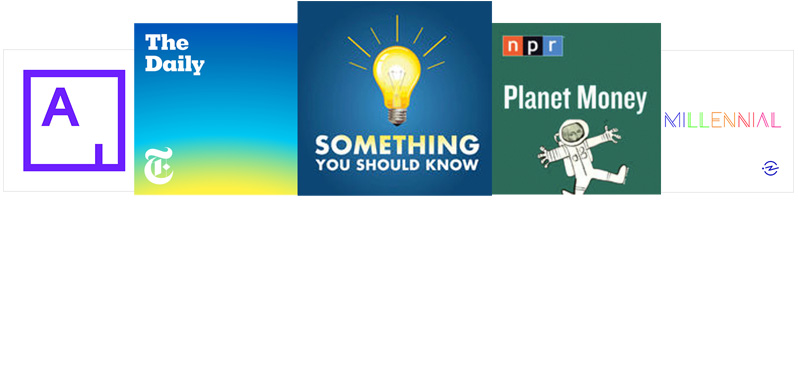 Find Your New Favourite Podcast
Find podcasts that appeal to your interests by browsing through the featured selections from our iTunes editors, exploring the episodes and podcasts that are topping the iTunes charts, or searching for a podcast by title or subject.
Listen Up
Enjoy podcasts by streaming or downloading them directly to your iPhone, iPad, iPod touch, computer or Apple TV. Once you find a podcast that you love, subscribe to it and you will automatically receive any future episodes. Plus, thanks to iCloud, you can start listening on one device and finish on another.
Listen at Your Own Pace
If you prefer to hear spoken audio content at a faster or slower playback rate, it's easy to do so on your iPhone, iPad or iPod touch. While listening to an audio podcast in the Podcasts app, use the speed indicator, located in the bottom-left corner, to adjust your playback speed.
Read the Fine Print
In addition to video and audio podcasts, iTunes also features text-based podcasts that you can enjoy on your computer in PDF or ePub format, or in iBooks on your iPhone, iPad, iPod touch or Mac.
Enhance Your Spoken Word Experience
If you listen to a lot of spoken-word podcasts, the "Spoken Word" EQ setting, which can be found under the Window menu in iTunes, can make your podcasts sound even better. This EQ setting reduces bass frequencies, which is especially handy for amateur podcasts, where mic pops and other noise might occur.
Create Your Own Station
Create personalized stations from your favourite podcasts in iTunes or in the Podcasts app for iPhone, iPad and iPod touch. And since iCloud stores your personalized stations, you're always up to date on all of your devices.
Make Playlists in iTunes
Keep a steady stream of episodes playing by creating a playlist or Smart Playlist that includes podcasts based on artist, genre, episode length and more. For example, you can create a Smart Playlist for news podcast episodes longer than 40 minutes.
Not in the Store? Not a Problem.
If you come across a podcast on the Internet that you can't find in the iTunes Store, you can still subscribe to it. In the Podcasts app, just paste the feed URL into the search field. In iTunes, from the File menu, choose Subscribe to Podcast and enter the podcast feed URL.
Time to Unsubscribe
If you find you have more content than you can handle, it's easy to unsubscribe and come back to it later. Additionally, if you don't listen to your subscriptions, your automatic updates of that podcast will be paused until you get a chance to catch up.
Share Your Favourites
Have you found something that your friend or family member will love? Easily share a podcast or an episode on Facebook, Twitter or with email using Tell a Friend. Additionally, you can share your entire playlist to help new listeners build their library with all of your favourites.