PRESS RELEASE
June 5, 2023
iPadOS 17 brings new levels of personalization and versatility to iPad
Featuring a redesigned Lock Screen and interactive widgets; intelligent new features in PDFs and Notes; updates to Messages, FaceTime, and Safari; and the all-new Health app
TORONTO, ONTARIO
Apple today previewed
iPadOS 17
, delivering entirely new ways for users to personalize the Lock Screen and interact with widgets. Working with PDFs is easier with AutoFill, which intelligently identifies and fills fields in forms, and Notes brings a new experience for marking up and collaborating on PDFs. Messages gets significant updates, including a new stickers experience, and users can now leave FaceTime video and audio messages. The Health app comes to iPad with interactive charts, and HealthKit enables developers to create innovative experiences designed for the iPad display. iPadOS 17 is available as a developer beta today, and will be available as a free software update this fall.
"iPadOS powers our most versatile device and enables users to do so many things on iPad, and now with iPadOS 17, we deliver an experience that's even more personal and capable," said Craig Federighi, Apple's senior vice president of Software Engineering. "With interactive widgets on the Lock Screen, updates to PDFs and Notes, as well as enhancements to Messages and FaceTime, iPadOS gives users even more ways to get things done easier and faster than ever."
A Personalized and Beautiful Lock Screen Experience
Taking full advantage of the iPad display, users can now customize the Lock Screen to make it more personal, useful, and beautiful. Rich new photo features allow users to set their favourite images on the Lock Screen and stylize them in new ways. Users can select a photo from their personal library, a dynamic set of photos that shuffle throughout the day, or a Live Photo for a smooth slow-motion effect whenever they wake iPad.
Users can choose a wallpaper from the Lock Screen gallery that will look stunning on the large canvas of iPad, pick from a set of expressive font styles and colours to customize the look of the date and time, or create unique designs with their favourite emoji and colour combinations.
Live Activities comes to iPadOS, allowing users to stay on top of things that are happening in real time right from the Lock Screen, such as a sports game, travel plans, or a food delivery order.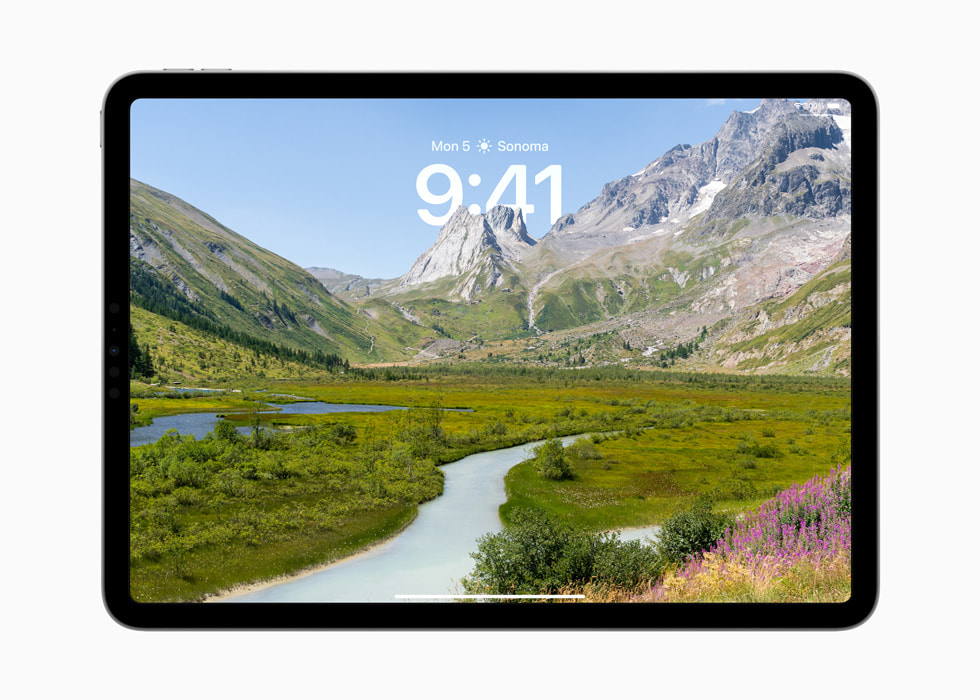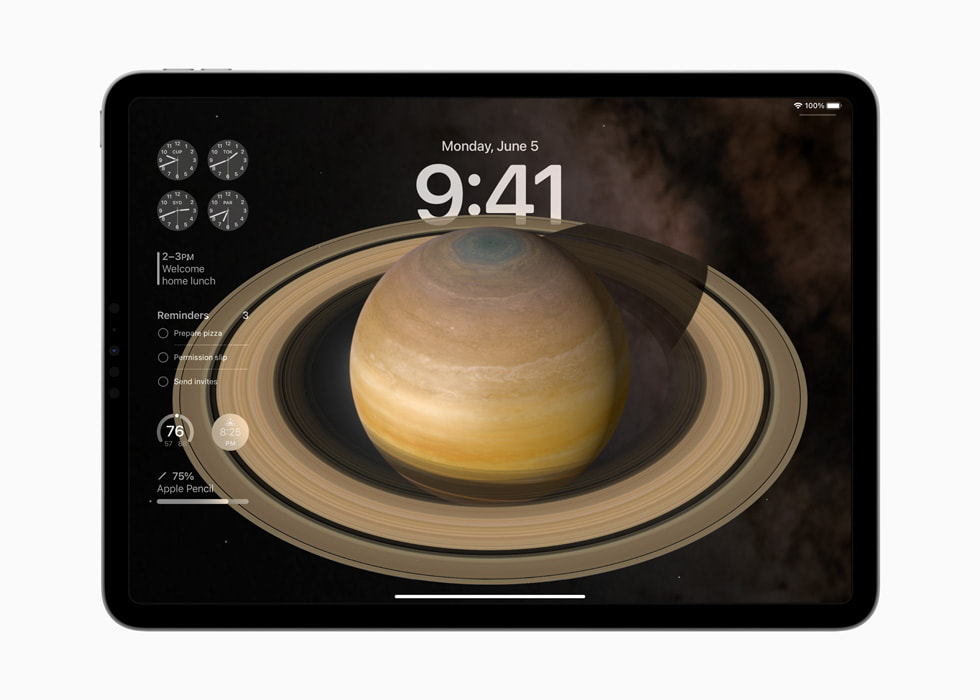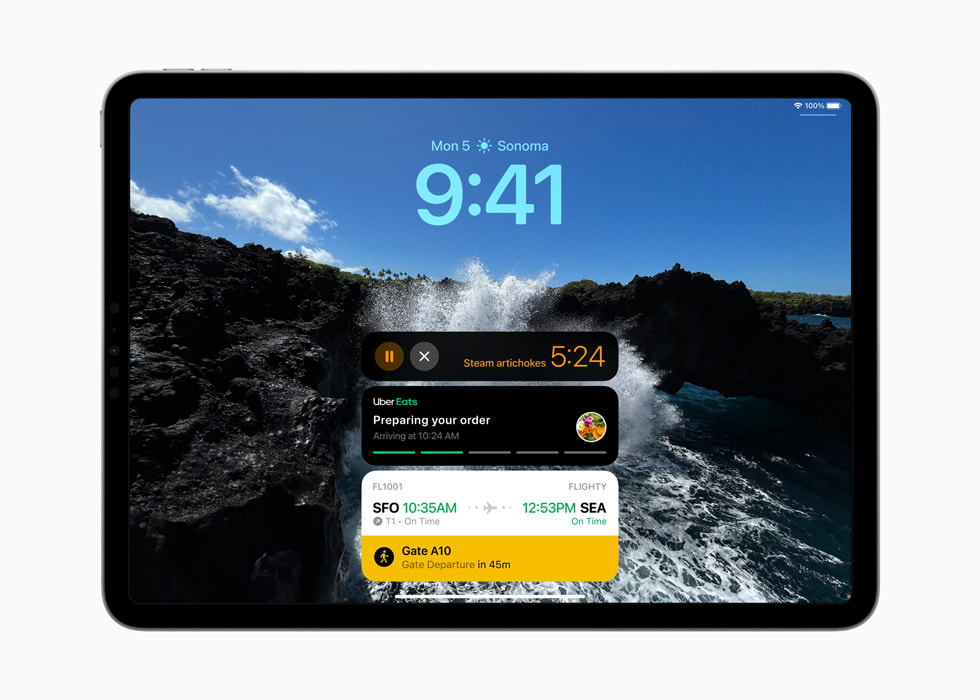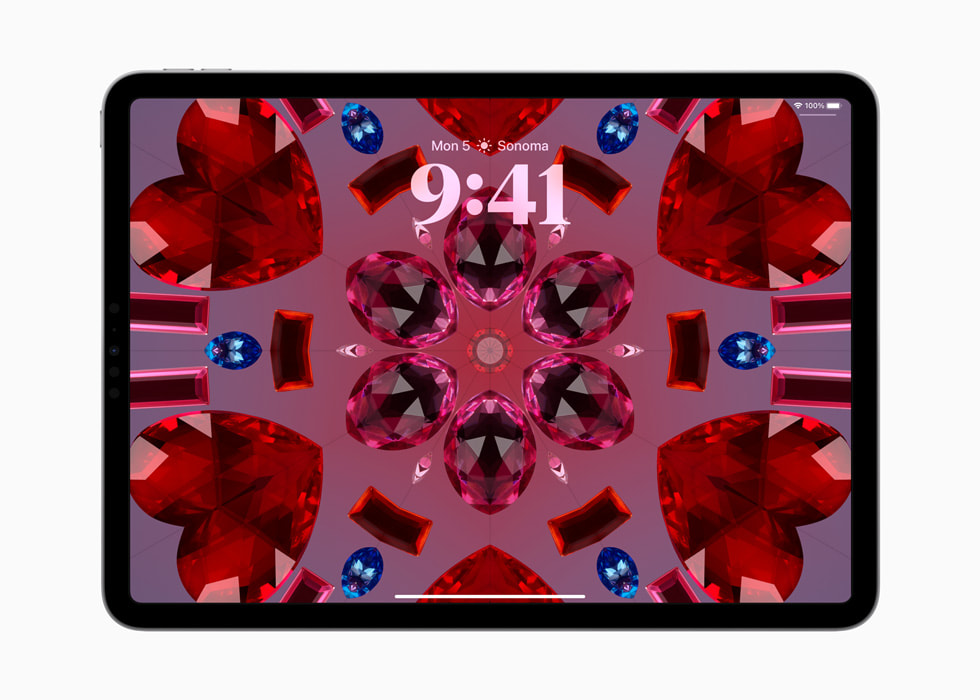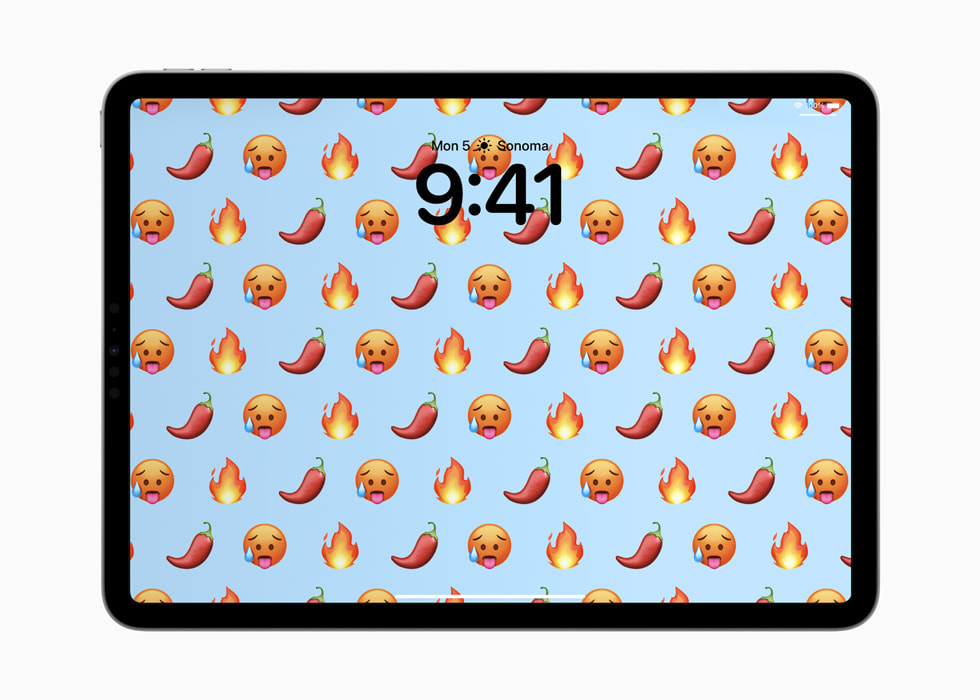 More Powerful Widgets
Widgets get interactive in iPadOS 17, allowing users to get tasks done with just a tap. For example, users can turn on the lights, play a song, or mark a reminder as complete in the moment, right from a widget. And with updates to WidgetKit, developers can build interactivity into their widgets.
Interactive widgets are now available on the Lock Screen and Home Screen, making it easy to take action and get helpful information at a glance. On the Lock Screen, widgets blend seamlessly with the wallpaper with adaptive tinting to optimize for legibility.
Working with PDFs Is Even Easier
Entering information in PDFs is now easier than ever. iPadOS 17 uses machine learning to identify fields in a PDF so that users can quickly add details, such as names, addresses, and emails from Contacts.
Notes Introduces a New PDF Experience
A big update to the Notes app gives users new ways to organize, read, annotate, and collaborate on PDFs. In iPadOS 17, PDFs appear full width, making it easy to flip through pages, make a quick annotation, or sketch directly in the document with Apple Pencil. Users can now review and mark up PDFs and scanned documents right in their note, and with live collaboration, updates appear in real time when users are sharing a note with others.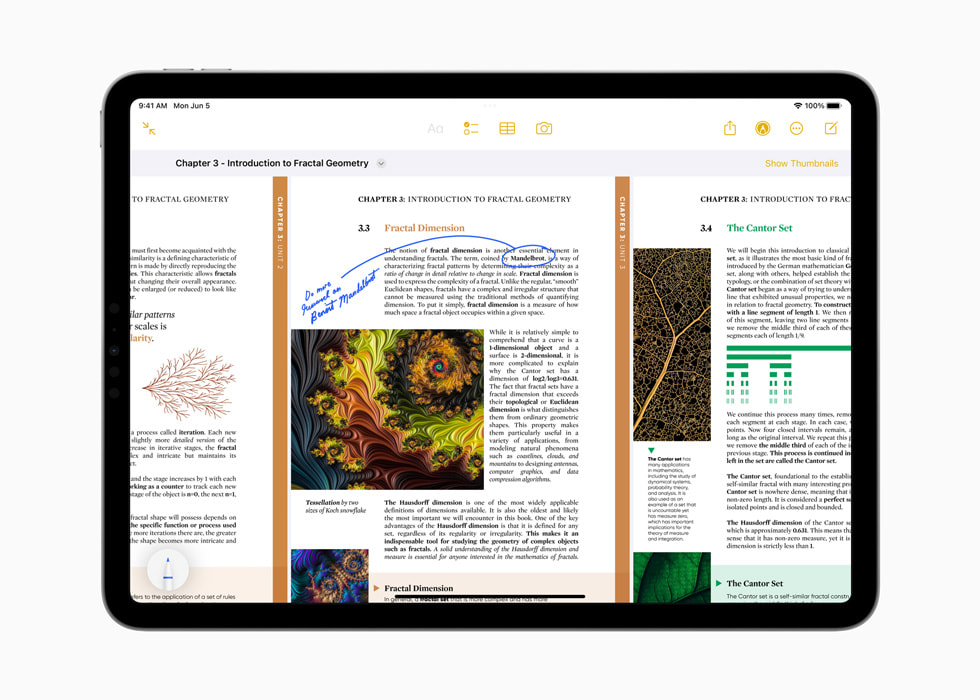 Messages Gets More Interactive with Enhanced Communication Tools
Messages offers new ways to connect, including a stickers experience with emoji stickers, and the ability for users to create Live Stickers from their own photos by lifting a subject from the background. Users can also add effects to Live Stickers that help bring conversations to life. Available from the keyboard, a new drawer gathers all of a user's stickers in one place for easier access across iPadOS.
New Messages features include an expandable menu that appears with a simple tap for easy access to the user's most frequently used iMessage apps. The search experience is improved with filters — including people, keywords, and content types — that allow more specificity in finding exactly what users are looking for. Users can now easily jump to their last-read message in an active group chat, and replying to a message inline is even simpler and quicker by swiping on a message bubble.
Audio messages are transcribed automatically so users can read them in the moment or listen later. When a user shares their location in Messages, it shows up live in the conversation until the sharing session is over.
More Expressive Ways to Communicate with FaceTime
In FaceTime, users can leave an audio or video message when someone doesn't pick up the call. 
FaceTime calls also get more expressive with Reactions, such as hearts, balloons, fireworks, laser beams, rain, and more. The new effects can be activated through simple gestures, and third-party video-calling apps can take advantage of them as well.
In an exciting update to Apple TV 4K, FaceTime now extends to the biggest screen in the home. Powered by Continuity Camera, users can initiate a video call directly from Apple TV, or start the call on iPad and then hand it off to Apple TV to see friends and family on their television. With Center Stage, users will have perfect framing even as they move around the room.
Safari Helps Users Be More Productive
Improvements to Safari allow users to be more productive than ever. With Profiles, users can keep their browsing separate between topics like work and personal. Each profile has their own history, cookies, Tab Groups, and Favorites, and it's easy to switch between them.
Private Browsing now allows users to lock the window they're viewing with Face ID or Touch ID, and removes trackers used for cross-site tracking. The search experience gets even better with increased responsiveness, more relevant search suggestions, and easier-to-read suggestions.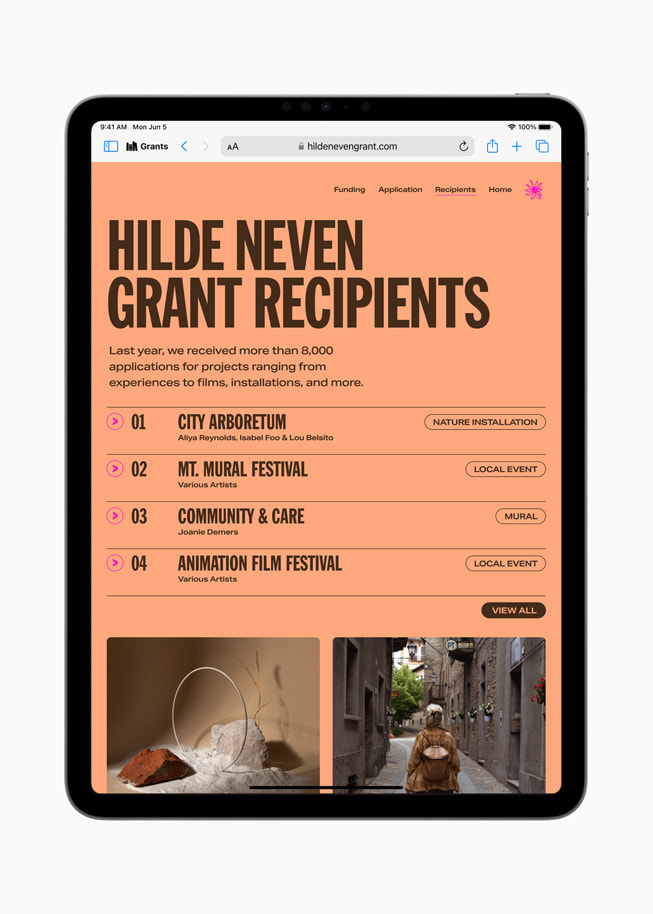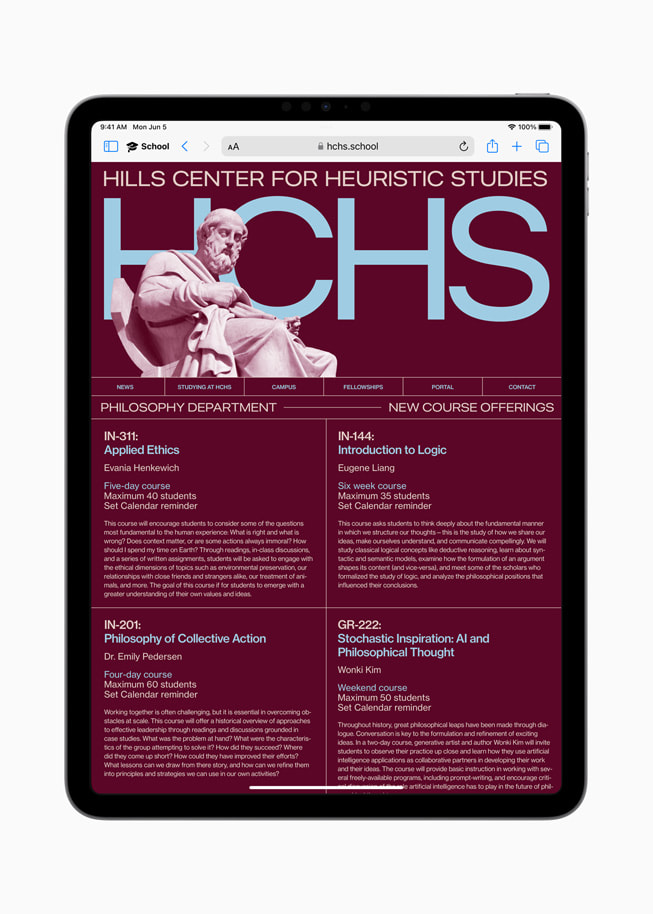 The Health App Comes to iPad
iPadOS 17 brings the Health app to iPad, giving users new ways to see their health data in rich detail. With an optimized design for the iPad display, Favorites has a new look, and users can receive insights into their health data with Trends, Highlights, and detailed interactive charts. Now, iPad users can also track and manage their medications, use Cycle Tracking, log their momentary emotions and daily moods, view their available health records from multiple institutions, and more — all in one central, secure, and private place.
Health and fitness developers can now use HealthKit on iPad, opening up new opportunities to create innovative experiences in their apps that incorporate data users choose to share, with rigorous privacy and data security protocols from the Health app.
Additional iPadOS 17 updates include:

Stage Manager adds even more flexibility to the position and size of the windows, giving users more control over their workspace, and supports built-in cameras on an external display.
Freeform offers new drawing tools; support for hover, tilt, and snap to shape; the ability to add connection lines and new shapes to any object; and Follow Along to guide collaborators around the board.
Spotlight helps users find information and take action even faster by offering shortcuts to the next action, enhanced visual results, and video search.
Visual Look Up expands its recognition capabilities to food, storefronts, and signs and symbols on things like the laundry tags on clothes.
Keyboard brings improvements to autocorrect, allowing users to enter text faster and easier than ever before. Inline predictive text helps users quickly finish sentences, and the new speech recognition model in Dictation improves accuracy.
Siri can now be activated by simply saying "Siri." Once activated, users can issue multiple commands back to back without needing to reactivate it.
Sharing content using AirPlay is even easier with on-device intelligence now learning a user's preferences. AirPlay will also work with supported TVs in hotels, allowing users to easily enjoy their favourite content on the TV when travelling. Built with a foundation of privacy and security, this capability will be available before the end of the year in select hotels, starting with brands from IHG Hotels & Resorts.
Reminders introduces a new intelligent grocery list experience, making shopping easier by automatically grouping related items into sections, and provides a new column view to display sections horizontally across the screen.
Maps now allows users to download maps and use them while offline. Users can select an area, search and explore rich place information, and get routes for all modes of mobility, all while offline.
Privacy updates include the expansion of Communication Safety, adding protections for children as well as a Sensitive Content Warning for adults. Updates to Photos and Calendar permissions help users make more informed choices about what data they share with apps. And a Lockdown Mode update enhances the protections for those who may be targeted by mercenary spyware.
New accessibility tools make iPad even more accessible. Assistive Access is a customizable interface that helps users with cognitive disabilities use iPad with greater ease and independence. Live Speech helps nonspeaking users type what they want to say and have it read aloud during phone, FaceTime, and in-person conversations. Personal Voice gives users at risk of speech loss the option to create a personalized voice that sounds like them and integrates seamlessly with Live Speech. And in Magnifier, Point and Speak helps users who are blind or have low vision interact with electrical appliances and other physical objects with small text labels.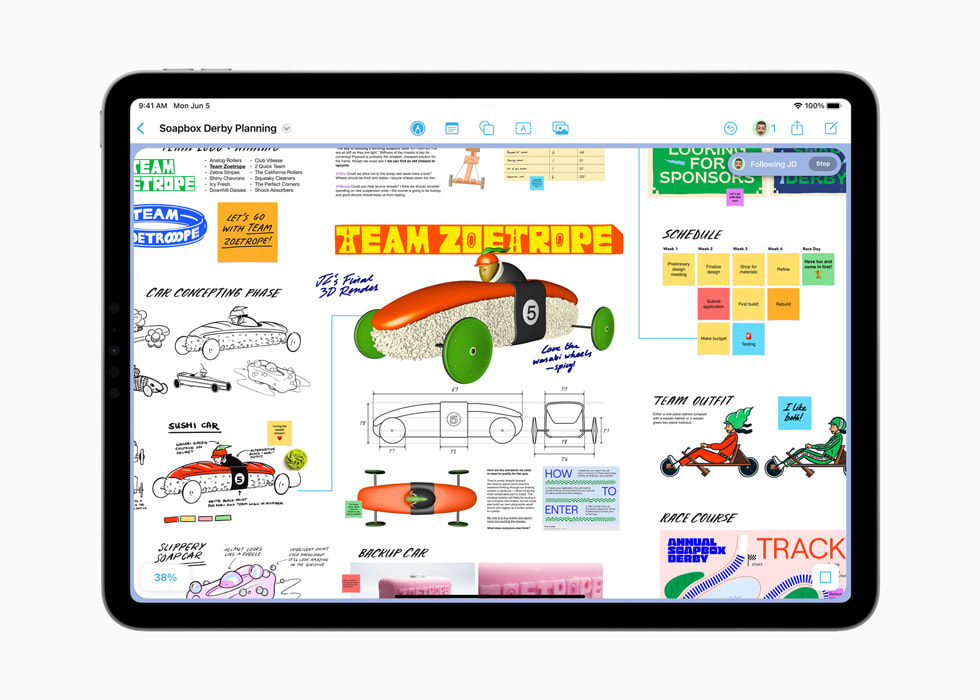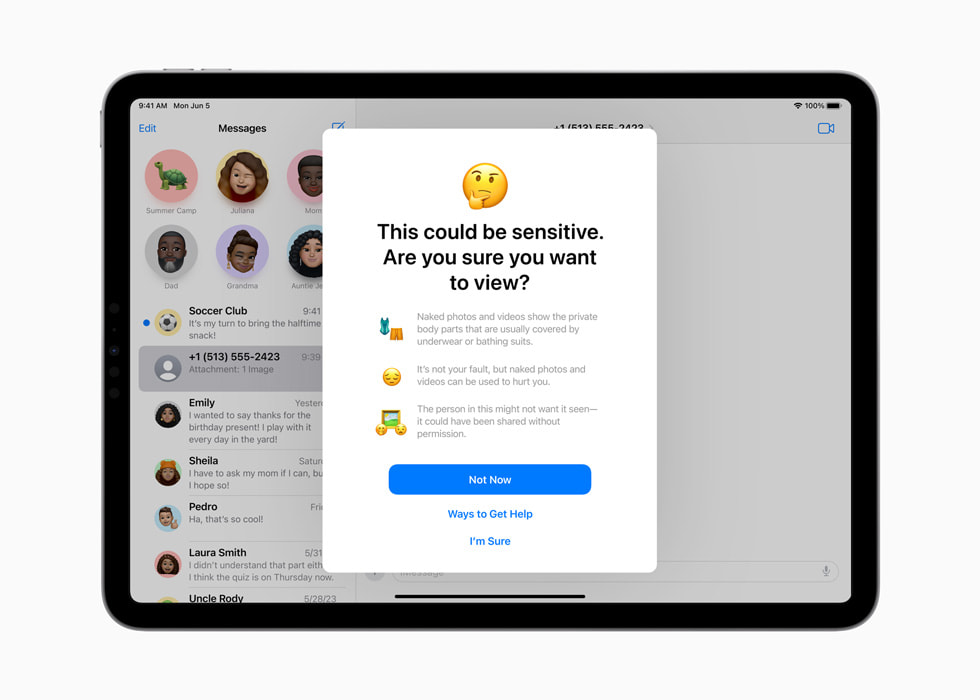 Availability
The developer beta of iPadOS 17 is available to Apple Developer Program members at
developer.apple.com
starting today, and a public beta will be available to iPadOS users next month at
beta.apple.com
. New software features will be available this fall as a free software update for iPad (6th generation and later), iPad mini (5th generation and later), iPad Air (3rd generation and later), 12.9-inch iPad Pro (2nd generation and later), 10.5-inch iPad Pro, and 11-inch iPad Pro (1st generation and later). For more information, visit
apple.com/ca/ipados/ipados-17-preview
. Features are subject to change. Some features may not be available in all regions, all languages, or on all devices. For more information about availability, visit 
apple.com/ca
.
Press Contacts
Tara Hendela
Apple
(647) 943-4680
Josh Zeliger
Apple
(647) 537-7244