2:1
Mac and iPad
for Teachers
With a diverse student body consisting of 568 students, The Gardens School in South Auckland takes a holistic approach to education that incorporates collaborative learning and well-being support for students. The school's all-female leadership team, led by Susannah Fowler and Kate Gifford, spearheaded a BYOD iPad or Mac programme in 2014, which helped to support this holistic approach.
While Apple technology enabled a seamless transition to collaborative, remote learning during the pandemic, school leaders saw many students struggling with anxiety and depression. They wanted students and teachers to have the best tools and strategies to support these challenges, so they implemented a schoolwide well-being programme.
"We want our students and teachers to thrive in a post-pandemic world, where positive well-being and resilience are as important as academic success. We want them to be able to express their feelings in new and alternative ways. Our well-being programme feels authentic and organic — and is supported by the technology we already use," says Deputy Principal Kate Gifford.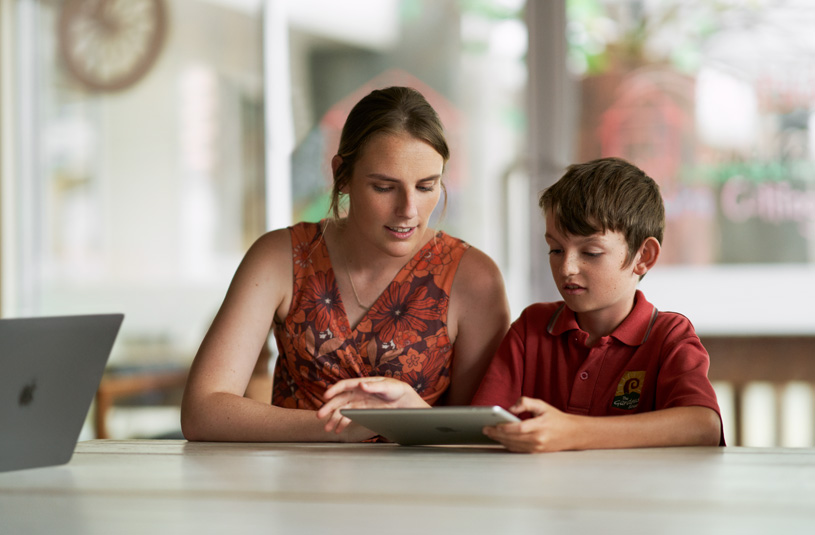 A well-being team of six teachers created strategies across different areas of mindful and creative expression — such as music, cooking and gardening — and then integrated wellness activities into the curriculum on iPad. Each step of the way, Apple technology and powerful apps support their vision.
Now, students get immersed in digital fabric design with the Tayasui Sketches School app. They capture the amazing lifecycle of plants in the school garden using Camera and Clips. And they explore their emotions by creating original music with GarageBand.
School Principal Susannah Fowler adds: "At our last school talent show, a 9-year-old student performed a GarageBand song that she created in our dedicated well-being space, the Zen Den, about needing to be herself."
Students also have access to GoodSpace, a private and secure platform that offers them another way to communicate their feelings and request support from the well-being team if they are struggling. GoodSpace can also help teachers see how students are feeling by asking them simple questions, such as "How many times have you felt happy or sad this week?"
And with the Hero app on iPad, teachers are able to oversee student work and progress, and to share it with their families. The well-being team is also able to leave comments for teachers about students who may need extra support and attention in the classroom. Susannah adds, "The priority is for the teachers to teach, and let the leadership and well-being team focus on everything else."
"We've seen the number of issues on the playground drop markedly and teachers are feeling less stressed. We've created a supportive and nourishing environment that I believe any school could replicate," says Susannah.
With the help of iPad and Mac, The Gardens School has incorporated well-being into their teaching and learning goals. The result is a holistic, wellness-focused approach to every student's education.
Apple was not involved in the gathering or analysis of the statistics reported, nor has any knowledge of the methodology used. This document highlights the results, and trends institutions using Apple products have observed, along with anecdotal accounts that communicate the positive impact Apple technology is having on the students.