Emerging LA filmmakers create short films with small budgets and big ideas
MacBook Pro, Final Cut Pro X and the LA Film Community Boost Local Productions
In Los Angeles on a Saturday morning in November, a crew of 10 students from Hollywood High School, helmed by 17-year-old director Celine Gimpirea, are transforming a corner of the Calvary Cemetery into a movie set. In
The Box
, a boy slips inside a cardboard box and finds himself transported to other realms. On this well-manicured, impossibly green lawn, among rows of flat, black granite grave-markers, are rows of flat, black camera cases holding DIT stations, iPads and MacBook Pros — the tools that will bring the story to life.
Gimpirea's is one of three teams of filmmakers involved in a month-long filmmaking workshop connecting creative professionals with emerging talent. The teams worked with powerful tools from Apple, including the MacBook Pro, iMac and Final Cut Pro X, as well as the RED Raven camera for shooting, and worked alongside Apple Retail experts and industry pros. LA-based independent filmmaking collective
We Make Movies
provided post-production supervision to help the filmmakers realize their visions.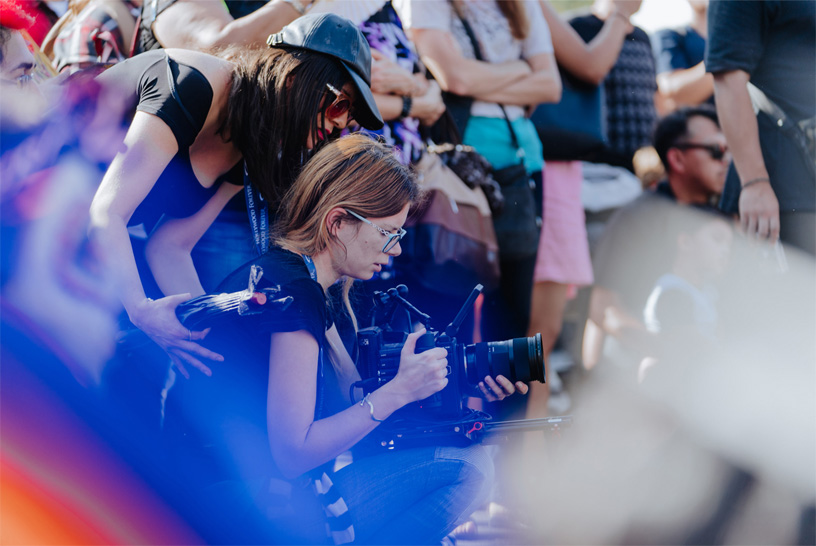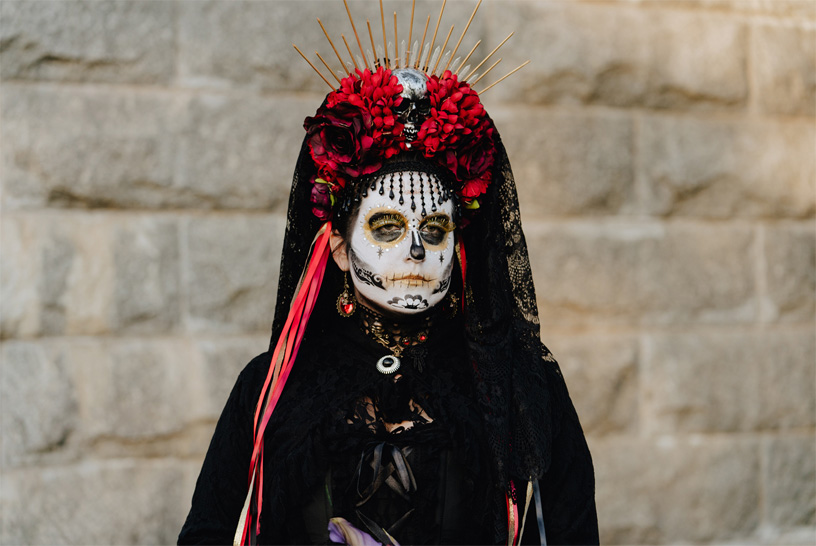 In the documentary
La Buena Muerte
,
produced by instructors from the
Mobile Film Classroom
, a nonprofit that provides digital media workshops to youth in under-resourced communities, the filmmakers examine mortality and family bonds surrounding the Day of the Dead, the Mexican holiday honoring lost loved ones. And in
The Dancer
, director Krista Amigone channels her background in theater and choreography in New York, her home state, to tell a personal story about a dancer confronting the afterlife.
During a two-week-long post-production period, teams were given the opportunity to work with Apple Retail Creative Pros and received feedback from a rotating cast of surprise guests and mentors from across the industry, each an innovator in the field of film and television production.
Among the first mentors to view The Dancer was Sean Baker, director of 2017's Oscar-nominated The Florida Project, as well as the 2015 feature Tangerine, shot entirely on iPhone 5S. Baker, who edits his own films, wielded the iMac keyboard himself while surveying clips from Amigone's shoot. Each take had been marked with the Movie Slate app on iPad, which automatically stores and logs the timecode data, facilitating this invaluable session with the renowned director. Together, they discussed Amigone's backstory as well. A stay-at-home mother of a three-year-old daughter, she knows how to maximize time and resources. She not only served as writer and director, but also star and choreographer — a complicated dance in its own right.
Another strong collaboration developed between Amigone and Lionel Martin, an Apple Retail Pro and fellow filmmaker. During post-production, while Martin experimented with color wheels in Final Cut Pro X, Amigone explained the emotions she wanted to evoke as her character, the Dancer, performs for a piano accompanist under bright lights in a Hollywood dance studio. Color-correcting the palette of cinematographer Art Chong and production designer Sapna Gandhi, Martin and Amigone achieved a balance between the illuminated dance floor and the reverse shots of the accompanist in shadow. "This is working," Martin said. "He's getting the glow from her." Amigone added that the golden light reminded her of Isadora Duncan, who danced from her solar plexus because that's where the sun lives.
While the sun was shining across Los Angeles, the La Buena Muerte crew, headed by executive producer Manon Banta, were hard at work in their darkened editing suites. Reviewing the volume of interviews and B-roll, all captured with kaleidoscopic splendor by cinematographer Elle Schneider on the 4.5K Red Raven camera, initially felt like a daunting task. Fortunately, their metadata was automatically organized after being imported straight into Final Cut Pro X from Shot Notes X and Lumberjack, along with the secondary source audio via Sync-N-Link X, which spared days of hand-syncing.
Perhaps the most constructive feedback about story structure came from TJ Martin, director of LA 92 and Undefeated, the Oscar winner for Best Documentary Feature in 2012, which director Jean Balest has used as teaching material in the Mobile Film Classroom. Midway through the cut, Martin was struck by a plot point he felt required precision placement up front: A daughter, Tara Vajra, is introduced while presiding over a conceptual art altar alongside her mother, Lynn King, who reveals she's coping with her own pending death after a stage 4 cancer diagnosis. "I'm a huge fan of reveals," Martin said. "I want to know more about that bomb you just dropped on me. So how do you make that an asset?"
Reshoots were vital to The Box. The dream world Gimpirea created — she cites Christopher Nolan's Inception as an influence — required some clarification. During a visit from Valerie Faris, the Oscar-nominated co-director of Little Miss Sunshine and Battle of the Sexes, Gimpirea listened intently as she offered advice for pickup shots. Faris urged Gimpirea to keep the story focused on the point of view of her young lead during his travels. "There's a lot told in his body and seeing him from behind," Faris said. "In some ways, I'm more with him when I'm traveling behind him and seeing what he's seeing."
Gimpirea's collaborative nature was evident throughout post-production. She was often flanked by Antonio Manriquez, a video production teacher at Hollywood High and an Apple Distinguished Educator, as well as her crew. The huddle was anchored by Kais Karram (assistant director) and his twin brother Zane (cinematographer), who are also co-captains of the Sheiks, the country's only high school football team named for a Rudolph Valentino movie. The brothers' physicality and command was invaluable on set, particularly during a daylong shoot in Griffith Park where they executed numerous tracking shots behind the film's fleet-footed star, Aaron Bradshaw, as he navigated a walkway they'd cleared of oncoming park-dwellers. "Did you see how green everything looked on that camera?" Kais asked between takes, checking playback on the MacBook Pro. "So crisp. Like a potato chip."
The selection of music was crucial, particularly for Amigone. For her main theme, she wanted a sound reminiscent of John Coltrane's "After the Rain" and Claude Debussy's "Clair de Lune." She chose an original nocturne by John Mickevich, a composer and fellow member of the collective We Make Movies. According to founder and CEO Sam Mestman, the group is the world's first community-funded production company. Mestman is also the CEO of
LumaForge
, developer of the Jellyfish Mobile — a "portable cloud," as he put it — which, along with two MacBook Pros, was safely storing and syncing Amigone's footage on location. Mestman believes "post should live on set" and that automation empowers young filmmakers. As proof, a half day of work for the editing team was done before the dance studio shoot had even wrapped.
During his mentor visit, Aaron Kaufman, director and longtime producing partner of Robert Rodriguez, encouraged the teams to not be precious about losing shots in service of story. The documentary team certainly heeded this advice, as did Gimpirea, who cut a whole scene from Calvary Cemetery from her film.
As the project was winding down, Gimpirea reflected on her experience. "Knowing all the possibilities that I have in post now, it allows me to look completely differently at production and pre-production, and to pick out, more precisely, what I want," she said.
James Hughes is a writer and editor based in Chicago.