The secret world of Mac mini
Helping to Power Dierks Bentley, Peter Pan and the Apps in Your Pocket
From the moment Dierks Bentley's voice explodes into the California night air, the Shoreline Amphitheatre in Mountain View finds itself on a Mountain High. That's the name of the 14-time Grammy nominee's latest tour — and that tour doesn't go anywhere without Mac mini. 
Introduced as a smaller and more affordable desktop computer by Apple in 2005, Mac mini's power and versatility have made it a favorite of developers around the world for every stage of the app creation process, from tinkering to testing and simulating at scale. As a result, it's been instrumental in creating, powering and perfecting some of the world's most popular apps.
"Candy Crush, Shopify, Day One — so many of your favorite apps and games run on Mac mini. It's truly the Swiss Army knife of computers," says Brian Stucki of MacStadium, which manages nearly 8,000 Mac mini systems in co-location data centers for a wide range of developers — from small startups to some of the most valuable companies in the Fortune 500.
But Mac mini's versatility doesn't stop there. It's bringing innovation to retail stores, tools to hospitals and imagination to theme parks. There's nothing that this "little computer that could" can't do.
Perhaps surprisingly, that includes powering some of the most extraordinary musical and artistic experiences on the planet. There's a secret world out there, behind packed concerts and Broadway stages — and if you look close enough, you might just see a Mac mini, working hard to make sure the music, and the magic, are just right.
Back in Mountain View, while the audience sings along with Bentley, guitar tech Carlos Gutierrez is backstage with his hands on one of the band's 18 guitars and his eyes on a monitor. If there's any trouble with the wireless receivers connected to each of the guitars, the software will let him know. And that software is powered by Mac mini.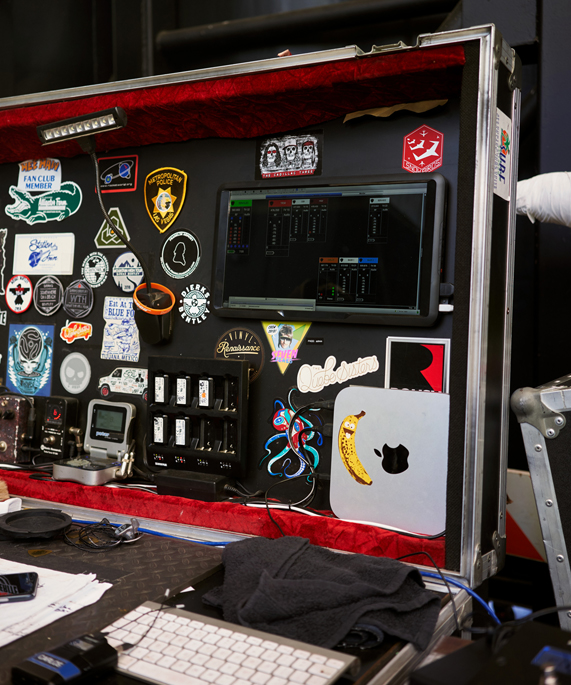 "If Dierks is out in the crowd and this setup alerts me that his guitar's wireless strength is going down, I can adjust it and avoid an issue," says Gutierrez. "And I've always run this setup on Mac mini — I've been using the same Mac mini for five years, and I've never had a problem."
Earlier in the day, long before Bentley played his first chord, audio techs Cody Seaver and Thomas McNabb had worked to hang, or "fly" as it's called, the tour's massive wall of 60 speakers from the stage. Once they were in place, it was time to take them for a test drive.
"We're barely touching what the Mac mini can do on our tour, which says a lot for the Mac mini."
At the audio booth midway through the Amphitheatre, front of house engineer James "Pugsley" McDermott hits a button and the sound system roars to life.
His eyes are on a software display of the speaker outputs. After the first test, McDermott blasts some of his favorite songs — the same ones he's been using for most of the 13 years he's been with Bentley — to tell him if things sound just right. His tools, both the software and the audio output, are powered by Mac mini.
"Mac mini is such an important tool for me that everything pivots from there," says McDermott. "I use it to generate the same audio file every time, at a high resolution, and it gives me a graphical representation of what's happening [sound-wise] in the venue, so I can perfectly tune the system for every show."
At the end of that night's show, the crew packs up their gear for the next stop on the tour. Overseeing it all is production manager Jay Ballinger, who has been with Bentley for more than a decade, and counts Apple products, and Mac mini specifically, as vital components of the operation.
"We're barely touching what the Mac mini can do on our tour, which says a lot for the Mac mini," says Ballinger. "And if you count the programs we use that run on MacBook Pro, I absolutely know that the music business would not survive in today's world without Apple products — they're just a game changer."
It's hours before the first performance of the touring Broadway production of Finding Neverland in Grand Rapids, Michigan, and the orchestra is warming up for sound check. In addition to the half dozen musicians and conductor, there's someone working with a different kind of instrument: Mac mini.
Enrico de Trizio is part of a new wave of electronic music designers that have changed the way Broadway sounds. He and his colleague Jeff Marder, who have worked on numerous shows together including Finding Neverland, are equal parts conductor, engineer and programmer. They use software powered by Mac mini to stand in for sections of the show that can't be sung or played live.
"It's the combination of versatility and power, all at Apple standards."
De Trizio relies on Mac mini because it's the only option that ticks off all of his boxes. "They're small, they're extremely powerful, connectivity is awesome — we don't need hubs or adaptors, everything goes straight into it because they have so many different ports," he says. "It's the combination of versatility and power, all at Apple standards."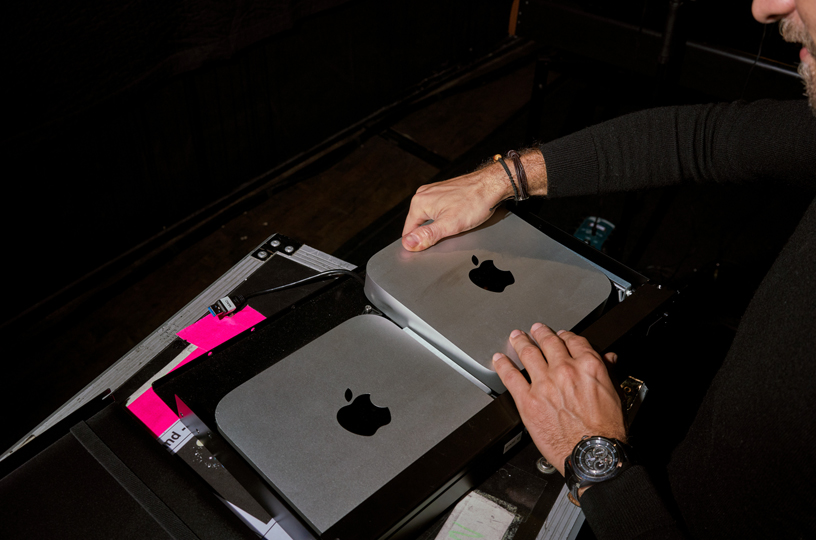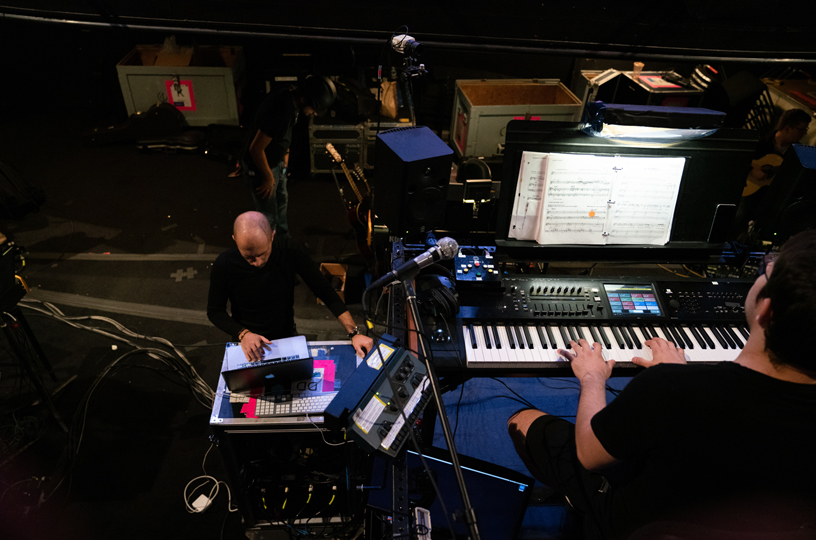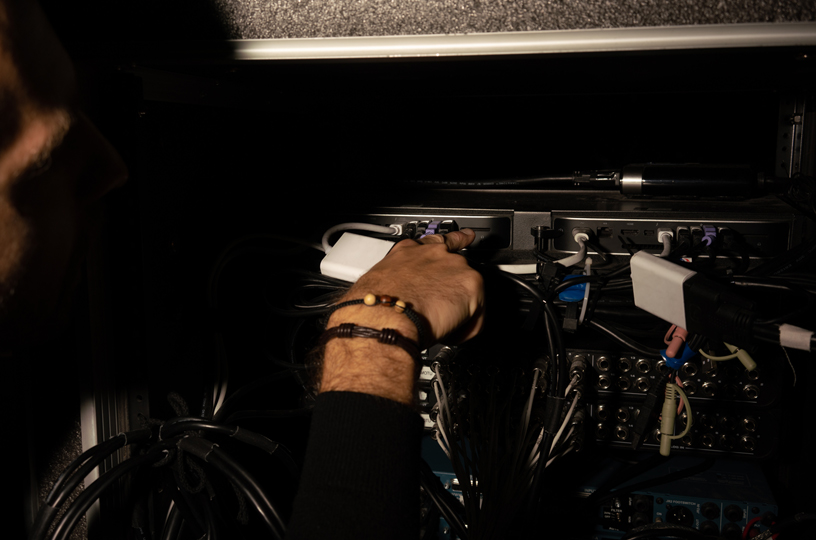 With the sound check finished and everything running smoothly, de Trizio leaves the orchestra pit. It's the last time he will touch his equipment until the performance is over.
Finding Neverland is the true story of how author J.M. Barrie conceived the fantastic world of Peter Pan. The production takes the audience on a journey that floats between the author's real life and the make-believe world of his imagination. And bringing that imagination to life requires a lot of sound effects — from ticking clocks and thunder claps, to cannon booms and the sound of Tinkerbell's…well, Tinkerbelling. All those effects are possible because of Mac mini, triggered throughout the show by the conductor.
Near the end of the performance, Tinkerbell sprinkles her fairy dust and Wendy and Peter join hands on stage and prepare to take flight. In the orchestra pit beneath them, the music builds before falling nearly silent, and then the conductor activates a device on top of his keyboard. 
This time, Mac mini's task is to stand in for a very special character at a very special moment. "And by closing my eyes, I'll be finding Neverland," sings Peter Pan.
And with that, Peter and Wendy float out into the sky. Barrie has found his story, Peter has found his voice and everyone in the theater has found Neverland.
With Apple's newest release,
Mac mini
gets a supercharged makeover, opening the door for another generation of users to redefine what is possible with this versatile little computer. From the next app you download to the show you see in a few years, Mac mini is helping to power the future of innovation.   
Of course, it's still up to all of you creators, misfits and rebels to bring the magic.
Press Contacts
Apple Media Helpline
(408) 974-2042