apple stories
McIntosh S.E.E.D. preserves land and legacy with Black landowners in the US South
Apple and The Conservation Fund are partnering with community organizations across the region to scale sustainable land retention and climate resilience in Black and Brown communities
Download image
Throughout the Deep South, there are memories buried deep in the soil. For Junetta O'Neal, owner of the BoMax Ranch and Retreat in Crawfordville, Georgia, it's a reminder of her ancestors, who toiled the earth for generations before she discovered her own love for nature the first time she saw a horse.
"When I first arrived at the BoMax, it was a very relaxing environment for me — one in which I could be at peace and one with nature," O'Neal describes. "It kind of spoke to me, and I realized it was my ancestors that afforded me to be in the position that I'm in now. It's their shoulders that I stand on to even be here. I started naming roads after them as a way to honor them. After hosting my cousins and having them feel connected to the land, it just reaffirmed that I was moving in the right direction with this project: establishing a legacy for our family."
O'Neal is an enrollee in McIntosh S.E.E.D.'s Sustainable Forest & Land Retention program. She, along with 20 other landowners, visited the McIntosh S.E.E.D. Community Forest in Long County, Georgia, last December to participate in a forestry workshop. O'Neal, her fellow landowners, and their children and grandchildren met with forestry experts to learn the benefits of thinning trees, the importance of clearing underbrush, and how to measure and identify tree species to understand their economic value.
McIntosh S.E.E.D.'s 1,148-acre forest was acquired in 2015 in partnership with The Conservation Fund and is the first Black-owned community forest in the US. Through the educational work it does onsite, the nonprofit aims to amplify the voices of Black and Brown landowners in the conservation movement.
"We wanted a place where we could actually bring landowners, a demonstration site where they could see conservation practices," says Cheryl Peterson, McIntosh S.E.E.D.'s assistant managing director. "It puts the landowner in a place of empowerment."
The McIntosh County, Georgia-based nonprofit is one of many organizations across the US South that The Conservation Fund — in partnership with Apple — is working with to promote sustainable forestry, achieve racial justice, and establish climate resilience. Through workshops, trainings, and community-centric programming, McIntosh S.E.E.D. is developing a shared strategy for BIPOC land retention and improved climate practices that can be scaled throughout the region. By harnessing the thousands of family-owned farms and forests, and Black institutional landowners — primarily churches and historically Black colleges and universities — their efforts will help address climate change, supporting best practices for climate resilience and adaptation on privately held land.
"To promote justice and address climate change, we have to share resources and partner with organizations that have real on-the-ground expertise," says Lisa Jackson, Apple's vice president of Environment, Policy, and Social Initiatives. "I've always believed the most powerful solutions come from centering the most vulnerable communities, not ignoring them. In places like McIntosh County, families are coming together to preserve the land that sustains all of us."
Situated on the southern coast of Georgia, McIntosh County is indicative of several Southern BIPOC communities McIntosh S.E.E.D. is working to preserve.
"There are very few high-paying jobs or jobs that pay a living wage in the area," Peterson explains. "It's really hard for people here to change the trajectory of their families because they are capped at a certain level economically. I see it whether I'm in Georgia, Alabama, or Mississippi; all of those dynamics come along with being in a marginalized community."
In the coastal city of Darien in McIntosh County — population just over 1,500 — the nonprofit has anchored itself to the area, focused on educating and empowering families and Black landowners in the surrounding region.
That work has included addressing the impacts of climate change, from severe drought and extreme heat that has led to lost crops, to stronger and more frequent tropical storms and hurricanes that force people to evacuate.
"People have lost their homes and have had to move because they couldn't afford to get their homes repaired after a flood or after trees have fallen on their property," Peterson says. "As a result of these environmental factors, a lot of families are put in harm's way because if they do have to evacuate, a lot of them can't afford to leave. As more and more harsh weather comes in, it's going to be detrimental to our area, especially for folks here on the coast."
While McIntosh S.E.E.D. started out focused on the coastal county's specific needs in 1998, Peterson and executive director John Littles always envisioned scaling its work to uplift more communities across the Deep South.
"We didn't want to operate off of that 'crabs in a basket' syndrome where one gets out and another reaches up while the others pull it back down," Peterson says. "We wanted to link arms and pull out as many marginalized people and communities as we could, and we still operate under that guiding principle."
As part of their early work with agricultural producers and landowners, Littles and Peterson traveled deeper into the South throughout Georgia, Mississippi, and Alabama. They started to notice just how different forested land looked in wealthier, predominantly white areas compared to the impoverished, predominantly Black communities.
While researching available land management resources for the landowners McIntosh S.E.E.D. was already working with, Littles realized it wasn't just lack of awareness contributing to the degradation of the land in BIPOC communities; it was also cultural.
"In our community, property has been looked at as a liability, not an asset," Littles explains. "We also learned a lot of injustice was being done in our community; folks would come in and not give the right price on our timber, or the right acreage, and they would just destroy the landscape when they cut the timber. It wasn't a good look for our community, or the environment."
Over the last decade, McIntosh S.E.E.D. has partnered with The Conservation Fund to identify opportunities for sustainable land management through land protection that benefits both nature and its neighboring communities.
"The loss of forests both to development and being converted out of forests results in the release of significant carbon," says Evan Smith, The Conservation Fund's senior vice president of Conservation Ventures. "This contributes to climate change, and also reduces the land's ability to respond and adapt to climate change."
In the South, addressing the injustice in Black and Brown communities is key.
"It's a sort of twin effect of the US South, as one of the largest sources of carbon emissions in the US, but also because of the loss of forests, which are an incredibly powerful tool for slowing climate change," Smith explains. "And then at the same time, these populations are uniquely susceptible to displacement and impact because of climate change."
As The Conservation Fund started exploring opportunities in the South, it recognized McIntosh S.E.E.D.'s efforts to home in on the intersectionality of race, environment, and community. McIntosh S.E.E.D.'s grassroots programs were already designed to strengthen local communities, help them understand and address environmental impacts on their homes, gain access to natural resources, and educate and empower landowners with whatever tools they may need on their ownership journeys.
"When people are low wealth, there are many issues they don't take an interest in because they have so many other challenges," explains Littles. "So it starts with education around climate — how it affects them, their land, and the community, but also how do we as landowners play a role in climate change and become better stewards of that?"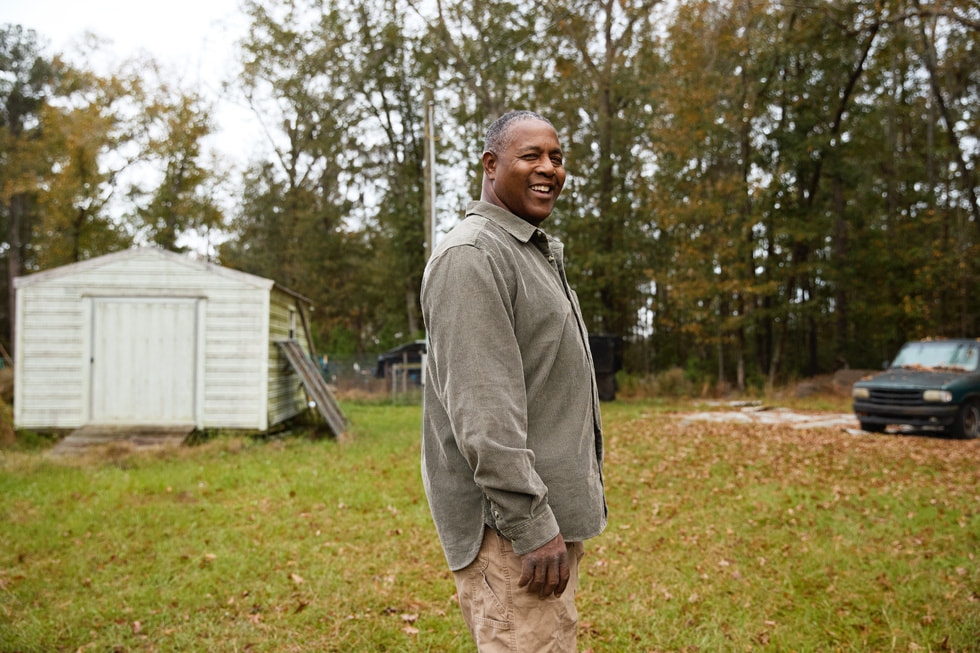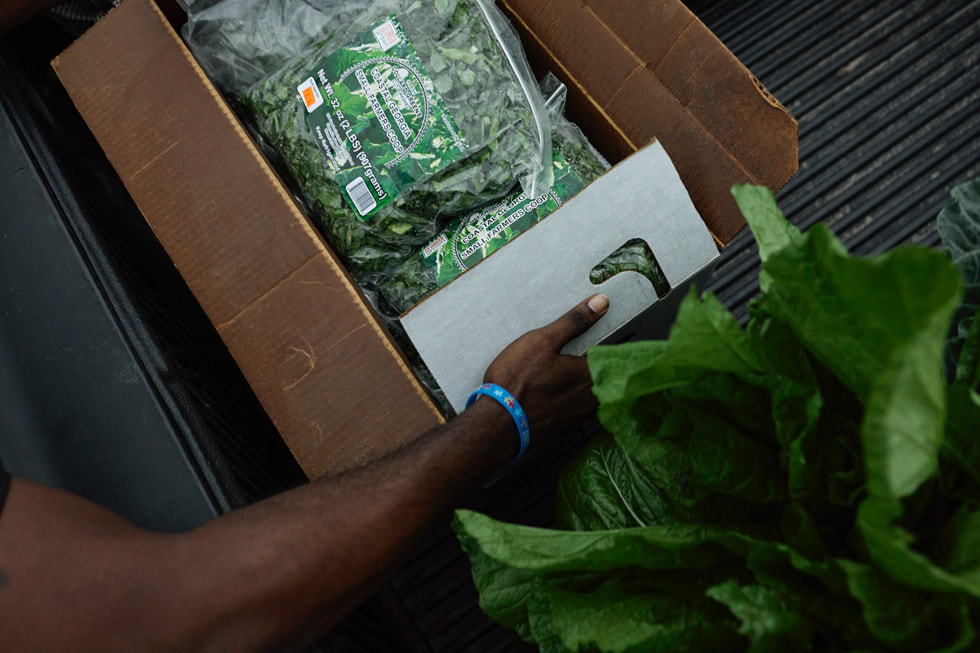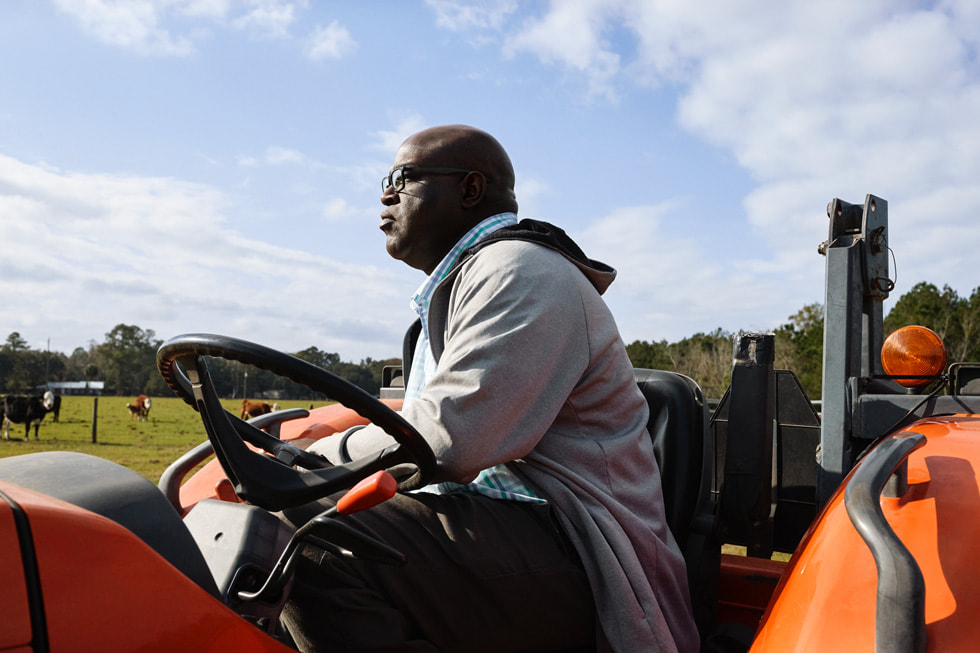 At the community forest, Peterson is commanding the attention of the workshop's attendees and speaking directly to the young people in attendance about their responsibility to their families' land once it is passed on. She seems at one with the forest, acknowledging its benefits, its value, and the importance of keeping land for future generations.
"Traditionally, we don't have many Black forestry professionals," Peterson says. "We want to build forestry, and we want to introduce our children to it so that they can pursue it as an option of future employment if they decide to, but in order for that to happen, they have to have that connection to the land."
Peterson's commitment to uplifting families and communities stems from her ancestors, who instilled in her an innate desire to be of service to others. "She talked to us about the importance of sharing," she recalls of her great-grandmother, who would carefully break one stick of gum into enough pieces to share with Peterson and her 12 cousins. That story would go on to be told at family gatherings for generations as a reminder to always be giving, regardless of how much the family had.
"I'm not going to be here forever," Peterson says, "so to be able to pass this knowledge on assures me that long after I'm gone, future generations will retain the land. My great-grandfather worked in the pulpwood business, and whatever it is that my family owns is off of his hard work. The calluses on his hands, as well as the many other families whose ancestors had calluses on their hands and scars on their backs — they did that for us to be able to have this land. It's up to us to continue their legacy."