apple stories
Apple empowers small businesses to grow and serve their customers
The founders of Kids of Immigrants, Señor Sisig, and Darianna Bridal & Tuxedo share how they've harnessed the Apple ecosystem to grow their companies over the years
From the inception of an inventive business idea through the planning stages, grand opening, and subsequent growth and expansion, small business entrepreneurs are harnessing the power of Apple hardware, software, and services every day to manage their operations and connect directly with customers.
In Los Angeles, streetwear brand Kids of Immigrants uses iPad and Apple Pencil to bring its colorful pieces to life, and Mac to bring them to the world. In the San Francisco Bay Area, Señor Sisig, originally a small food truck business powered by iPad, has expanded into a local Filipino street food phenom using
Apple Business Essentials
and a fleet of Apple devices. And in the Philadelphia suburbs, Darianna Bridal & Tuxedo uses
Tap to Pay on iPhone
to speed up its checkout process and keep customers happy, and
Apple Business Connect
to manage its presence across the Apple ecosystem. 
Below, learn more about the spark that led the founders of each business down the path to entrepreneurship, the Apple products and services they've used to expand their operations, and the milestones that have shaped them into the thriving small businesses they are today.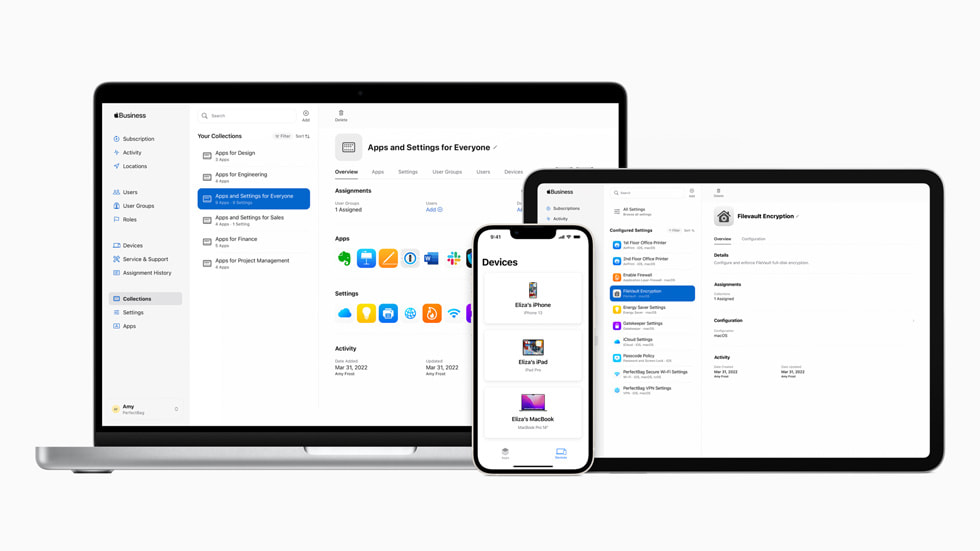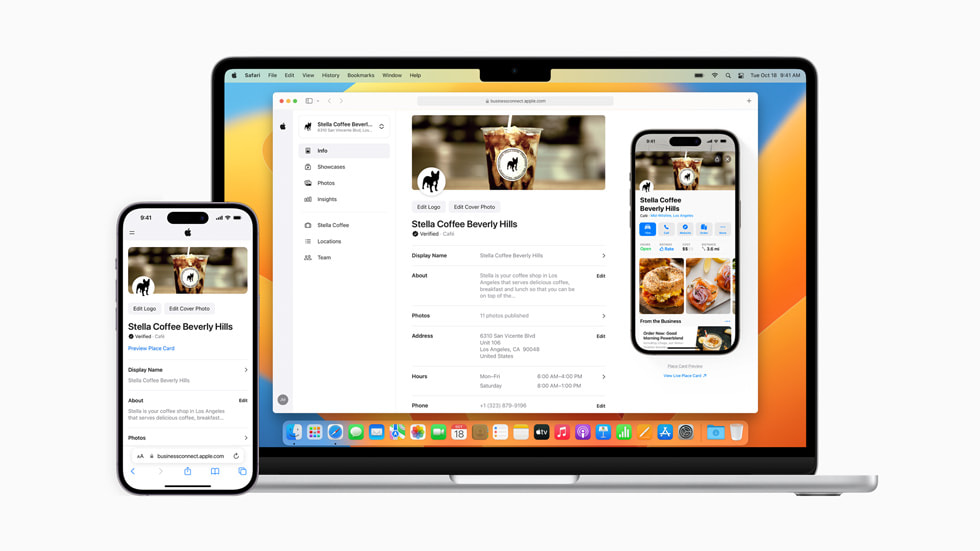 Vibrant Designs Spring to Life with iPad and Apple Pencil
Living in Pico-Union in the heart of Los Angeles turned out to be the impetus Daniel Buezo and Weleh Dennis needed to bring Kids of Immigrants to life. The pair had been ruminating for several years on a creative project that would honor immigrant families' roots — Dennis's parents hail from Liberia, while Buezo's are from Honduras — and they found no shortage of inspiration in the vibrant, bustling neighborhood, a historic nexus for the city's immigrant communities.
"We wanted to tell our story," Buezo explains of the streetwear brand they officially launched in 2015. "Growing up and being into style, fashion, and streetwear, we felt underrepresented and didn't feel fully seen. With Kids of Immigrants, representation and empowerment are our values. We are going deeper into who we are and paying homage to our parents for all they did for us."
Armed at first with just an iPhone and a friend's MacBook Pro, Buezo and Dennis began Kids of Immigrants by reworking and upcycling vintage pieces sourced from local thrift stores, and tapping their friends to serve as the fledgling brand's models, directors, and photographers. And from there, using Apple Pencil and iPad (10th generation), they designed and launched the line of colorful pieces with community-driven messaging they're now known for. 
"My real unlock was being able to take inspiration from my surroundings and draw or animate them with the iPad in Adobe," says Dennis. "It gives a certain ease and flow to the creative process — it's a game changer."
As the company expands, its day-to-day operations are powered by Mac mini with Studio Display and MacBook Pro. 
"Mac mini and Studio Display serve us phenomenally in two separate areas of our business: product and design, and logistics and fulfillment," says Christian Gray, the company's director of operations. "Thanks to the technology and improvements Apple is consistently making through understanding its consumers, we're constantly finding cool shortcuts that help us be more efficient and dial everything in."
A Mobile Business Takes Root with Apple Business Essentials
With their fleet of four food trucks and three brick-and-mortar restaurants across the San Francisco Bay Area, Evan Kidera and Gil Payumo are on a quest: bringing sisig — a tangy street food staple in the Philippines made of minced pork — to the masses in the form of burritos, tacos, nachos, and fries.
The pair launched their business, Señor Sisig, out of a single truck in 2010. "At the time, we really felt that sisig could be the iconic dish of the Philippines that spreads around the world," Kidera says. "But we had to start off putting it in something people would feel comfortable with and not intimidated by. The hope is that sisig is just like the California roll or the burrito, where it cracks the seal for everything."
The masses came forth and devoured, and the business grew from there. "Being a food truck was pretty hard when we started out," Kidera explains. "There wasn't much out there to support mobile businesses, aside from iPhone. And then the original iPad came right after that. I think iPad was really the thing that allowed us to grow as a mobile business; the timing of it was just great, because we were able to take payments on the go without having to rely only on cash."
Señor Sisig's employees use Apple devices to keep track of inventory, monitor sales, and communicate between stores, and recently adopted Apple Business Essentials to solve its growing IT needs. Launched last year, the service seamlessly brings together device management, 24/7 Apple Support, and iCloud storage into one subscription for small businesses.
"We've been lucky enough to have some really good relationships with Apple business partners at different stores over the years," Kidera says. "It feels more like a partnership than us just going into a store. We have a direct person we can talk about the new technology with as it comes out. To have somebody we can go to and talk about firsthand experience with is key, and also to have somebody who's going to tell us about things we're not seeing."
The team is also using Apple Business Connect — a free tool that allows businesses of all sizes to customize the way their information appears across Apple apps — to keep customers up-to-date on its various locations.
"The goal is to ensure that people know they can use our place cards in Apple Maps not only as a way to get to our business through navigation, but also to order their food and complete their payment right from the Maps app," says Kidera — important as the company eyes further expansion outside of the Bay Area, California, and even the country.
Customers Come First with Tap to Pay on iPhone
On a typical weekend afternoon, the massive 3,500-square-foot storefront that Darianna Bridal & Tuxedo now calls home reverberates with energy and warmth as customers peruse the store's aisles in search of the perfect look for their big day. 
But the business began much more modestly back in 2013, when married couple Franco Salerno and Wendy Ianieri-Salerno hatched a plan on the back of a napkin on the way home from a wedding in Mexico. At the time, local options for formalwear were limited in their hometown, a suburb north of Philadelphia.
"Three months later, we opened our store with bridal gowns, tuxedos, suits, prom dresses, and bridesmaids' dresses," Salerno says. Within six months, the pair were doing so much business they had outgrown their original storefront. They expanded their staff, which now includes daughters Daria and Deanna, and focused on providing the kind of bespoke service that has kept customers coming back for all their formalwear needs. 
Having the right technology in place was key as operations expanded. Employee scheduling requests are now sent and approved using the Square Payroll app on iPhone, and the team uses the LiveHelpNow app for iPhone and Mac to communicate directly with customers who text the store's landline. Salerno regularly logs into Apple Business Connect to update Darianna Bridal & Tuxedo's place card with fresh photos, and uses the Showcase feature in Business Connect to promote upcoming events. 
iPad with Square initially served as the store's primary cash register, and today, to make the checkout process even quicker, employees can use
Tap to Pay on iPhone
with the Square Point of Sale app to complete sales from anywhere in the store using only an iPhone, with no additional hardware. This newfound flexibility is especially vital from mid-March through Thanksgiving, otherwise known as peak wedding season.
"During our busiest months, the store can get so crowded that there are often lines of people waiting to be served or to pay," Salerno explains. "In the past, customers would get frustrated by the wait; some would even leave. Now with Tap to Pay on iPhone, we can walk around the store and check customers out, alleviating the probability of someone leaving before we can serve them."
That's a win for the customer, and a win for Darianna Bridal & Tuxedo. For entrepreneurs like Salerno, the Apple ecosystem has the power to help keep a small business up and running for years to come.
To celebrate National Small Business Week (April 30 to May 6), select Apple Store locations in
New York City
,
Washington, D.C.
, and
Chicago
will host Today at Apple sessions titled "Grow Your Business With Apple." These free sessions offer small businesses expertise on how to make it easy to customize their presence across Apple apps with Apple Business Connect, accept payments with Tap to Pay on iPhone, and get support and manage devices with Apple Business Essentials. Businesses can also
sign up
for a virtual session scheduled for June 14. To learn more about Apple's small business tools, visit
apple.com/business/small-business
.