Hardware
Impossible is our favourite starting point.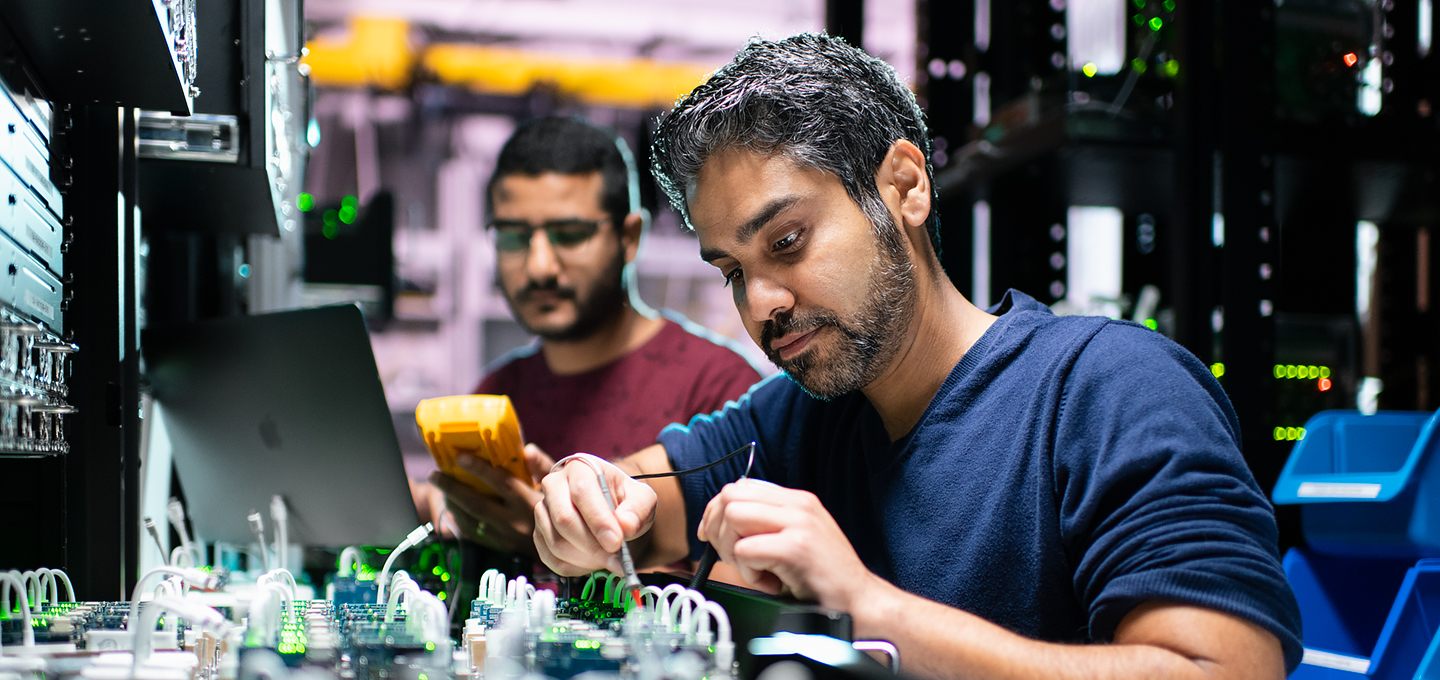 Our engineers have created some tough acts to follow, and they continue to lead us to innovative breakthroughs. Because they're driven not by what would be easy, but by what would be amazing.
Find a team and begin your own story here.
Acoustic Technologies
Help make the sound of Apple products ring true by joining the world's most advanced acoustics engineering group to develop innovative new audio systems and fine-tune quality. Areas of work include Acoustic Design Engineering, Transducer Design Engineering, Noise and Vibration Engineering, Audio Electrical Engineering and Architecture, Acoustic Validation Engineering, and Audio Applications and Technology.
Find available Acoustic Technologies roles
Analog and Digital Design
The engineers in this group develop the circuitry for next-generation Apple products. From board design to high-speed interface, sensor and display IC design, all the way down to the smallest transistor level, their innovations make our products smarter and more efficient than ever. Areas of work include AC-DC and DC-DC Systems, Mixed-Signal Design, Power Engineering, Modeling and Validation, Logic Design, Circuit Design, Verification and Board Design.
Find available Analog and Digital Design roles
Architecture
This group pushes the boundaries across all Apple devices. They drive Apple's system-on-chip (SoC) architecture; develop algorithms for platform power, performance and thermal management; and develop forward-looking prototype systems. They also build and deploy software development tools and distributed computing for the Apple engineering community. Areas of work include CPU Architecture, SoC Architecture, Systems Architecture, Security Microarchitecture, Platform Engineering, Power/Thermal Architecture, GPU Systems Architecture, Modeling Architecture Engineering, Machine Learning, Data Science and Wireless Systems Architecture.
Find available Architecture roles
Battery Engineering
Join this group and create innovative battery designs that deliver more energy in smaller spaces than ever — and you'll collaborate with other product development groups all along the way. Areas of work include Cell Development Engineering, Advanced Materials Engineering, Process Development Engineering, Instrumentation Engineering, Product Integration Engineering, Qualification Engineering, Failure Analysis Engineering and Engineering Testing.
Find available Battery Engineering roles
Camera Technologies
Join the group that designs and develops our camera systems from sensor to lens. You'll create the kind of innovations that allow each new generation of Apple products to produce photos even more amazing than the last one. Areas of work include Computer Vision Engineering, Camera Module Design, Camera Mechanical Engineering, Camera Electrical Engineering, Optical Design, Camera Systems, Manufacturing and Process, Image Sensing, and Analog/Digital Sensing.
Display Technologies
This group develops highly innovative displays for the full line of Apple products, including Apple Watch, iPhone, iPad and Mac. Through every step of the process, from initial concept to mass production, they push technologies to deliver an ever-better user experience. Areas of work include Electrical, Mechanical, Process, Materials, Manufacturing, Physics, Imaging, Optics, Software and Silicon Engineering.
Find available Display Technologies roles
Engineering Project Management
For every new Apple product, this group works behind the scenes, managing the world's most successful product design process — from concept through to release. Areas of work include Hardware Project Management, Silicon Product Management, Product Design Project Management, RF and Wireless Project Management, and Systems Project Management.
Find available Engineering Project Management roles
Environmental Technologies
We want to leave the world better than we found it, and no group here is more focused on that goal. Join them and you'll be part of the industry-leading effort to set policies and make sure every Apple product, from power cord to display, is safe for people and planet. They even test our suppliers' materials. Areas of work include Toxicology, Biocompatibility, Restricted Substances, Life Cycle Analysis, Compliance Engineering and Environmental Programme Management.
Find available Environmental Technologies roles
Health Technology
By developing software and hardware systems that monitor the human body and its data, this group empowers people to make informed decisions that shape their well-being, in daily life and beyond. Areas of work include Biomedical R&D Engineering, Biomedical Studies Engineering and Exercise Physiology.
Find available Health Technology roles
Machine Learning and AI
Machine learning continues to grow in importance for virtually every Apple product and service, so your contributions in this field can make an impact on many groups here. You'll help develop algorithms that solve some of the most complex AI problems, integrating your work into powerful neural processors to provide speed and efficiency for a great user experience. And you'll do it with the help of privacy experts to ensure users' privacy is respected. Come and shape what these predictive technologies will do as part of Face ID, ARKit, Animoji and many other features, including those yet to come. Areas of work include Artificial Intelligence, Computer Vision, Data Science and Deep Learning.
Find available Machine Learning and AI roles
Learn more about Machine Learning and AI roles
Mechanical Engineering
This group turns imaginative thinking into real-world experiences. By combining the world's most refined industrial design with the newest, most innovative technologies, you'll fit big ideas into slim hardware — and into millions of lives around the world. Areas of work include Product Design Engineering, Mechanical Design, CAD Specialist, CAE Specialist and Materials Engineering.
Find available Mechanical Engineering roles
Process Engineering
Work in this group and you'll apply engineering fundamentals and start from scratch if need be. A project might call for new equipment, new material or even a new factory. Your efforts will be groundbreaking, often literally. Areas of work include Platform Process Engineering, Module Process Engineering, Panel Design/Engineering, Thin Film Engineering, Laser Process Engineering, Coating Engineering and Prototype Engineering.
Find available Process Engineering roles
Reliability Engineering
Apple has a hard-earned reputation for incredibly high-quality products. That's why this group works with both the hardware and software groups to make sure that our products and our suppliers' materials live up to our standards, and those of our customers. Areas of work include Reliability Engineering, Failure Analysis Engineering, Test Engineering, Materials Engineering and Reliability Technician.
Find available Reliability Engineering roles
Sensor Technologies
Features like gesture-reading sensors and fingerprint-recognising Touch ID are perfect examples of what this group can do when they work with the hardware and software groups and many others throughout Apple. Areas of work include Sensing Hardware Engineering, Sensing ASIC Architecture, Algorithm Engineering, Machine Learning Engineering, Deep Learning, Firmware Engineering, Software Engineering, Quality Assurance Engineering, and User Studies and Human Factors Engineering.
Find available Sensor Technologies roles
Silicon Technologies
Join the team responsible for the design and manufacture of our next generation of high-performance, power-efficient processor systems-on-chip, as well as the analog IP and high-speed interface evaluation those chips need. Areas of work include Microarchitecture, Modeling, RTL Design and Verification, Custom and ASIC Physical Design, CAD, IT, Silicon Prototyping and Validation, Foundry and Product Engineering, and Low Power Design.
Find available Silicon Technologies roles
System Design and Test Engineering
Join this group to ensure that every Apple hardware design meets the highest standards throughout the manufacturing process. Members design and build complex systems that consist of various modules inside Apple products. They also implement calibration and testing processes, and develop the instruments, fixtures, infrastructure and diagnostic software to do it. Areas of work include Hardware System Integration, Functional Test Engineering, Instrumentation and Calibration, and Fixture Design.
Find available System Design and Test Engineering roles
Wireless Hardware
Be part of the group that does everything it takes to create the world's best wireless products. Apple wireless designers continuously enhance the performance of our products with more powerful connections. The silicon specialists take wireless deep, helping develop innovative systems-on-chip that improve the user experience. And the group's platform architecture experts pave the way for all-new experiences, including those that take advantage of our innovations in sensing technology. Areas of work include Antenna Design, RF Design Engineering, RF Systems Integration, RF Desense, RF Systems and Calibration, OTA Design and Testing, Regulatory Engineering, EMC, Compliance and Performance Testing, Human Engineering, WLAN/Bluetooth Architect, GNSS Architect, Communications Systems Architect, Cellular Hardware Architect, Wireless Systems Architect, RFIC Design, PHY/MAC Algorithm Development, RF Characterisation, RF Design Verification and Wireless System Design.