FEATURE
December 16, 2020
A landmark year of giving
from Apple
This year, kindness took on new forms. In Detroit, it came in the shape of 14,000 face masks, sewn together out of bow ties and old parade costumes, thanks to Apple employees Anthony Garrett-Leverett, Joe Cayao, and their friends and colleagues. 
"When it came to repurposing materials to help folks, it was a no-brainer," says Garrett-Leverett, a technical expert at Apple's Twelve Oaks Store, who lost a number of friends to COVID-19 this year.
In March, Garrett-Leverett found out that Cayao, his Apple colleague, had started to use the material from his bow tie business to sew masks for those in need. Around the same time, Garrett-Leverett also discovered that employees at a local parade company had excess fabric from old costumes that they wanted to turn into masks. He coordinated their efforts, and the result was 14,000 masks he helped distribute to hospitals, convalescent homes, and frontline workers throughout the Metro Detroit area.
"It feels good that we were able to do our part to help take care of others, because this pandemic has been really rough for everyone," says Cayao. "We were trying to just donate these to anyone who needed protection, because at the end of the day, we're all in this together."
Garrett-Leverett and Cayao are two of the thousands of Apple employees who donated their time and money this year to organizations in communities large and small, making this year the biggest to date for Apple's Giving program. For every hour an employee volunteers or dollar they donate, Apple matches that with a monetary donation to the same organization. Since the program's inception in 2011, Apple employees have raised almost $600 million in total donations — including more than 1.6 million hours volunteered — for more than 34,000 organizations.
This is on top of the corporate donations Apple's Community Investment team makes each year to nonprofits around the world, including Feeding America, FIRST, Malala Fund, Simplon, and many others. Apple is also investing in a multimillion-dollar annual grant program geared toward supporting organizations in communities where Apple teams live and work, including food banks, health and social services, youth art programs, and more. This holiday season, Apple is donating an additional $5 million to support an array of global organizations that are helping families and communities worldwide weather the storm of the COVID-19 pandemic — from hunger relief to medical care.
Given the challenges posed by the pandemic, Apple employees found new ways to continue making an impact in their communities through virtual or outdoor volunteering opportunities. These included the British Red Cross's Miles for Refugees event in the United Kingdom. Participants chose a target distance — modeled on actual journeys that refugees have taken to reach safety and a new life — and then collected money from sponsors for completing the event through a physical activity of their choosing. Apple volunteers made up the largest corporate team participating in 2020.
"This year's event went on to raise over £2 million, and we couldn't have done it without the support of so many Apple volunteers who took part," says Maddy Janes, mass participation event manager for the British Red Cross.
In India, Apple employee Chandrika Raghunath, along with her teenage son and niece, volunteered her time virtually by making Keynote study guides for Abhyudaya, a school for disadvantaged children. Knowing its students were no longer able to attend in-person classes, Raghunath and her Apple colleagues devoted 300 hours to creating digital resources so students could continue their learning from afar.
Fei Ren, who works for Apple in Shanghai continued to volunteer every week with the group beYoureyeS, pairing up with a member of the Blind community for an outdoor walk or run. For Ren, it was important to find safe ways to maintain her long-term relationship with the organization, which she considers family.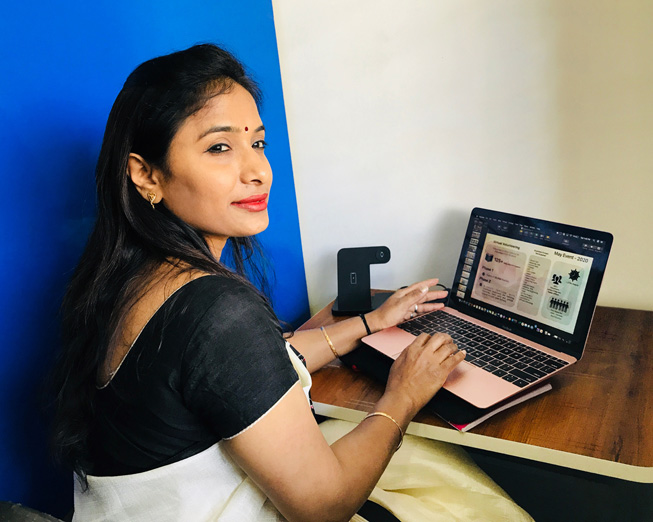 This year also saw many more communities grappling with economic hardship and food insecurity. Apple and its employees donated to food banks around the world, including to Münchner Tafel, a food bank in Munich that sources and distributes food to more than 20,000 people in the city each week. 
"That money, it basically lets us plan, at least the next four, five, six months ahead, which is always crucial because we rely solely on donations," says Angela Zacher, Münchner Tafel's press and public relations officer. "It gives a guarantee that we are able to get over these food shortages."
In Austin, Texas, home to Apple's largest campus outside of Cupertino, California, the organization Caritas of Austin works with people who are experiencing or are in danger of experiencing homelessness. From March to September 2020, it helped house 30 percent more individuals and families compared to the same time last year; such help included providing financial support to many who lost their jobs because of the pandemic.
"Our goal with those folks shifted in that we needed to keep them in their housing," says Amy Jackson, chief development officer of Caritas of Austin. "So we're really proud that we were able to continue to do that."
Once again this year, Apple and its employees offered support to Caritas of Austin, helping to provide food, job placement support, and housing services to families across the city.
"Apple is a hometown business here in Austin," says Troy Gilbert, major gifts officer for Caritas of Austin. "So it really means a lot to have that help on a local level from a company that is so deeply woven into our community fabric."
West Valley Community Services has been supporting families in Apple's hometown of Cupertino and the surrounding area for almost 50 years. The organization helps those living below the poverty line secure rental and utility assistance and food, and has seen a dramatic increase in families in need since the pandemic began.
Apple and its employees have been donating to West Valley Community Services for years. This year, on top of financial contributions and volunteer support, Apple has donated thousands of pounds of fruit from the trees at Apple Park, which the organization then distributes to its clients through its on-site pantry or in-home delivery. 
"There is no way we could have kept up with this demand if not for partners like Apple who wanted to make sure that these resources were available when they were needed the most," says Josh Selo, West Valley Community Services' executive director. The organization assisted almost 3,300 clients for the year ending June 2019 — that figure surged nearly 40 percent, to over 4,500, for the year ending June 2020, just a few months into the pandemic. Selo believes that number will continue to rise. 
Shefali Lakhani reached out to West Valley Community Services after her husband lost his job near the beginning of the pandemic. The couple had just had a baby boy and were struggling to make ends meet. The organization helped with their rent for months until Lakhani's husband was able to secure a new job.
"Our case manager went above and beyond to make sure we got rental assistance," says Lakhani. "So it was a really great experience because during this pandemic we were literally broken — we didn't have anything. And we are on track now."