"Hometown," shot on iPhone 12 Pro
To celebrate Black History Month, Apple commissioned more than 30 Black photographers to capture and share their hometowns with the world through their unique lens, all shot on iPhone 12 Pro. All across the US, these photographers set out to showcase the people and the pockets of their cities that embody their local culture.
For Julien James, a local photographer in Washington, D.C., iPhone 12 Pro helped him expand the world around his subjects. "iPhone is my favorite camera to shoot with because it's in my pocket and I can take it anywhere," he says. "I typically shoot at 50 millimeters because it's the closest to the human eye. I want everything I shoot to represent or be as close as possible to what we see naturally, so I was surprised to really see how iPhone 12 Pro actually shot Ultra Wide." 

From Washington, D.C., the Bronzeville neighborhood of Chicago, Manhattan Beach in Southern California, Downtown Detroit, and the Bronx, New York, five photographers give a glimpse into their local communities.
Black comes in different skin tones, hair textures, sounds, languages and dialects, and cultures. It's more of a spectrum. Black people come to Washington, D.C., from all over the United States and the world to study, work, engage in politics — and all of them are bringing their own cultures. It's this big flavor pot. D.C. has a large population of West Africans and Ethiopia's largest population outside of Ethiopia, and they add to the Black cultural fabric. Then there are the native Washingtonians, who've created Go-Go music, fashion trends, and even the bike-life culture. They all add to the pot. The diversity in Black culture, and specifically in D.C., is something I wanted to capture in these images of Nate, Taryn, and Chris. They all are so unique and different — from their sense of fashion to their hair's texture to their cultural upbringing.
Nate has this great energy, even his facial expressions embody D.C.'s vibe. I usually focus on a lot of direct eye contact when I shoot. The Ultra Wide camera allows me to get up really close to someone, still catch that direct eye contact, but also catch a ton of information in the background that paints a fuller story.
I wanted to capture the essence of Chicago and its excellence. Bronzeville has enabled the careers of many jazz, blues, and gospel musicians, so I wanted to capture Sam in his element, playing his trumpet, while also placing him in the history of the neighborhood. The South Shore Drill Team also has a deep history in Chicago. Shooting with iPhone 12 Pro allowed me to place both Sam and the band members in these locations, and immediately see them through a new light. I was blown away with the speed of the camera and my ability to quickly edit these color shots to be black and white, adding to their historic, timeless feel.
Since I was young, my mom taught me the importance of knowing our history. She also taught me that everything Black was excellent. Malcolm X was excellent. Martin Luther King Jr. was excellent. I grew up in Italy, where schools didn't really teach African American history, so my mother made sure that I knew about the leaders and movement of my people. As a photographer, my job is to document the Black experience in Chicago. My hope is that the stories I'm telling will help in changing the narrative of what Chicago is to the rest of the world.
El Porto in Manhattan Beach has a history of redlining Black people from the area. Throughout the history of the US, Black people have been relegated from recreational spaces, like surfing the breaks in Manhattan Beach. Marikah and Ludine show resilience and power — that Black women can do whatever we want to do if we put our minds to it and have access to it. I wanted to visually call upon surf archives to show the parallels between surfing then and now, and show Black women occupying this space and looking like they belong.
I'm a third-generation Detroiter. Mom worked in a bank; Dad worked on the assembly line in the auto industry as his dad did before him. I'm from the West Side. Most of our neighbors knew one another, and contrary to the narratives people often hear, there were many families on our street and a genuine sense of community. The neighborhood wasn't perfect, but there was a sense of pride in hardworking middle-class life. So I try to look for glimmers of that pride. Sometimes it's manifest on the faces of Detroiters just going about their lives on the street; other times it's in the physical place itself, in the beauty of Detroit spaces and the energy of the city.
These images have a lot of dimensionality to them. I shot architecture because I wanted to see how iPhone 12 Pro performs with extreme highlights and extreme shadows in the same image. Without needing to edit the images, they pop right away.
I think of Blackness as a shared socioeconomic bond that is almost universally understood by Black people. It's "Joy and Pain," as Frankie Beverly would sing. It's a legacy of surviving and even thriving despite certain forces that would perhaps rather not even see us exist. It's in the way we attack problems, and it's in our intellectual view of the world around us. It's the good that we've built and the bad that we've endured, which makes us defiant toward opposing forces but also sympathetic to individuals we don't even know. It's a mutual appreciation that we are collectively running the same gauntlet, no matter what city we live in.
Black is generational. It's about family and the places that have meaning to us. I tried to bring a sense of intimacy and authenticity of the everyday New Yorker to these images by featuring close friends and family members who are all from where I'm from. Featuring them in our uptown neighborhood gives people from other parts of the world an organic look into these real, true parts of New York.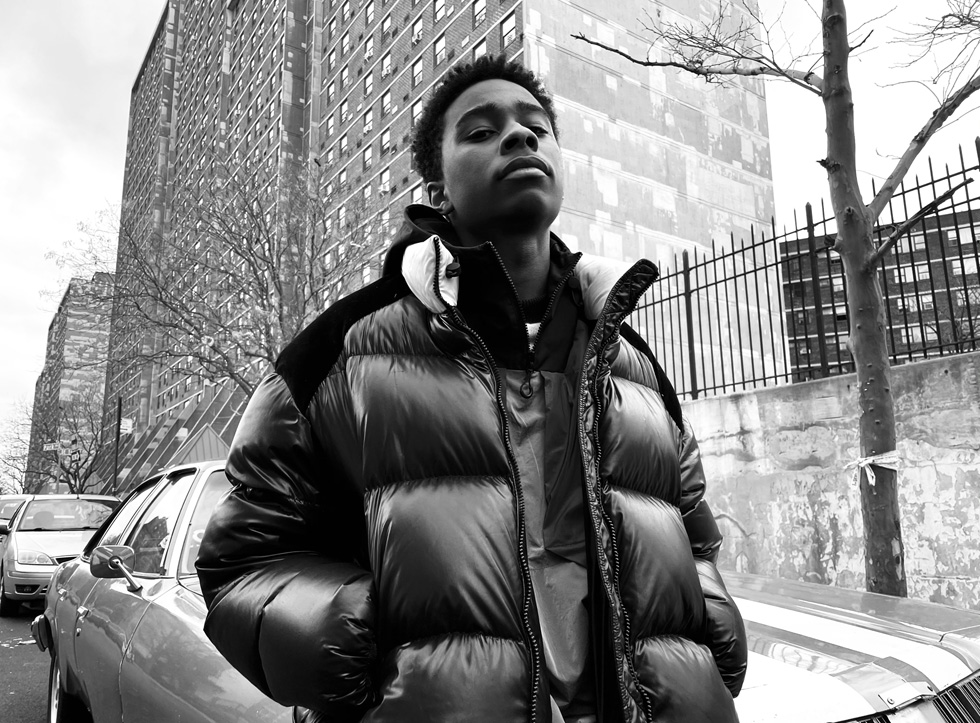 The photographers showcased here are just a sliver of those whose work will be featured beginning today. To hear from more of the photographers, visit 
instagram.com/apple
for their stories. And, throughout the month of February, Apple is launching new editorial collections, Today at Apple sessions, and more to celebrate Black History Month. For more details, visit
apple.com/newsroom
. The virtual sessions and hands-on tutorials hosted by Today at Apple, in partnership with design and art publisher It's Nice That, will feature Black creators discussing how creativity can bring about change. Participants will learn how to shoot in Apple ProRAW, and explore the editing and curating features in the Photos app on iPhone. Photographer Bethany Mollenkof, who covered Los Angeles for "Hometown," will also host a session next month. Learn more at
apple.co/new-world
.